DNA and Protein Isolation and Characterization
The Beckman Optima TL Ultracentrifuge is an ultracentrifuge with features that include thermoelectric refrigeration, microprocessor control, very smooth acceleration/  deceleration profiles, air cooled, imbalance tolerant drive, fast instrument set-up and diagnostic displays. This system can store up to 10 user programs, can reach speeds of 100,000 rpm and can generate a force of 543,000 x g max.
---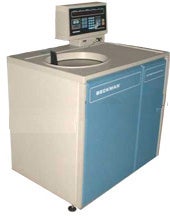 The Beckman L8-70M Ultracentrifuge has been the mainstay of laboratories world-wide for ultra high speed centrifugation processes. The ultracentrifuge can operate at much higher speeds and allows for the faster separation of samples. Some example applications include: sucrose gradient isolation of proteins, density gradient fractionation of lipoproteins, fractionating subcellular components (nucleosomes, microsomes, mitochondria, etc.), plasmid purification in CsCl, and RNA pelleting in CsCl. Two rotors are available: (1) Type 45 Ti: 6 x 94 mL samples, max speed 45,000 rpm (235,000 x g) or (2) Type 70 Ti: 8 x 39 mL samples, 70,000 rpm (504,000 x g).
---
The Agilent 1200 HPLC series can separate a mixture of compounds and is used in biochemistry and analytical chemistry to identify, quantify and purify the individual components of the mixture. This HPLC is a preparative autosampler designed to perform preparative LC. It allows injection of sample volumes from µL to mL ranges from vials.
---
The Agilent 1100 HPLC is a stand-alone system that supports both ultraviolet and fluorescence detection. The HPLC pump is a binary system capable of up to a 10 ml/min flow rate and 400 bar of pressure. The UV-vis detector is a diode array, with a wavelength range from 190 – 950 nm. The fluorescence detector provides simultaneous quantitative and qualitative information for up to four signals simultaneously. The system also incorporates a mobile phase degasser, column heater, and 100 vial autosampler. Data acquisition and analysis is performed using ChemStation software.
---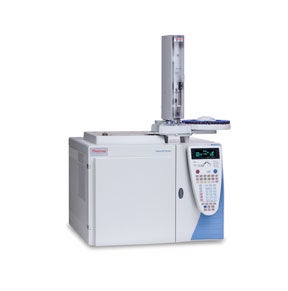 The Thermo Scientific TRACE GC Ultra multi-channel gas chromatograph was developed for the evolving requirements of modern laboratories. With the most complete range of proprietary inlets, sensitive detection systems, smart accessories, and ancillary devices, the Ultra platform features unique technologies that raise the standards of speed, sensitivity and separation in gas chromatography. Automated features increase sample throughput with analysis performed quickly without the loss of precision.
---
The Thermo Scientific Sorvall ST 16R refrigerated centrifuge is a general purpose centrifuge perfect for everyday sample processing, including clinical protocols, cell culture applications and microplate processing. This unit has a 4 x 400ml capacity with a maximum speed/RCF of 15,200rpm/25.830 x g. The refrigerated version is ideal for handling temperature-sensitive sample processing between -10° and +40°C.
---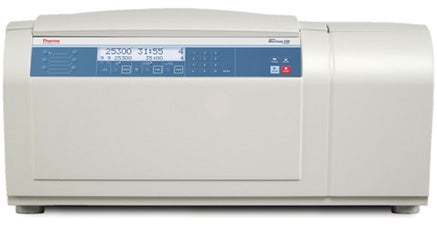 The Thermo Scientific Sorvall Legend X1R refrigerated centrifuge can handle a range of general-purpose processing including cell culture applications, microplate, bioproduction, blood separation, microbiology and others. This unit has a 1L capacity with a maximum speed/RCF of 15,200rpm/25.830 x g; ideal for handling temperature-sensitive sample processing between -10° and +40°C.
---
The BD Biosciences Accuri™ C6 is a personal flow cytometer is easy to use, simple to The system is equipped with a blue and a red laser, two light scatter detectors, and four fluorescence detectors with optical filters optimized for the detection of fluorochromes such as FITC, PE, PerCP, and APC. A compact optical design, fixed alignment, and pre-optimized detector settings make the system easier to use.
---
The Luminex 100 is a compact lab analysis system based on the principles of flow cytometry which enables the simultaneous assay of up to 100 analytes in a single well of a microtiter plate with very small volumes. This system delivers fast and cost-effective bioassay results on many assay formats including nucleic-acid assays, receptor-ligand assays, immunoassays and enzymatic assays.
---
The BTX ECM 630 Electroporator is ideal for gram positive and gram negative bacteria, yeast, fungi and other microorganism transformation in HV mode, optimized for a broad range of mammalian cell lines in LV mode. Applications include, yeast, insect cells, bacteria, cDNA libraries, BAC library; novel applications include transdermal drug/gene delivery and intact plant gene delivery.
---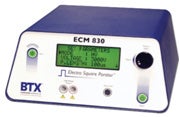 The ECM 830 is a Square Wave Pulse generator designed for in vitro and in vivo applications. The versatility of the ECM 830 applications for gene, drug and protein delivery include; mammalian cells, in vivo, ex vivo tissue, zebra fish tissue and embryos, nuclear transfer, embryo manipulation, plant protoplast and basic bacteria and yeast transformations. The ECM 830 can be used in combination with a wide array of BTX specialty electrodes and accessories to enhance your molecular and drug delivery experiments.
---
The Nucleofector™ Device is the single cuvette based system that has been used in research labs since 2001. It allows efficient transfection of hard-to-transfect cell lines and primary cells with different substrates (e.g., DNA vectors or siRNA oligonucleotides) in low-throughput format. The Nucleofector™ II/2b Device can also be used for bacteria transformation.
---
The OMNI General Laboratory Homogenizer is a powerful versatile and durable homogenizer that can handle virtually any processing application. It has a high powered motor that can handle even the toughest tissue samples, and emulsion and dispersions are quickly and easily completed.  The OMNI GLH is compatible with stainless steel probes, has a processing range from 200µL to 10L, and can be hand-held or mounted for lengthier processing applications.

---
The Eppendorf InjectMan® NI 2 Micromanipulator  has a menu-controlled, programmable micromanipulator, the InjectMan NI 21 is especially suitable for microinjection into adherent cells. The electronic connection of the InjectMan NI 2 and the FemtoJet®2 or FemtoJet express ensures a very rapid and safe microinjection. The semiautomatic microinjection allows a coordinated process of manipulation and injection: first, the injection parameter is set on the FemtoJet; second, the injection level is fixed via pressing a button on the InjectMan NI 2. The exact axial injection movement ensures a minimum mortality rate, and its high speed facilitates the penetration of rigid structures.
---

The NuAire DH AutoFlow Tissue Culture CO2 incubator uses a microprocessor based, non-dispersive infrared CO2 sensor to maintain a very accurate CO2 control is delivered within the incubation chamber.
---
The NuAire Class II, Type A2 Biological Safety Cabinet is personnel and product protection reducing the potential for exposure to airborne biological or particulate chemical agents in low to moderate risk-hazard research and drug preparations.  The cabinet's airflow is 30% exhausted / 70% re-circulated to minimize cross-contamination.  The BioSaftey Cabinet controls include a minihelic pressure gauge, motor voltage regulator, audible window alarm, main and outlet power circuit breakers, and power switches for exterior mounted fluorescent lights ,  interior outlets, and blower motor.
---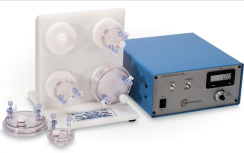 The Rotary Cell Culture System from Synthecon is unique system that provides a low turbulence, low shear culture environment for 3-dimensional cell and tissue structures. Biological structures are suspended in a rotating vessel, providing a dynamic, yet gentle environment that promotes the mass transfer of nutrients and molecular compounds throughout the cell population.
---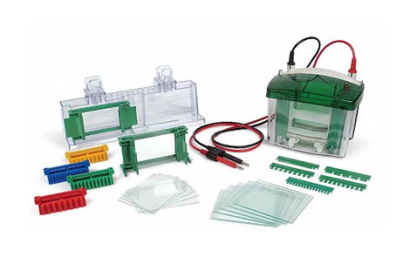 The BioRad Mini-PROTEAN® cell is ideal for vertical mini gel electrophoresis. This electrophoresis cell accommodates one or two handcast gels. The Mini-PROTEAN has a casting frame that ensures precise alignment easily accessible side by side casting stand with spring –loaded lever tight seal. This system allows for the flexibility of handcast gels traditional SDS-PAGE, Electrophoretic mobility shift assays and Zymography.
---

The BioRad Criterion Dodeca cell has the capacity to run up to 12 handcast of Criterion precast gels simultaneously or 11cm ReadyStrip IPG strips to give the optimal combination of separation and speed in 2-D electrophoretic applications.
---
The XCell SureLock™ Mini-Cell Electrophoresis NuPAGE Novex System from Invitrogen is one of the systems available in the lab for electrophoresis. XCell lines of mini-cells are easy to assemble, sturdy and convenient. Currently we have 10 XCell tanks and they are utilized with NuPage precast polyacrylamide gels available cast with 10 or 15 wells, in 1.0mm or 1.5 mm thickness. These 4-12% gels are optimized with a neutral pH that minimizes protein modifications making them ideal for sequencing, mass spectrometry or other analysis where protein integrity is crucial.
---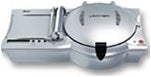 The iBlot® 7-Minute Blotting System efficiently and reliably blots proteins from polyacrylamide gels in 7 minutes or less without the need for additional buffers or an external power supply. A self-contained unit, the iBlot® device uses disposable blotting stacks with integrated nitrocellulose or PVDF membranes offering the convenience of a bufferless, plug-and-play system.
---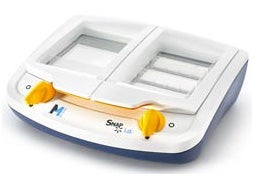 Millipore SNAP I.D Protein Detection System allows researchers to produce high quality western Blots 80% more quickly than conventional immunodetection protocols due to a vacuum-driven technology and built-in flow distributor that drives reagents through membranes and ensures even distribution. This unit is compatible with all membrane types and detection methods, such chemiluminescence and fluorescence.
---
The AGFA CP1000 Automatic Film Processor is a compact and lightweight film processor ideal for low-volume processing.  The processor has a fast start up and is easy to maintain. With its simple and accessible film transport system and an infrared dryer instead of a typical hot-air dryer, the system has an efficient short film processing time.
---

The BioTek ELx405R 96-well Plate washer is designed for applications from basic ELISA to cell and bead washing.  This unit features an overfill protection, unique fluid/flow detection, crosswise aspiration and a built-in positive displacement pump. It has easy to use software provides up to 75 programs, up to 10 cycles/wash and control of dispense height. Aspiration height and delay, soak, shake, aspiration rate and horizontal aspirate and dispense position.
---
The GYROMAX™ 787 and 787R orbital incubators have a working temperature range from 5°C above ambient to 70°C and the shaker rotates at speeds from 25 to 400 RPM – digitally set. Each incubator chamber includes both a shaking platform that can accommodate a variety of different size flasks up to liters. Each chamber also has a shelf allowing both plates and rotating cultures to incubate simultaneously.
---
The BioRad BioLogic LP low-pressure chromatography is used for biomolecule purification. The system includes both 254 nm and 280 nm filters for nucleic acid and protein detection, and a conductivity cell to monitor gradient progress. The BioLogic houses a peristaltic pump with a flow rate range of 0.05-40 ml/min and a maximum backpressure of 30 psi. The system is compatible with Econo-Column low pressure chromatography columns and low-pressure chromatography media. Tme can collect into eighty 13 x 100 mm tubes or microtubes using a fraction collector. LP Data View software captures data, multitasks, and prints data. Further the system stores up to 50 methods, each method can include 50 pump steps and 50 fraction collection steps.
---
The BioRad PROTEAN IEF system is designed for isoelectric focusing (IEF) proteins in immobilized pH gradient (IPG) strips for the first dimension of two-dimensional (2-D) electrophoresis. The PROTEAN i12 IEF cell can run 1–12 IPG strips in 7, 11, 13, 17, 18, or 24 cm focusing trays. Each channel in the isoelectric focusing tray is independently powered, enabling precise control over each IPG strip.
---

The Thermoscientific Hybridization Oven has a 10-bottle capacity rotisserie with an accurate and uniform temperature control and uniformity. Temperature Range from 8 to 85 °C, temperature uniformity within bottle is ±0.25 °C and rotisserie speed from 5 to 15 rpm.
---
The ThermoMix 500 is a digitally controlled Peltier heater and cooler (6C – 105 C) orbital mixer (300-1500 rpm) for cell killing assays, RNA transcription, immunoprecipitation, enzyme kinetics, ligations, and more. Five interchangeable sample blocks are available for plates and different size tubes.
---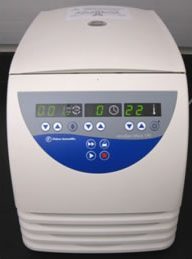 The Fisher Scientific Accuspin 17R is a high-speed refrigerated micro-centrifuge with a capacity of  48ml (24 x 1.5ml or 2.0ml microcentrifuge tubes, a maximum speed force of 13, 300 rpm/17,000x G, an easy-to-uses controls and digital display, an adjustable 99-min timer and quick-spin feature for short runs.
---

The Eppendorf 5430R Refrigerated Centrifuge is a unique cross-over bringing multipurpose and potential versatility to every lab bench with spin rotors for microcentrifuge tubes and PCR strips.  Additional rotors can accommodate microplates as well as 15ml and 50 ml conical tubes. This unit is equipped with a programmable pre-cooling time, ECO shut-off function and assures accurate temperature control.
---
The ALC PM140 is a refrigerated centrifuge equipped with a swinging bucket rotor with interchangeable buckets addressing different tube sizes. This unit is ideal for large volume sample processing (48 x 15ml conical, 24 x 50ml conical), has two braking rates, a 30 minute timer and hold.
---
The Nanodrop ND-1000 is sample retention system designed to measure small volume samples of nucleic acids and proteins without the use of cuvettes or capillaries. Absorbance is captured and measured in a sample column made between two optical pedestals, displayed on an easy to read software interface, collected in an exportable spreadsheet and stored within the computer's hard-drive. Measures DNA, RNA (A260) and Protein (A280) concentrations and sample purity (260/280 ratio); Large concentration range (2 ng/µL – 15,000 ng/µL dsDNA) without dilutions. Nanodrop software is pre-configured methods for common applications such as Nucleic Acid, Protein A280, Microarray, Proteins & Labels, Bradford, BCA, Lowry and Pierce 660nm
---
The NanoDrop 2000C is a spectrophotometer that combines microvolume pedestal technology and cuvette capability. The NanoDrop 2000C is a complete UV-Vis spectrophotometer preconfigured for all common nucleic acid and protein concentration and purity measurements, can measure very low and high concentration samples (0.4-15,000 ng/ μl and with samples as small as 0.5 µL . Cuvette capability allows for kinetics (time or time/ temperature) and cell culture (OD600) measurements. Cuvette position also includes temperature control (37 ºC) and stirring.
---
The GeneQuant  is a small, compact spectrophotometer, It has been designed to measure absorbance at 230, 260, 280, 320, 546, 562, 595 and 600 nm, It can determine the concentration of the sample in a variety of units. The GeneQuant is able to measure 1 μl samples without dilutions of cuvettes allowing the sample to be recovered. This machine can be utilized for measuring absorbance of DNA, RNA, dyes, proteins and microbial cell culture OD.
---
The Eppendorf Vacufuge  is a concentrator available for the efficient and gentle concentration of samples like RNA/DNA and proteins. The system is equipped with a vapor condenser purifying 85% of the exhaust. Two stackable 48-sample rotors are available allowing for the concentration of 96 samples at one time.
---
The Branson Tabletop Ultrasonic Cleaner provides a safe and consistent method of cleaning electronics and machine parts when soaking and steaming are insufficient.  Touch panel allows for the easy setting and monitoring of cleaning cycles up to 99 minutes at 80 °C
---
The Isotemp Plus Lab Refrigerator was designed for chromatography needs, with two capped access portholes to permit the insertion of thermocouples or other wiring without disturbing the temperature settings. Pushbutton lights and circuit breaker-protected electrical receptacles simplify equipment operation and allow observation of ongoing separations. Unit features microprocessor-controlled thermostats, a digital temperature display and a working temperature range from 1°C to 12°C.
---
The Harvey SterileMax is a benchtop sterilizer features a 12" diameter x 18" deep  (1.2 cu.ft.) sterilization chamber.  This sterilizer is easy to set up – by simply adding water, plugging it in and choosing from 4 pre-set cycles, the system is ready to go.  This unit also has three safety locks ensuring the chamber will not open until it has depressurized.
---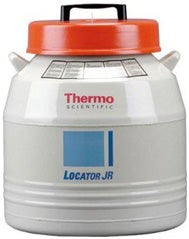 The Thermo Scientific Locator JR Cryo preservation tank is designed with a double-walled, vacuum insulated, narrow mouthed neck to minimize liquid nitrogen loss; maintains temperature uniformity at below -180° with less that 5cm remaining in vessel.  Four stainless steel racks, each holding 1-1/4 square boxes, are arranged in numbered slots for easy retrieval; giving the Locator JR the capacity to hold 1600 vials.
---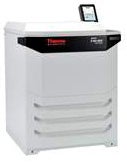 The Thermo Scientific Sorvall LYNX super-speed refrigerated centrifuge designed to run 24,000rpm/68,905 xg performance with  the maximized capacity of 4 liters for bottles, tubes or microplates. This set up with two Fiberlite carbon fiber rotors, has shorter run-times, increased security and safety features.  This system has an intuitive touch-screen control, can hold up to 99 programs and has user access control and password protection to accommodate a range of users.
---
The MicroCal VP-ITC is an ultrasensitive isothermal calorimeter designed to operate through a software interface to minimize operator involvement and facilitate quick, accurate analyses, while eliminating the need for thermodynamic expertise. The capabilities of the isothermal calorimetry as a technique in combination with VP-ITC can be utilized in applications that include the characterization of molecular interaction of small molecules, proteins, antibodies, nucleic acids, biomolecules and lipids and the assessment of the effect that changes in molecular structure has on binding mechanisms and the associated impact on biological activity.
---

Perform up to 14 reactions simultaneously with CEM'sGreen Chem™ vessels. These 100-mL vessels are available with either PFA Teflon or glass liners.
---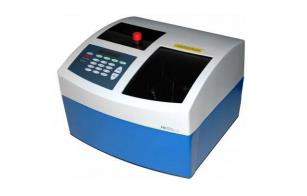 The compact and versatile Barocycler NEP2320 fills an important need for all laboratories that want improved sample preparation in genomics, proteomics, transcriptomics, and metabolomics. The NEP2320 is a safe and versatile sample preparation instrument designed to use a minimum amount of laboratory bench space, while still providing…the Power of PCT. The mechanisms of action of the PCT SPS differ significantly from other sample preparation methods. Specifically, lysis occurs when samples are subjected to alternating cycles of ambient and high pressure, up to 35,000 psi (45 kpsi Option Available), in the hydrostatic reaction chamber of the Barocycler. The NEP2320 uses available laboratory compressed air, bottled compressed air, or a standalone compressor to create high and ultra-high hydrostatic pressure inside the Barocycler reaction chamber. Exquisite control of the PCT process is accomplished by specialized components, a programmable controller, and software. The NEP2320 quickly and efficiently processes one sample at a time. Although smaller than the NEP3229, the NEP2320 still provides the user with many of the features of the Barocycler NEP3229, including temperature control.