Andrea Milojevic, MSN, RN
Clinical Assistant Professor, School of Nursing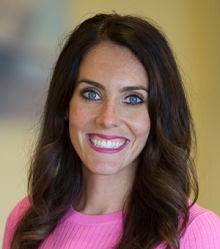 Andrea Milojevic, Clinical Assistant Professor of the School of Nursing at Boise State University, joined the School of Nursing as an adjunct clinical faculty member in 2014.
In addition to working for Boise State University, Milojevic currently works in the Level II Trauma Emergency Department at Saint Alphonsus Regional Medical Center. Milojevic's primary nursing focus is medical, having worked five and a half years for the medical/oncology unit at Saint Alphonsus Regional Medical Center prior to her current role in the Emergency Department. She maintains certifications in Pediatric Advanced Life Support and Advanced Cardiac Life Support.
Milojevic earned a Bachelor's of Science in Nursing from Carroll College, located in Helena, Montana. Additionally, she earned a Master's of Science in Nursing from Idaho State University. Milojevic is interested in helping others and has participated in several international medical mission trips: a poverty alleviation trip to Mexico in 2003 and a medical support trip to Ecuador in 2014.
Contact Information
Office: Norco 319
Phone: (208) 426-2689
Email: andreamilojevic@boisestate.edu