Kathleen Anderson, MSN, RN
Adjunct Faculty, School of Nursing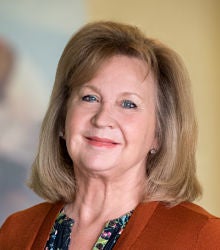 Kathy Anderson earned her MSN in nursing education from Western Governors University, and her BSN from Sacramento State University. She has worked in a variety of clinical and administrative areas of nursing throughout her career. After working in maternal-child (NICU/L&D) for a number of years, Ms. Anderson moved her interests to Behavioral Health as owner/administrator of assisted living facilities for the mentally ill.
While employed as administrator of a Boise mental health crisis unit, she was recruited to the position of Director of Nursing for Intermountain Hospital, Boise. More recently, Ms. Anderson has worked as faculty for Breckenridge School of Nursing in Boise (a program of ITT-Tech). Currently, Ms. Anderson is a Clinical Assistant Professor in the School of Nursing at Boise State University.
Ms. Anderson is pursuing her post-graduate certificate in Simulation Nursing and will be obtaining her CHSE certification for Nursing Simulation.
Kathy enjoys trips to Mexico (and anywhere warm), tending to her backyard chickens, time with family, and retreating to her cabin in Idaho City.
Contact Information
Office: Norco 329
Phone: 208-426-1137
Email: kathleenanderson1@boisestate.edu