OIT Annual Report
Vision
Boise State University is a center for innovation, learning, and research in the state of Idaho and the Pacific Northwest. The Office of Information Technology (OIT) drives and supports these efforts as a key strategic partner.
Mission
OIT supports innovation and advances education and research at Boise State by providing reliable and sustainable solutions.
4.79 out of 5 is our average customer satisfaction score
55K+ logged customer contacts
57% of customer requests handled on the first contact
28,000 phone calls answered by the Help Desk
44 seconds average wait time for an analyst when calling the Help Desk
7 minutes, 17 seconds average call time when speaking to a Help Desk analyst
126 Department Print printers
1.5 million BroncoPrint printouts
140,000 BroncoPrint copies
220 Supported Classrooms
More than 3,000 student technology checkouts
Over 1,700 wireless access points
3,889 unique monthly VPN users
2.8 petabytes of stored data managed by OIT
1,174 virtual machines
43,000 Boise State Mobile app downloads
6,000 Boise State Mobile downloads since mid-2020 app revision
Over 7,000 active Boise State Mobile users
More than 20 custom web applications supported
400,000 PeopleSoft STAT issues received
60 reports run via MyInsights
543 University websites managed
50 new University websites provisioned
32,000 OIT website monthly views
2.7 million myBoiseState monthly views
7,500 web pages remediated for web accessibility compliance
36,000 web pages managed for quality assurance
44 compute nodes and 1,968 cores on Borah high-performance compute cluster
Over 80 faculty and staff onboarded to Borah high-performance compute cluster
4,000 classroom seats with QR codes for COVID tracking
1.5 million peak Blackboard sessions
47,000 peak monthly Zoom meetings
12,000 peak monthly Panopto users
20,000 online exams administered in ProctorU Review+
1.2 million peak monthly multi-factor authentications
90 billion external cyber threats blocked
Recruiting and retaining great employees
Offering competitive salaries, a positive and flexible work environment, well-documented career paths, opportunities for innovation, and the ability to be part of something bigger than ourselves – having some of the best talent in Boise directly contributed to a successful year.
Future success factors will be offering competitive pay, a workload that doesn't inherently require overtime to complete job duties, and providing challenging and meaningful work where employees' subject matter expertise is valued.
Resources
Budgetary, staff, and leadership – when the three are in the right balance, good things result.
Automation, standardization, and flexibility where it counts
We enforce as few restrictions as possible but hold our ground on the requirements necessary to maintain a safe, secure, and high availability enterprise.
Selectivity
Identifying solutions that can be implemented across the organization instead of for specific teams or groups.
Structure
Cross-functional teams that rally around services like customer relationship management should generate amazing successes that are simply not possible under our more traditional IT model.
Managing external forces
Our success often depends on processes outside OIT. A streamlined procurement process helped us acquire hardware and software during the press of the pandemic.
Resourcefulness
Reallocated funds to keep students employed through the pandemic.
Repeat what works
The managed print design works. We need to help campus understand this message and overcome brand preference or fear of on-campus support.
External relationships
Repaired old relationships, built new relationships, and improved collaboration with the Office of Communications and Marketing. Establishing and growing positive relationships with campus stakeholders.
Team
Flexible, passionate team ready to make it work, even in a state of ambiguity and seeming chaos.
Smarts
Qualified, competent staff.
Determination
Commitment to continuous improvement.
Adaptability
Shifting positions to have more specialization (e.g., training, assessment).
OIT Leadership
Support of our leadership and the freedom to be creative.
University Leadership
Throughout this difficult year and trying circumstances, key successes were due to leadership who listened, sought to put people first, and advocated for the needs of teams and team members. Access to, open communication lines with, and support from University leadership.
New Tools
Including Zoom, network services, and Slack.
Governance
A robust project governance, prioritization and management process utilizing the University's IT Governance Council, IT Planning Council, and OIT's Project Management Office.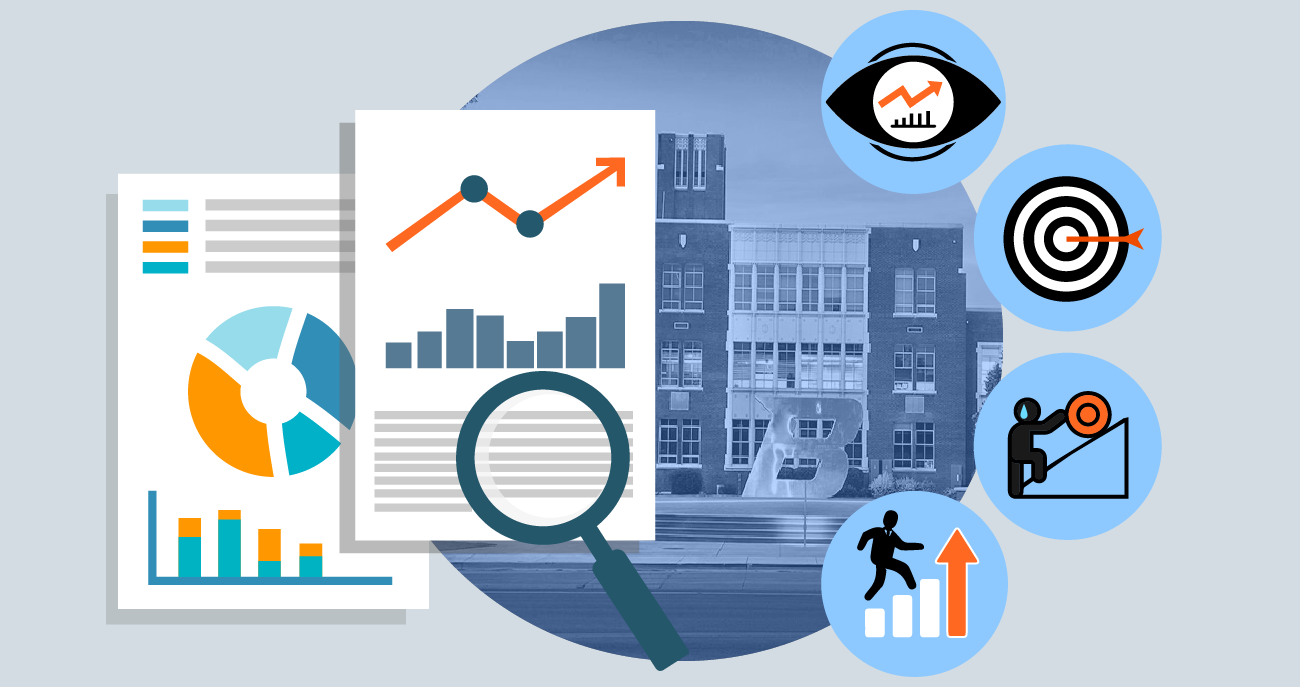 Business Services and Campus Mail Services
Provides billing services for Printing and Graphics, Mail Services, telephone, computer hardware repair, and other university IT services. Mail services for Boise State University are provided by Central Postal Services, State of Idaho Department of Administration.
2020 Successes
Conversion to remote work
Continual improvement to OIT Business processes
Increase in revenue collection/tracking
Better contract management/tracking
Increase in understanding of OIT Business processes by Financial Technicians
Business Intelligence Reporting Services and Development
Supports tools for finding answers to common and complex data questions using student, financial, and human resource data. Develops, integrates, and maintains enterprise applications and tools that enable the effective and efficient function of the University as an enterprise.
2020 Successes
Replaced Pyramid Business Intelligence application
Developed Contact Tracing application for the Public Health Office
Developed Student Mobile Storyboard application for students
Developed new Middleware for Canvas LMS
Continued development for the HCM Cloud project
Cloud Services Infrastructure
Builds and maintains physical IT infrastructure capable of supporting broad and effective use by students, faculty, and staff from both on- and off-campus locations.
2020 Successes
Implemented multi-factor authentication for faculty and staff
Implemented new Password Self Service application
Completed massive and ongoing data migrations as part of the lifecycle replacement of storage hardware
Migrated virtual machines from VMware UCS to AHV on Nutanix hardware
Setup offsite backup storage for our most valuable data to AWS S3 Glacier via CommVault
Setup the CLIA Lab, Nursing Office, COVID Testing Center
Conducted pilots of backup and retention, and data security software
Communications and University Web Strategy
Provides strategic vision, support, maintenance, quality assurance, and content development for the University's public website infrastructure; monitoring, testing, training and support to ensure IT accessibility compliance per University Policy 8140 (Information Technology Accessibility); learning opportunities and resources for enterprise technologies (in-person classes, online and self-paced tutorials, and custom training sessions); and, general and targeted communications for IT services, systems downtime, myBoiseState, and IT events.
2020 Successes
Successfully absorbed university web strategy, web governance, and web marketing responsibilities previously owned by the Office of Communications and Marketing
Expanded web accessibility training and resource information to improve compliance with University Policy 8140 ("Information Technology Accessibility")
Developed new University Policy website and reformatted all policies to achieve accessibility compliance requirements
Developed Project Launchpad website for the Office of the President
Successfully marketed and communicated Duo multi-factor authentication service for university faculty and staff.
Cybersecurity and IT Governance, Risk, and Compliance
Coordinates University information security initiatives, creates awareness for information security issues, and investigates information security incidents.
2020 Successes
Deployed a new Password Management system to the enterprise to eliminate the use of SSN for password reset user identification and streamlined the automation process
Deployed Duo Multi-Factor Authentication to Faculty/Staff on VPN to harden authentication requirements to University systems
Deployed Mindmeld security application in Palo Next Gen firewall for enhanced and automated threat visibility, blocking and reporting capabilities
Deployed Security Onion security application for enhanced automation of SIEM log and alert management and reporting capabilities
Updated Mobile Communications and Remote Access policy to clarify user reimbursements and add requirements for use of MFA for remote work
Drafted and implemented the new IT Disaster Recovery Plan based on industry and NIST standards
Customer Care
Supports a multi-tiered staff environment that meets the diverse levels and specific needs of the campus community so that community members may effectively use the University's technology resources.
2020 Successes
Supported and assisted campus amongst the chaos of the pandemic
Leaders in providing direction to faculty and students with remote tools and academic processes
Supported virtual Bronco Day and Commencement
Provided long-term checkouts to meet student and staff needs
Designed and implemented remote call centers
Implemented technology for Micron Materials Research Center
Established 20 temporary classrooms, 100 rooms for hybrid instruction, and updated 25 classrooms
Modified and moved conference rooms
Maintained adequate levels of laptop inventory to sell same day as needed
Purchased a record amount of equipment
Developed creative solutions to distribute hardware while adhering to COVID Protocols
BroncoPrint remained cash flow positive despite a significant reduction in income
Changed the print provider and lowered support costs – departments save $100's per unit as they did not have to pay for leases on unused equipment through the pandemic
Enterprise Architecture
Provides overall direction, guidance, and definition of IT architecture to effectively support organizational strategy.
2020 Successes
Developed QR Contact Tracing engine to track student scans, report on close contact based on QR code location and classroom maps, and report on participation rate per instructor/class
Initial implementation of Master Data Management hub and spoke model that will be key to our salesforce implementation as well as identity management across the enterprise
Developed Live chat for departments using AWS as a stand-in for Radius Chat which was discontinued
PageUp Inbound and Outbound integrations (with PeopleSoft) created and productionalized, Cayuse integration completed, Smartsheet access request leveraging ServiceNow integration
Learning and Teaching
Cultivates excellent teaching and learning using appropriate and innovative technologies.
2020 Successes
Transitioned video platform from Techsmith Relay to Panopto as a result of a faculty led evaluation
Launched Canvas rollout to replace Blackboard as campus-wide Learning Management System
Launched "Bronco Learn" training platform and services to centralize and "in-source" web based compliance and professional development training
Supported exponential growth of Zoom as a result of remote working/learning
Selected, launched, and supported new test recording solution as an alternative to in-person proctoring
Network Infrastructure
Builds and maintains a physical IT infrastructure capable of supporting broad and effective use by students, faculty, and staff from both on- and off-campus locations.
2020 Successes
Provided a single platform for network device registration across campus and resident halls to capture cost savings and increase network visibility
Improved network security by implementing enhanced logging, multi factor authentication for VPN, network access controls for HIPAA compliance, and a PCI-compliant voice system
Replaced over 300 end-of-life access points across campus, removed aging multimode fiber to upgrade multiple buildings from 1GB to 10GB, and replaced data center, aggregate and edge switching at multiple locations
Implemented significant network enhancements to the Extra Mile Arena and Morrison Center.
Upgraded Extra Mile Arena to 10GB connectivity, designed and installed wireless to accommodate socially distanced classes, and replaced end-of-life switching to provide greater capability and capacity for future initiatives.
Upgraded Morrison Center communications rooms, cabling, wireless, and installed a cell booster solution to provide better coverage within the building.
Upgraded the resident hall networks, improved secure access for students by extending eduroam to the dorms, upgraded Towers to 10GB, and transitioned to a demand-based port model to remove unnecessary switching and capture cost savings.
Project Management Office
Organizes and manages information technology projects. Our team specializes in bringing together diverse groups of stakeholders, subject matter experts, and IT professionals from around campus to plan and execute meaningful projects in an efficient, thoughtful manner.
2020 Successes
Realigned staff with projects that fit their strengths/skills
Training/certifications continued staff professional development (CPD course, PMP, Prosci)
Transitioned from TeamDynamix to Wrike
Managed projects (large and small) across the organization
Research Computing
Advances research at Boise State through innovative technical partnerships and grant development to support a robust cyberinfrastructure.
2020 Successes
Procured and installed Borah (high-performance compute cluster) and Research Network (high-speed bandwidth between Boise and Idaho Falls). The project was a joint venture between Boise State, Idaho Power, and Idaho National Lab. facility. Borah provides increased compute capacity for researchers. More than 80 faculty and staff have already been onboarded to Borah.
Co-Principal Investigators on a Center for Advanced Energy Students (CAES) grant that funded two week-long computational, data science, and visualization tools boot camps in collaboration with UofI, ISU, University of Wyoming, and Idaho National Lab (w/over 300 attendees and 20 workshops total).
Specified, procured, and installed two condo-nodes for Borah (owned by research labs and funded by grants). Onboarded labs, provided training, and will continue to provide user support/troubleshooting in support of student researchers.
Successfully executed the development phase of the sponsored project with Idaho Power and started operations support on schedule.
Kept the trains running – despite COVID, hurdles of working from home, and major projects, the Research Computing team continued to provide quality user support, onboarded an unprecedented number of new users (HPC beginners) with on-demand training workshops and follow-on support.
Early input leads to process improvements
Our teams have the experience, understanding, and willingness to help our customers find solutions.
However, some in our community have developed a mindset of finding tools before fully understanding technical and business requirements. In 2021 the Project Management Office will work with representatives from Purchasing and the Office of General Counsel to streamline the procurement, contract, and systems architecture review processes.
With a better process and proper awareness, we may be able to convince all campus areas to involve us early in the process.
Organize around services
The Salesforce program of projects will allow us the opportunity to organize an entire team around delivering a service. If the model works, it could lead to future changes in how we organize our teams.
Laying new track
Projects that require OIT development resources continue to grow at Boise State University.
Personnel recruitment and retention — full-time staff
Although retention has improved over the past few years, Boise State employs the most skilled IT professionals in the state and we continue to lose top talent to the private sector.
We're also concerned about large companies paying "California wages" to local workers. We will need to respond with competitive salaries, the latitude to recruit from outside Idaho, and options for remote work.
Personnel recruitment and retention — student staff
Attrition of student employees and inability to hire capable replacements (primarily due to lack of interest in student employment during pandemic) has strained bandwidth for full-time FTE. Focus for improvement is on additional marketing and outreach efforts to attract new candidates.
Workload | Morale | Culture
The ongoing struggle of finding a reasonable work-life balance was upended throughout the pandemic.
The early days of COVID
The pandemic presented an early challenge to both organizations and individuals — rapidly evolving information that caused ever-shifting decisions. This was compounded by furloughs, possible layoffs, and potential budget cuts. These were hallmarks of the early days of the pandemic, and not just at Boise State. Collateral damage included shifting priorities resulting in stalled or canceled projects.
The summer of COVID
After the uncertainty came the crush of work to get ready for the fall semester. The good news was COVID relief funding was becoming available and we had a clear path to what was needed. The bad news was could we get it all done. During summer, most staff in the department worked 60+ hours a week resulting in employee burnout, frustration, and some of our staff choosing to leave the university. We have weathered this storm and are better prepared for future crises.
How we support others
New ways of supporting our customers introduced logistical challenges. The transition to remote work also restricted modes of communication for change management, leading to increased reliance on email and websites as primary sources of change information.
Security mindset
The shift to a remote workforce greatly increased our cyber threat landscape. Going forward the balance between onsite work and remote will shift the threat paradigm forever. Increasing variants of Ransomware and malware will continue to stress detection, remediation, and patching resources for University systems. Continued investment in technology and process improvement will be required to reduce risk.
Physical expansion
A relatively unknown challenge is building new construction to IT standards. The current processes favor faculty as the owner of the technology rather than OIT. We've made progress, but are still years away from designers and architects treating technology requirements on par with utilities such as water and power.
Research and medical data compliance
IT compliance requirements continue to grow especially in support of research initiatives, grants, and medical data management.
Funding
It is always easy to say that more funding is needed. However, two things are certain: there will never be enough funding, and OIT has been extremely fortunate to have received federal funds to improve the classroom experience, improve security, replace aging infrastructure and operate during a pandemic.
We still have more work to jointly develop stable funding models for phones and networks, storage, testing services, online students not being charged a Technology Fee, and OE that supports training and development. While giving resources away without a defined base level of service can create waste, charging for services causes the community to search for other options. We also have a responsibility to plan for future expenses and communicate with leadership to allow for adequate lead time. Lastly, we have to be diligent in making formal requests for funding after initial informal agreements have been established.
More Information
For questions or additional information about OIT's annual report, please contact Max Davis-Johnson at max@boisestate.edu.