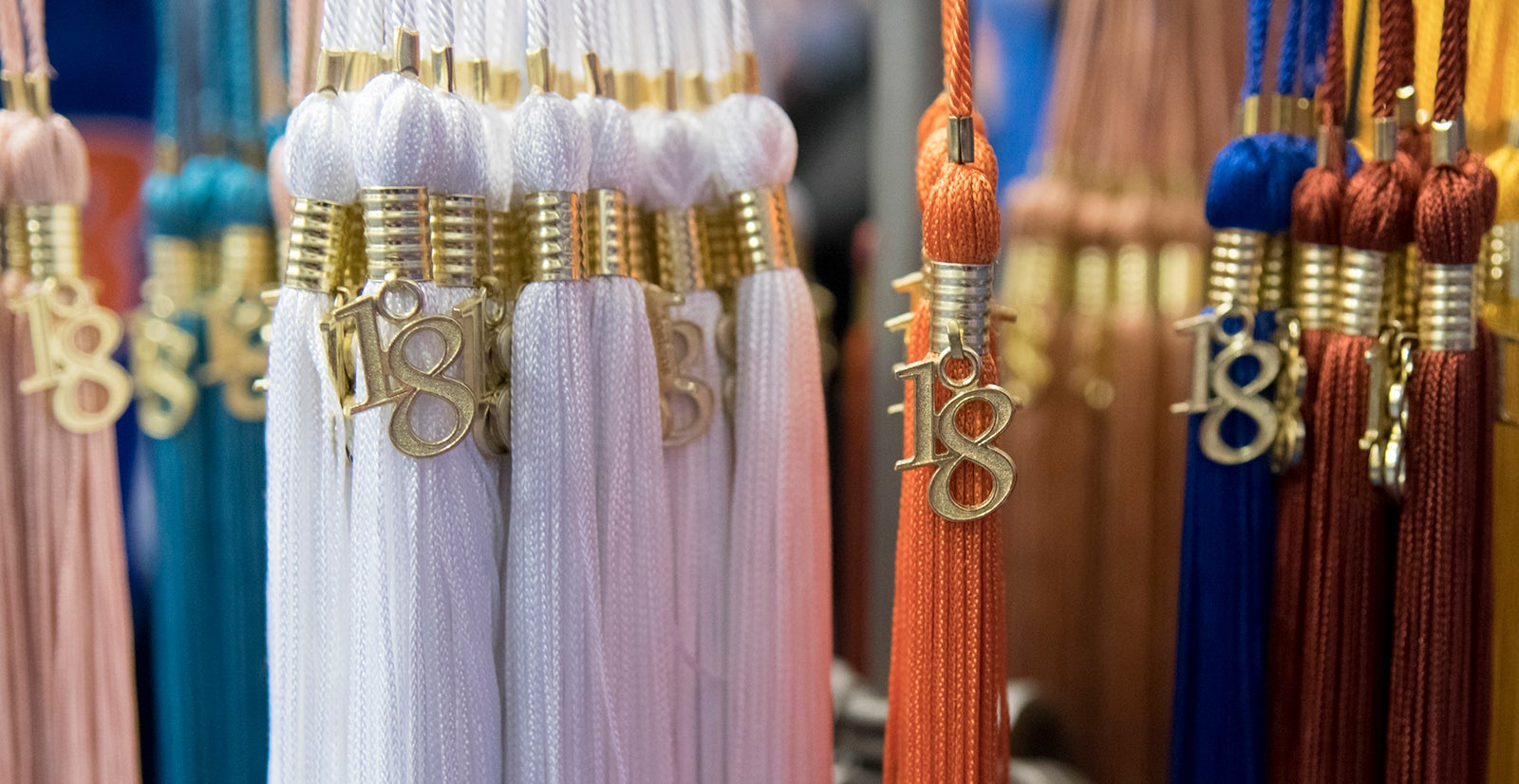 Boise State University celebrated its 103rd Commencement on Dec. 15, honoring its summer and fall graduates with a traditional ceremony and bestowing a Silver Medallion, the university's highest honor, to Boise businessman and philanthropist A.J. Balukoff.
A total of 1,989 students were eligible to receive 2,281 degrees and certificates. Of those, 383 were eligible for honors: 219 cum laude, 146 magna cum laude and 18 summa cum laude.
"As increasing numbers of students from across Idaho and beyond come to Boise State, campus life is enriched immeasurably, adding to the chemistry that turns a university campus into a living and learning community," said Boise State Interim President Martin Schimpf, addressing graduates during the ceremony.
More Idaho students choose to attend Boise State than any other university within or outside of the state; the university currently is serving nearly 28,000 students annually. In addition, Boise State recently was named one of the most innovative national universities in the country by U.S. News and World Report.
"Your role will be recognized as one of the building blocks that empowered Boise State to serve a stronger Idaho, to build our state and regional economy, and to improve the civic fabric of this very special place we call home," Schimpf said.
Winter Commencement student speaker and Jackson, Wyoming, native Ashley Potzernitz graduated with bachelor's degrees in psychology and Spanish, a minor in family studies and a 4.0 GPA. Coming from a hardworking family where education was recognized as an "investment," Potzernitz developed a passion for the Spanish language and began helping those in her community who did not speak English. While a student at Boise State, she used her skills in Spanish to translate letters for Spanish-speaking inmates in a local prison. As a freshman, Potzernitz also worked with local firefighters to lead an initiative to install fire alarms in the homes of refugees and families in need.
Potzernitz challenged her fellow graduates to take risks and never lose the child-like ability to speak up against what they know to be wrong.
"Graduates, I encourage you to practice vulnerability and to make your voice heard," she said.
According to Kelly Arispe, an associate professor of Spanish in the Department of World Languages, Potzernitz is "a true leader and an autonomous learner. She's a person of integrity who will do what she says she will do, and do it well."
During the ceremony, Boise State officials also conferred the university's highest recognition of service to higher education and the campus community, the Silver Medallion, to Balukoff, a certified public accountant and co-founder of Balukoff, Lindstrom and Co., the largest locally owned CPA firm in Boise.
Balukoff's ties to Boise State began 36 years ago when he and his wife, Susie, moved to Boise and quickly fell in love with the city and its "hometown university." Balukoff served on the Boise State University Foundation Board of Directors from 2008-2017 and was chair from 2016-17. Over the years, he also has served as a board member for Boise State's College of Business and Economics, the College of Education, and has been active on the Frank Church Institute Board of Directors since 2011. In the Treasure Valley, he has served as chair for St. Luke's Health System's west region board and was a member of the boards for Boise Philharmonic, Boise School District, Boy Scouts of America and St. Luke's Treasure Valley Foundation.
A first-generation college student, financial limitations kept Balukoff from pursuing college opportunities until an anonymous donor gave him a scholarship to attend Brigham Young University. The generous gift enabled him to earn a degree and launch a life of service and a successful career as a businessman.
In addressing Boise State's graduates, Balukoff highlighted the importance of generosity and the impact of serving our communities.
"You will never regret being generous," he said. "It will be a source of joy and accomplishment in your life, it will earn you the respect of your community, and you will help students to learn a skill and be prepared to serve."
During Winter Commencement, the Pesky Awards for Inspirational Teaching also were presented to four outstanding teachers: Pat Absalonson, Lewis and Clark Middle School, Meridian; Sylvia Fine, Kuna High School, Kuna; Laurie Roberts, Timberline High School, Boise; and Juan Salamanca, Alturas Elementary School, Hailey.
Alan and Wendy Pesky, founders of the Lee Pesky Learning Center, created the Pesky Awards for Inspirational Teaching and work with Boise State's College of Education to recognize K-12 teachers who have made a major difference in the lives of their students by their extraordinary competence, passion and caring.
View a video, full commencement photo gallery and more.