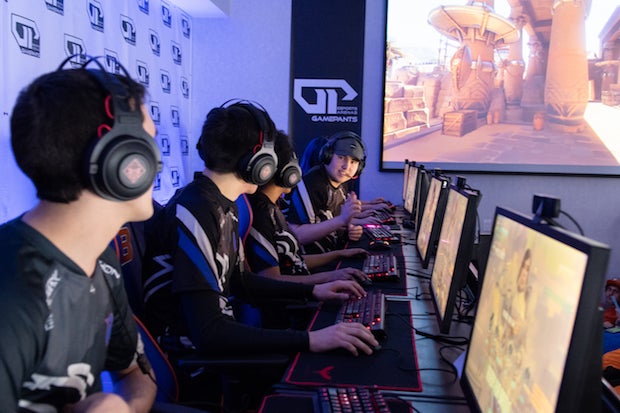 Boise State launched its varsity eSports program – competitive, team-based video gaming – in 2017. Not long after, the team played in its first exhibition tournament at the 2018 Mountain West Conference in Las Vegas, Nevada. Squad members further raised Boise State's national profile when they qualified for the Collegiate National Championship in Burbank, California, for the online card game Hearthstone. The Broncos finished among the top five Hearthstone teams in the U.S.
After a big first year, the program marked another milestone: the opening of a state-of-the art eSports arena in the College of Innovation and Design's Venture College in downtown Boise.
Thanks to sponsorship partners, donor teams, and support from the Colleges of Education and Innovation and Design, the arena includes a professional broadcasting section, a technical mixing and graphics area, a two-tiered stage set-up, and new lighting and sound capabilities. The arena also includes a large area for spectators to watch the team in action. Another special touch: program leaders are working to install first-generation blue-turf recycled from Boise State's iconic football field in the new space.
"On our team, we just love the game." – Issiac Torrero, varsity eSports player
The arena, said Brett Shelton, a professor of educational technology and general manager of Boise State's eSports team, will continue to bring high-visibility impact to the growing program. ValueGamers and Best Colleges recently ranked Boise State among the top programs in the country – 10th and 12th respectively.
"Yes, we have received a lot of recognition as being one of the best teams, but we won't be satisfied until we're number one," Shelton said.
eSports are still a bit mysterious to some traditional sports fans who are used to seeing college athletes running down fields, not sitting in front of screens wearing headphones – but they are not a new phenomenon. Robert Morris University in Illinois created the country's first varsity eSports team in 2014. Since then, around 125 colleges and universities have started programs. In 2016, according to Sports Illustrated, eSports events "comfortably" sold out venues like Staples Center in Los Angeles and Madison Square Garden in New York. An eSports championship held that same year drew more viewers than the NBA finals.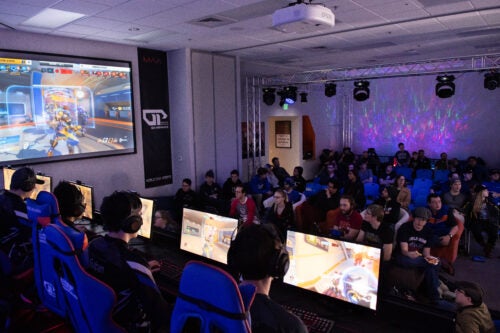 Boise State recently hired Ryan McNamee, the university's first eSports director of operations — and The Mountain West became the first conference to host its own league within the college League of Legends season. League of Legends among several games Boise State plays competitively.
Devoting energies to eSports now is a chance for Boise State to be at the forefront of a growing trend and enhance the academic experience at the university, said Gordon Jones, dean of the College of Innovation and Design (CID).
"As a college, our goal is to nurture emerging opportunities like eSports that have the power to develop creative problem solving, applied critical thinking, and technical familiarity that enable Boise State students to be prepared to tackle a world in which human-machine interaction will be the norm," Jones said.
The new arena's high-powered computers and large display screens will allow for multiple uses beyond video gaming, including data visualization and other presentations.
Working as a team
Even as they hone players' technical skills, eSports offer something else for those who play them: the chance to be part of a team and to show off skills in front of fans.
Obvious differences exist between eSports and traditional sports like baseball, football or track, said Issiac Torrero, a Games, Interactive Media and Mobile Technology major and member of Boise State's varsity eSports team. "But there are a lot of similarities, too."
eSports require focus, practice, and a taste for intense competition, said Torrero, who played football as a kid. "And if you're not working as a team," he added, "it won't work."
Torrero's team won the top prize for Rocket League during the Mountain West conference in Las Vegas. He's aware that even as eSports grow and gain support at the university level, some are still skeptical, insisting that eSports are not real sports. But in Las Vegas, conference organizers set up the eSports arena right next to the basketball courts.
"People would walk by and ask what it was," said Torrero. Members were more than happy to tell them.
"On our team, we just love the game," he said.
Torrero is not yet sure how eSports might figure into his post-graduation plans. Some players become professionals and get paid. Winners of The International, a major tournament in Canada, shared more than $25 million in prize money, for example. But that career arc is as competitive as transferring from a college football team into the National Football League, Torrero said.
As the industry grows, though, so will professional opportunities. eSports already attract a fanbase of millions who watch matches live, as well as online through online platforms like Twitch. Torrero said he might be interested in eSports commenting or analyzing in the future.
A level playing field
Many see eSports as a recruiting tool for the university, one that can engage a whole new group students in on-campus activities. During the most recent Bronco Day event, during which prospective students and their parents can tour campus, the CID staff greeted a steady stream of visitors.
"Everyone wanted to know where the eSports were," said Jillana Finnegan, the college's director of programs.
Finnegan helped organize the university's inaugural high school eSports tournament last spring. More than 100 players from 20 schools came to compete. Eagle High School sent the largest team – 23 students – to the competition.
For Amanda Thrall, Eagle High's eSports coach and assistant librarian, eSports are appealing because they're inclusive in a way that's rare in high schools and universities. eSports have tended to be male-dominated, but they're designed to include everyone – the best players, regardless of gender.
"eSports bridges all kinds of groups. We have kids from traditional sports teams who are really athletic, to students who have never picked up a ball," said Thrall. The team has included academic high achievers, as well as students with learning disabilities.
Playing in the tournament piqued her students' interest in Boise State, she said. Some students toured campus with their parents during the tournament.
"It opened their eyes to what Boise State, and college in general, is about," said Thrall, "community, hanging out and meeting new people."
"Students didn't realize how serious Boise State is about eSports, that they have a varsity team. They didn't believe the tournament was really happening until they showed up and saw the set-up," Thrall added.
Boise State's eSports team has matches scheduled in the arena throughout the spring. An all day tournament will take place on Bronco Day, Saturday, April 6. All matches are free and the public is welcome.