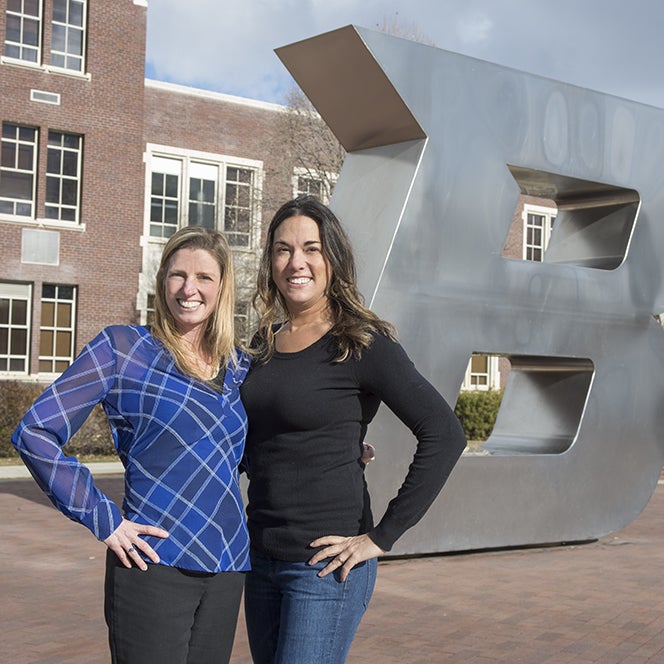 Boise State College of Education alumna Jill Hella has created the Jill Hella Student Teacher Scholarship, intended to help students pursuing teacher certification. The college's Dean's Excellence Fund has matched the donation to create a $25,000 endowment. Each year, selected scholarship recipients will receive approximately $1,000 from the fund to assist with expenses as they begin their year of student teaching.
"Our teacher candidates often remark on the financial stress they feel during their culminating field experiences, where they follow a teacher's full-time schedule, including all of the hours outside of the school day," said Jennifer Snow, associate dean for teacher education. "The College of Education is so thankful to Jill for honoring the dedicated work of student teaching in this way. A student teaching scholarship helps to alleviate some of the stress of full-time student teaching and allows teacher candidates to enjoy the experience of working with students more."
Hella, who graduated in 2004 with a master's degree in curriculum and instruction, taught in the classroom for many years and is now a local realtor. She credits her background in education and teaching with giving her the skills to be successful working with clients and in business. It has inspired her to give back to aspiring educators.
The scholarship fund was created to assist students with expenses incurred while they focus on student teaching. Students often are unable to work full-time or have other responsibilities on top of student teaching that can make this crucial part of their education more challenging.
"I am blessed to be able to give back to a cause I am connected to, and acknowledge the important role teachers play in people's lives," Hella said. "What I've learned throughout my schooling and in the curriculum and instruction program will be with me throughout my career and beyond."
This video is available with captions and a video transcript.