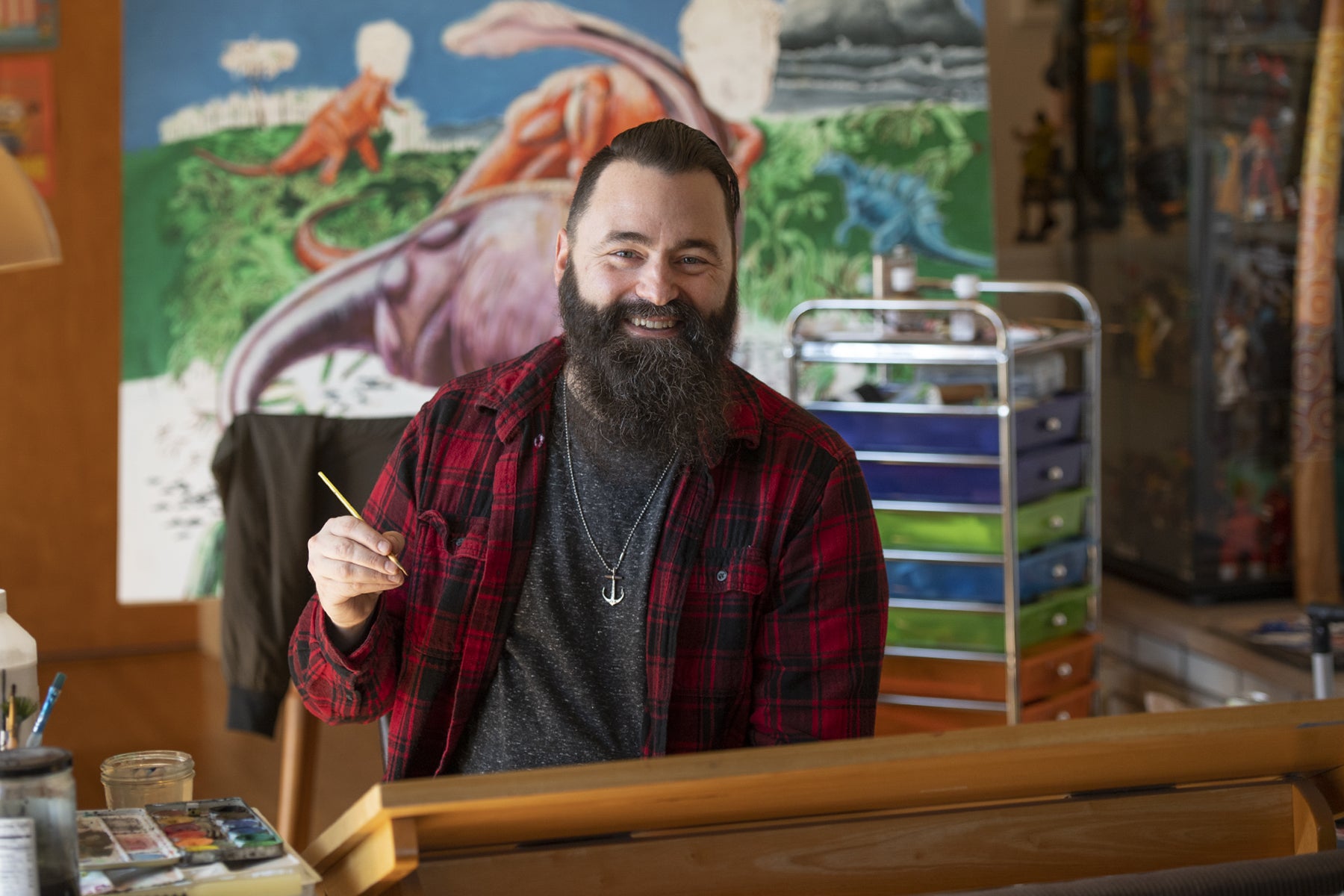 Alumnus Bryan Anthony Moore (BFA, '07, illustration) creates remarkable artwork that attracts the critical gaze of onlookers and holds it as if in silent conversation – or better yet, asks an all-consuming question: where do the facts of history bleed into myth?
"It is very hard to compare pre-industrial society to current culture," Moore says. "This opens a space for interpretation wherein a historical figure such as George Washington or Jesus Christ can be claimed by Libertarians or Socialists by selectively quoting their speeches, writings or lifestyles. They can 'be' whatever we like. Figures such as Washington become father-deities and figures such as Lincoln are morphed into martyrs in an American pantheon of quasi-religious worship."
To translate this idea of history being a chimeric hybrid of fact and fiction, Moore creates works such as Emancipatosaurus – the head of Lincoln atop the body of a dinosaur.
The lengths Moore went to in obtaining an education at Boise State are as remarkable as his artwork.
"I grew up very poor and enlisted in the Navy so that I could access the G.I. Bill," said Moore, who spent his youth in and out of foster care. He started out at Boise State on academic probation, yet thrived at university, making the dean's list, becoming president of the university's chapter of the Golden Key International Honor Society, a member of the Phi Kappa Phi Honor Society and president of the Native American student club on campus.
"It felt like I was able to hit a reset on my life," Moore said. "My narrative was changed. The other thing that I treasured was finally learning classical drawing techniques. After years of being an outsider artist, my skills improved so rapidly with just a few classes of fundamentals."
Those fundamentals have served him well. Moore has shown his work prolifically throughout the nation since graduating Boise State cum laude in 2007. Moore has exhibited in New York City, Munich, Germany, Miami and San Francisco. He is represented by Hive Gallery in Los Angeles and he recently has shown work in the Idaho Triennial, in the accompanying Art Lab residency at Boise Art Museum, at a residency at College of Idaho, in a solo show at Boise State, as a visiting artist at College of Western Idaho and at a residency in Ming studios. Moore currently is exhibiting a mural co-created with students and Goran Fazil in the main building at College of Western Idaho.
Moore counts former Boise State adjunct professor Karen Brown, illustration professor Bill Carman and professor emeritus Richard Young among his most impactful instructors.
"They taught me art and world history, illustrative techniques and thought processes, and drawing/painting fundamentals, respectively," he said.
You can learn more about his work at BryanAnthonyMoore.net.