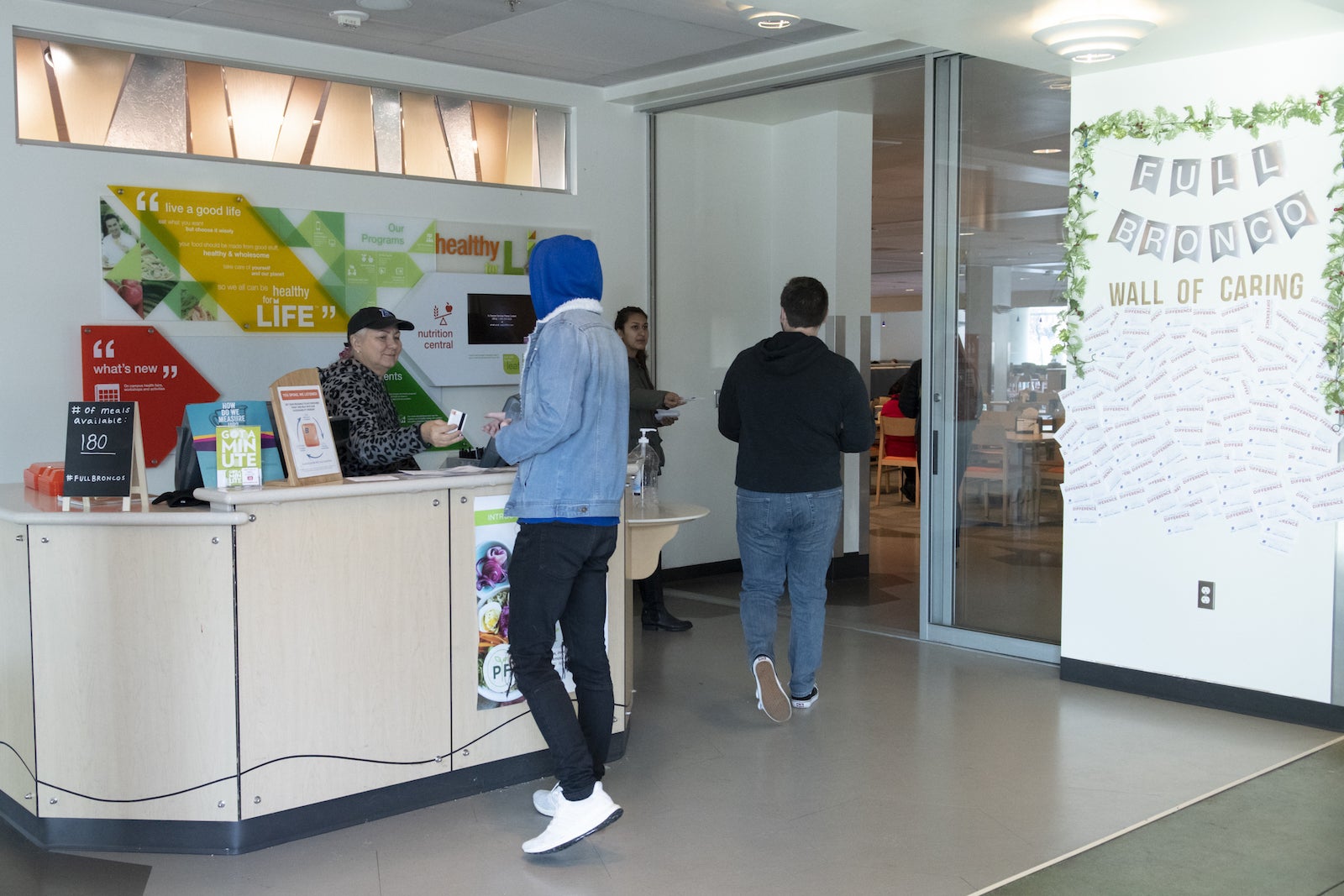 Boise State students in need of a free meal can visit the Boise River Café from April 22 to May 11 and eat their fill, thanks to the Full Broncos Meal Project, a student-led initiative made possible by Campus Dining Services and Aramark.
Beginning April 15, students with meal plans can support fellow Broncos by donating one unused guest meal swipe to provide a meal for a student in need. To donate a meal, students with meal plans can notify the cafe attendant at the entrance of the dining hall that they would like to donate one of their guest meal swipes to the Full Broncos Meal Project. Students will have the opportunity to donate meals through May 11.
Beginning April 22, students in need can ask cafe attendants for a Full Bronco Meal, which is given anonymously. There is no limit on the number of meals a student can receive.
"I was scared, not knowing where I would get my next meal from." – anonymous student
During the first Full Broncos Holiday Meal Project in December 2018, a total of 543 meals were donated. Organizers now hope to double that number by extending the program from 11 to 20 days.
"At Boise State, we believe student success shouldn't be hindered by hunger, and that students should strive to succeed, not struggle to survive," said Jessie Dexter, a graduate research assistant with the Department of Community and Environmental Health. "We want to make our campus a supportive and inclusive learning environment for all, and ensure that every student is able to reach their highest potential."
Studies have found that one in three students at four-year universities experiences food insecurity, resulting in higher levels of stress, depression and anxiety. According to Dexter, food insecure students are less likely to have confidence in their academic abilities or feel on track to achieve their academic goals. Student hunger, and the emotional and physiological stresses surrounding it, dramatically impacts a student's ability to excel.
"I have a hard time paying for food, and the only thing keeping me alive right now is the food pantry on campus," said one anonymous student. "I was scared, not knowing where I would get my next meal from. I often spent time outside the [Boise River Café] praying that some kind freshman would let me in. I would go to restaurants asking if they had any food they were willing to give away that was expiring. I spent many nights hungry, often only have one meal to eat that day, if I was lucky. The stress, the physical and mental toll that this did to me, was devastating. My grades were falling; I was not productive at work; I lacked energy to do anything… I was scared to tell anyone because I was ashamed. No one should ever have to go to bed hungry, go to work hungry, go to class hungry, take care of their kids hungry. No one should have to suffer like I did. No one should ever have to feel the same way I did."
"We want to invite Boise State students to join the fight to end student hunger, by donating an unused guest meal swipe to a fellow Bronco in need," said Dexter.
For more on how Boise State is working to end food and housing insecurity on campus through programs like the campus food pantry and meal assistance, visit the Dean of Students website.