Gmail now allows you to schedule your emails to be sent at a later time and date.
When this feature is available, users will see an arrow next to the Send button when composing an email. Instead of clicking Send, choose that arrow to schedule when to send, and pick the date and time to like to deliver the email.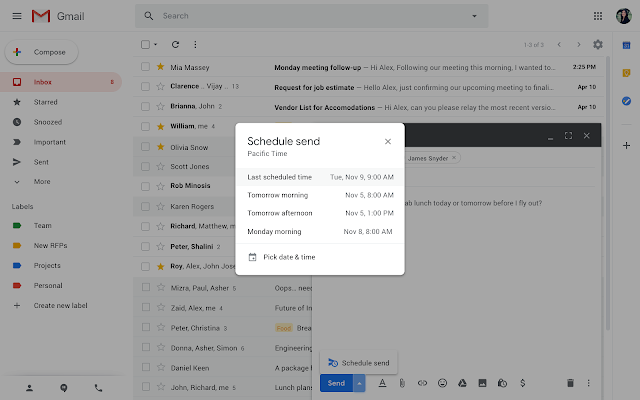 In addition to the arrow next to the Send button, there will be a new Scheduled folder in users' Folders list. This allows users to see the messages they've scheduled and make any changes.
Google indicates it's possible that the Scheduled folder will appear in accounts before the arrow is available. If this happens, it's expected behavior and the arrow will follow shortly after.
For assistance with this feature, visit Google's support website.
Gmail Conversation View Threading Changes
Google also is making improvements to the way Gmail group messages in conversation view. Previously, threaded messages needed either of the following conditions to be met:
A message is sent in reply to another.
A message has the same sender or recipients, the same subject, and is sent within one week of an earlier message in the thread.
A new requirement will make sure an email's reference header matches the reference IDs of previous emails.
This means that if you receive two emails from the same sender that also have the same subject line, they'll only be grouped together if the reference IDs match.
In short, this will help ensure emails are only included in threaded conversations if a definite relationship can be established.
If you'd like to read more about this change, visit the G Suite Updates blog.
For questions about these updates or any of the G Suite applications, contact the Help Desk at (208) 426-4357 or email helpdesk@boisestate.edu.