The first community opened in 2004 with 20 students, and today seven Living Learning Programs are home to more than 200 students.
Boise State's Living and Learning Programs (LLPs) are home away from home for a growing number of students who want to live in a community of learners with similar academic interests.
Students who plan to live on campus can apply to one of five Living Learning Communities for first-year students, or one of two Residential Colleges, open to undergraduate students throughout their four years on campus. The communities blend academics and daily life, and each features a Faculty-in-Residence — a professor who not only interacts with LLP students in the classroom, but also lives in the residence hall.
When Kamryn Parker decided to attend college out of state, her family worried. Would she be safe? Would she find herself in an environment that would help her do well in school? If she felt lost, or just had a bad day, would anyone know?
Parker, from Chico, California, is majoring in computer science, and when a professor gave her a tour of the Engineering and Innovation Residential College, it felt right.
"My parents were really happy when we found somewhere where they knew I was going to make great connections with people. They felt a lot better about sending me off a couple states away knowing that I had a professor there who was going to look after me, one that lives with us," she said.
Students in each LLP complete an academic class together. For example, in Engineering and Innovation, a first-semester paper is focused on setting goals and creating a roadmap to achieve them, how to deal with inevitable adversity, managing time and understanding teaching and learning styles. The second semester is focused on engineering projects, which will be presented as part of the College of Engineering's Senior Design Showcase.
"Students participating in my community, on average, have a 13 percent higher GPA than their counterparts in the College of Engineering and an 89 percent retention rate at Boise State," said Professor Krishna Pakala, who lives in the Engineering and Innovation Residential College with his wife and second-grade son.
Kristin Olson joined Boise State earlier this year as assistant director for Living and Learning Programs. She notes that student engagement and academic success is a defining characteristic across the communities.
"Overall, students who live on campus perform better academically and are more engaged in school than their peers who live off-campus. That is even more true for students in Living and Learning Programs. The communities engage students very quickly in a positive way and they are academically and socially thriving," she said. "The faculty here are so committed to this program, and they continue to just make it better."
Faculty members who participate have valuable takeaways, as well.
Marketing professor Jonathan Krutz has served as faculty-in-residence for the business and economics community for three years. He was first motivated to participate because as a professor he knew that there often were more students in his classes at the beginning of the semester than at the end.
"I always wondered about those students and worried about them. I wanted to know them better, to know what their challenges were, to see what kinds of changes I might be able to make in the classroom that could help them," he said.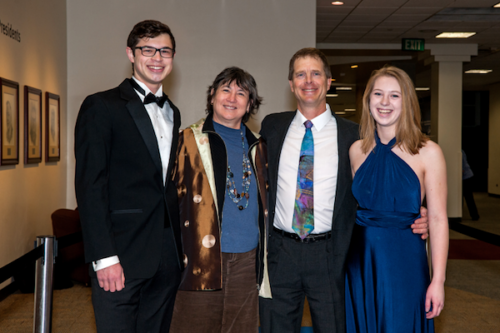 "On my floor, I see that there are 30 students watching out for each other. I see the impact they have on each other and the support they provide for each other, and that's the strength of the LLPs."
It has impacted his teaching. In all of his classes, he follows this model by setting up smaller teams of students and having them work on assignments together, and it is making a noticeable difference for students.
Some students admit they first wondered if they would enjoy living in the same building with a professor. Those worries quickly dissipated.
"The faculty in residence are just there if you need them," said Christian Farradj, who is double majoring in pre-med and biology and lives in the health professions community. "You are building not necessarily that student-professor relationship — you get a little bit of that — but you really get a friend and a mentor out of it, and that's really amazing."