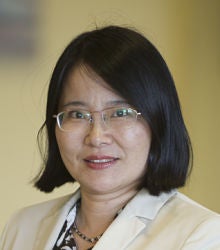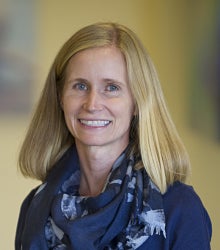 Two School of Nursing faculty received an award at the Western Institute of Nursing annual conference April 10-13 in San Diego. Lucy Zhao and Jenny Alderden, both assistant professors, were awarded Best Gerontology Research Presentation for their research, "Factors Associated with Falls in Homebound Community-Dwelling Older Adults."
Each year, the Western Institute of Nursing's Gerontology Special Interest Group reviews gerontology research abstracts accepted for presentation at the annual conference and selects one research for the award. This year Zhao and Alderden's research was selected from approximately 80 research abstracts reviewed.
Their research examines the risk factors associated with falls among homebound older adults. They found that about 30 percent of older adults aged 65 and above experience a fall annually. To examine risk factors, Zhao and Alderden used a correlational study and data provided by the National Health and Aging Trend Study to measure characteristics of falls for 1,356 homebound older adults.
As a result, they found that hypertension, hearing impairment, balance problems or depression/anxiety placed homebound older adults at an increased risk for experiencing falls. These findings allowed them to conclude that, in order to prevent falls in homebound older adults, community health nurses may consider assessing the fall risks found in the study and developing appropriate fall prevention strategies. Additionally, Zhao and Alderden found that more studies are needed to examine the association between home environment and falls in this population.
The Western Institute of Nursing works to bring together a diverse community of nurses in a shared commitment to transcend the boundaries of knowledge, development and application to advance the nursing discipline and drive improvements in practice, outcomes and cost. The theme of this year's conference was career, connection and community.