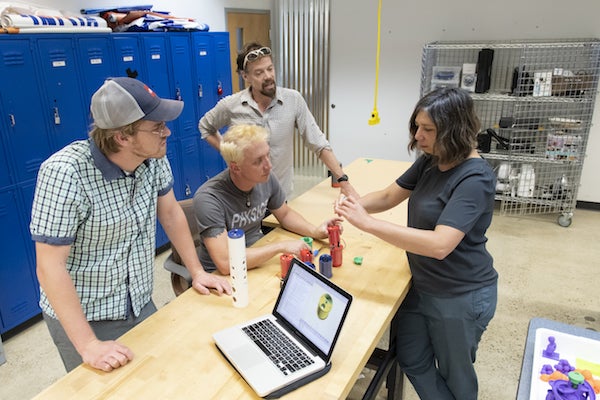 Events like volcanoes, earthquakes and avalanches – even things like wind turbines and some animals – produce infrasound.
Jeffrey Johnson, an associate professor in the Department of Geosciences, describes infrasound as "the language of large, typically violent physical sources, which produce a sound field below the threshold of human hearing."
Johnson builds specialized microphones and sensors capable of detecting it. Volcanoes are his specialty. The microphones and sensors "can tell us whether a volcano is building towards eruption, or if it's 'happy' and stable," Johnson said. "If we know when a volcano is awakening, agencies can make smart decisions to reduce risk."
This summer, he and a small group of students and fellow scientists are working in the MakerLab at Albertsons Library to improve their sensors and microphones, "improving them, making them more flexible, more robust and easy to incorporate into scientific field studies," said Johnson.
In short, they have to be inexpensive, portable and waterproof.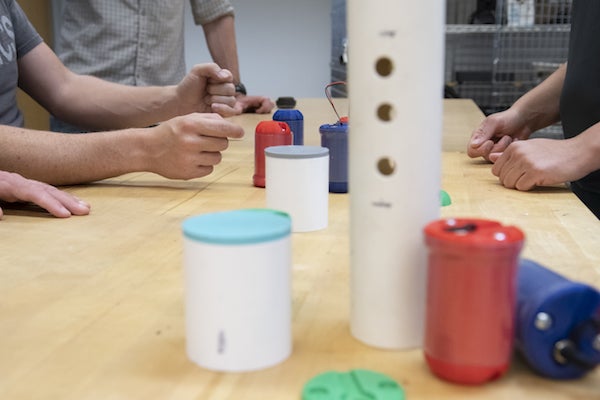 Amy Vecchione, an associate professor and head of Emerging Technologies and Experiential Learning, runs the MakerLab. She's helping Johnson's team 3D print the parts they need out of specialized plastic. The process has involved much conversation, and trial and error as students build their expertise in mass production of 3D parts, said Vecchione. She has learned techniques from the students as well.
"They're building workplace skills," she said. "When they leave here, they will be able to tell any potential employer about this project."
Two grants from the National Science Foundation are supporting the work. With that support, Johnson had lots of options, but he chose to stay on campus and use the MakerLab.
"I decided it was ideal because of the resources there, including Amy's expertise. This sort of facility is important for researchers. It enables efficient development and application of our research objectives," he said.
The proof is in the field work. Johnson has shared the technology with more than 20 international science organizations, "from Africa to South America." Scientists also have sent balloons with infrasound detectors into the stratosphere – the atmospheric layer from about 5-31 miles above the ground.
Recently, scientists used prototypes of the improved microphones and sensors built just last month in the MakerLab to study Stromboli, an active volcano off the coast of Sicily. Engineer and former Boise State graduate student Jake Anderson, also part of the team working in the MakerLab this summer, is using infrasound microphones and sensors to study the Boise River, and how birds may use it to navigate.
Another grant allowed Johnson to place infrasound detectors at ski areas in Utah to listen for avalanches.
"When you can't see the slopes and can't hear them with your ears, you can still hear them with these sensors," said Johnson.
Work to improve the sensors and microphones will continue in the MakerLab through the fall, said Johnson. He anticipates discovering even applications for the tools moving forward.
– By Anna Webb annawebb@boisestate.edu