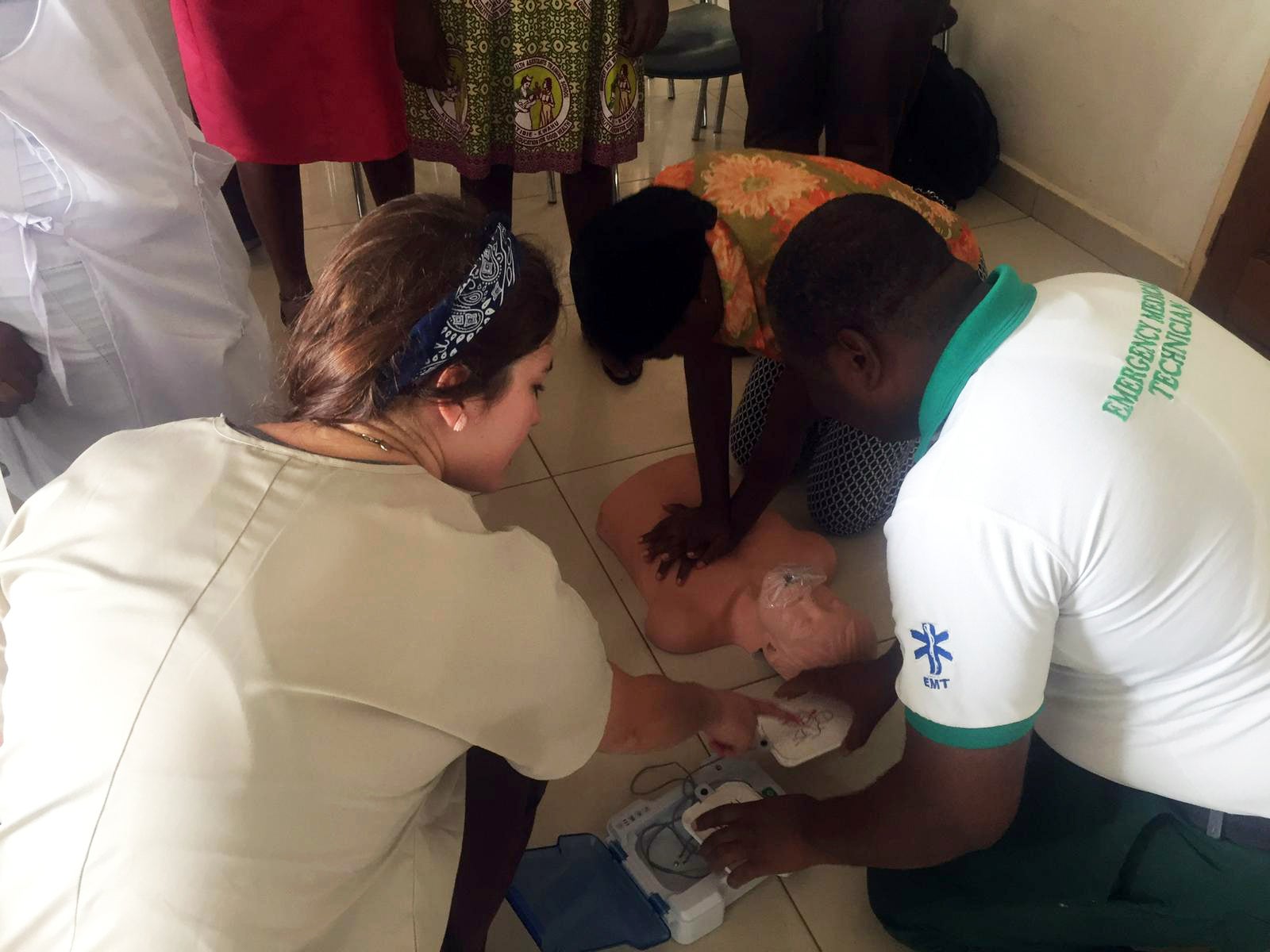 Boise State students recently visited Ghana for an experience that left them feeling renewed and passionate towards their future careers and global health.
Samantha Davis, clinical assistant professor for the Department of Respiratory Care, took two College of Health Sciences students to Ghana to join efforts with Charity Beyond Borders and the University of Kansas Medical Center in an effort to advance respiratory care, provide healthcare services and education to the citizens of Ghana, and also exchange healthcare knowledge and practices with providers.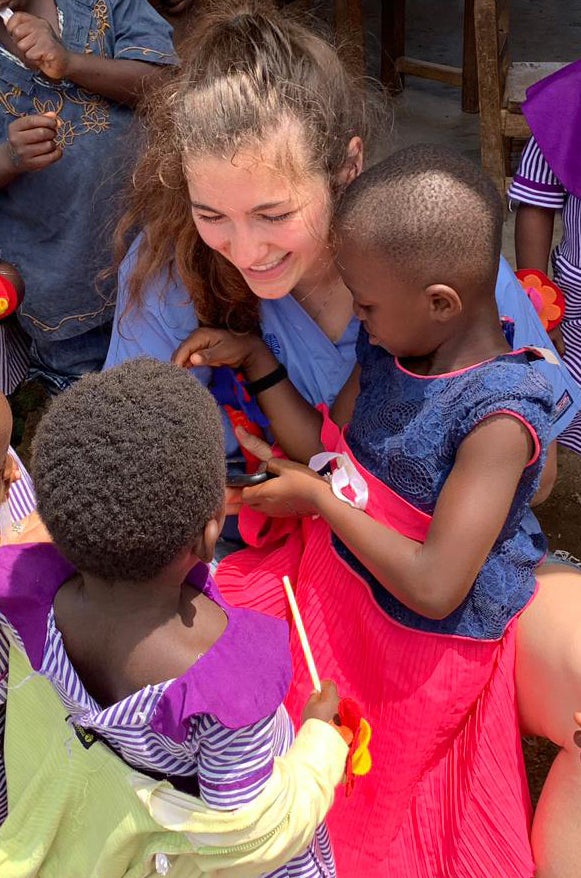 Charity Beyond Borders is a non-profit organization that works to share healthcare services and healthcare education with the people of Ghana. The organization, which has been sending volunteers to Ghana for over ten years, started with Lisa Trujillo, director and clinical associate professor for the Department of Respiratory Care at the University of Kansas Medical Center. Trujillo established Charity Beyond Borders after visiting Ghana and realizing the need for such care and education as respiratory care was an uncommon practice. She now serves as the director for Charity Beyond Borders, which has made it possible for students and clinicians to donate their time and services to the people of Ghana every year. (Although the organization and trip has roots in respiratory care, all health professions are welcome to help provide services and education to communities in Ghana.)
As a result of Charity Beyond Borders' and their partners's efforts, a bachelor degree program in respiratory care has been launched at the University of Ghana. This program is the first ever respiratory care program in Africa and will graduate its first cohort in December 2019. The program currently has three cohorts and has traveled to the University of Kansas Medical Center to visit U.S. hospitals, gain additional clinical experience and take classes.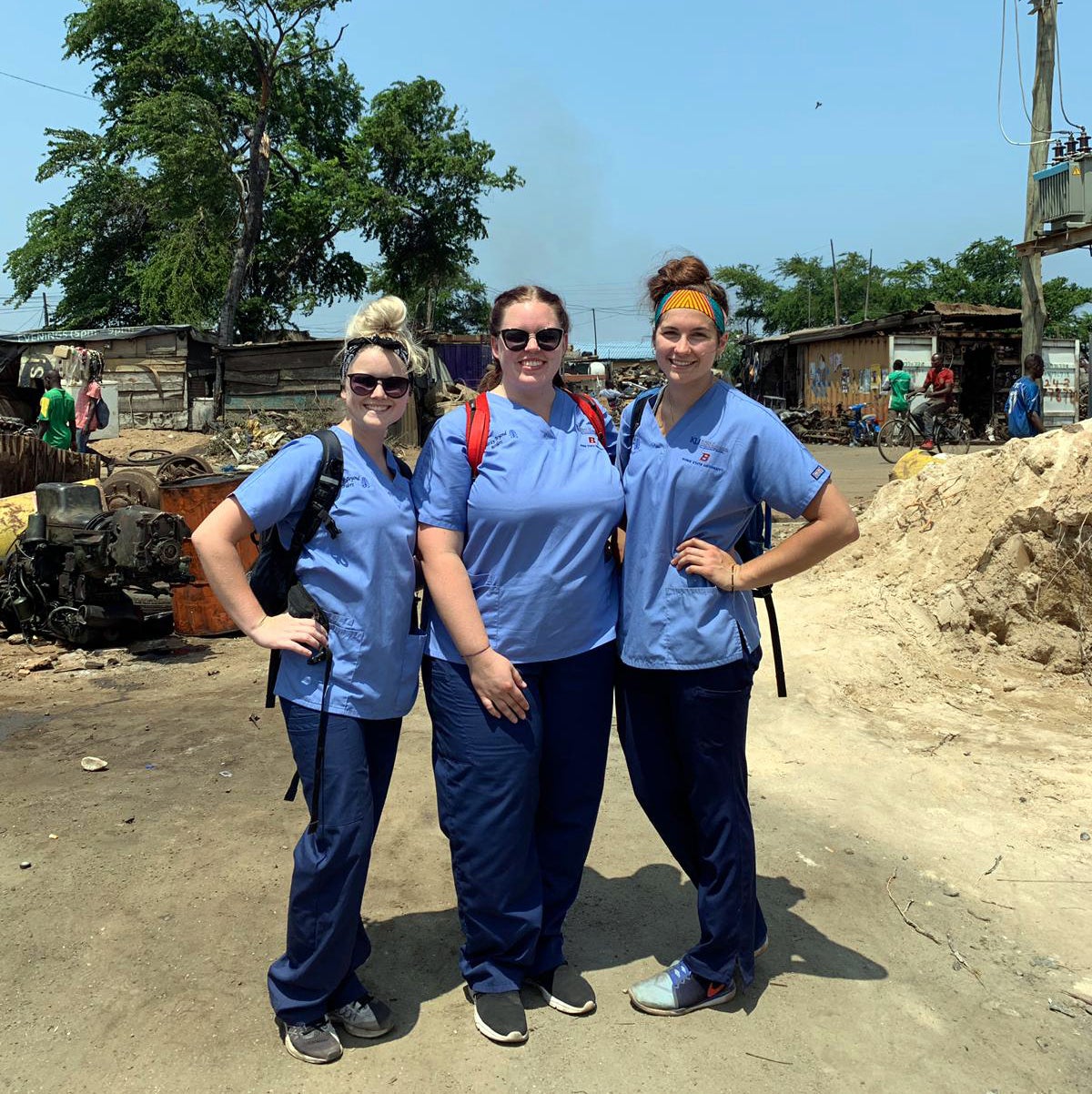 Davis, along with Boise State students Abbey Sorensen, an undergraduate nursing student, and Megan Fodrea, an undergraduate respiratory care student, traveled to Africa on May 22 to spend nearly a month in Ghana. Alongside 18 other students, faculty and clinicians with Charity Beyond Borders, they were able to bring healthcare and healthcare education to more than 1,000 patients in numerous communities and schools.
"During our time in Ghana, we were able to visit five hospitals," said Davis. "When in the hospital setting, we didn't provide treatment but instead observed and shadowed the health professionals. We would often talk to patients about procedures and exchange practices and knowledge with the local healthcare providers to further understand and learn from the differences we saw compared to those in the states."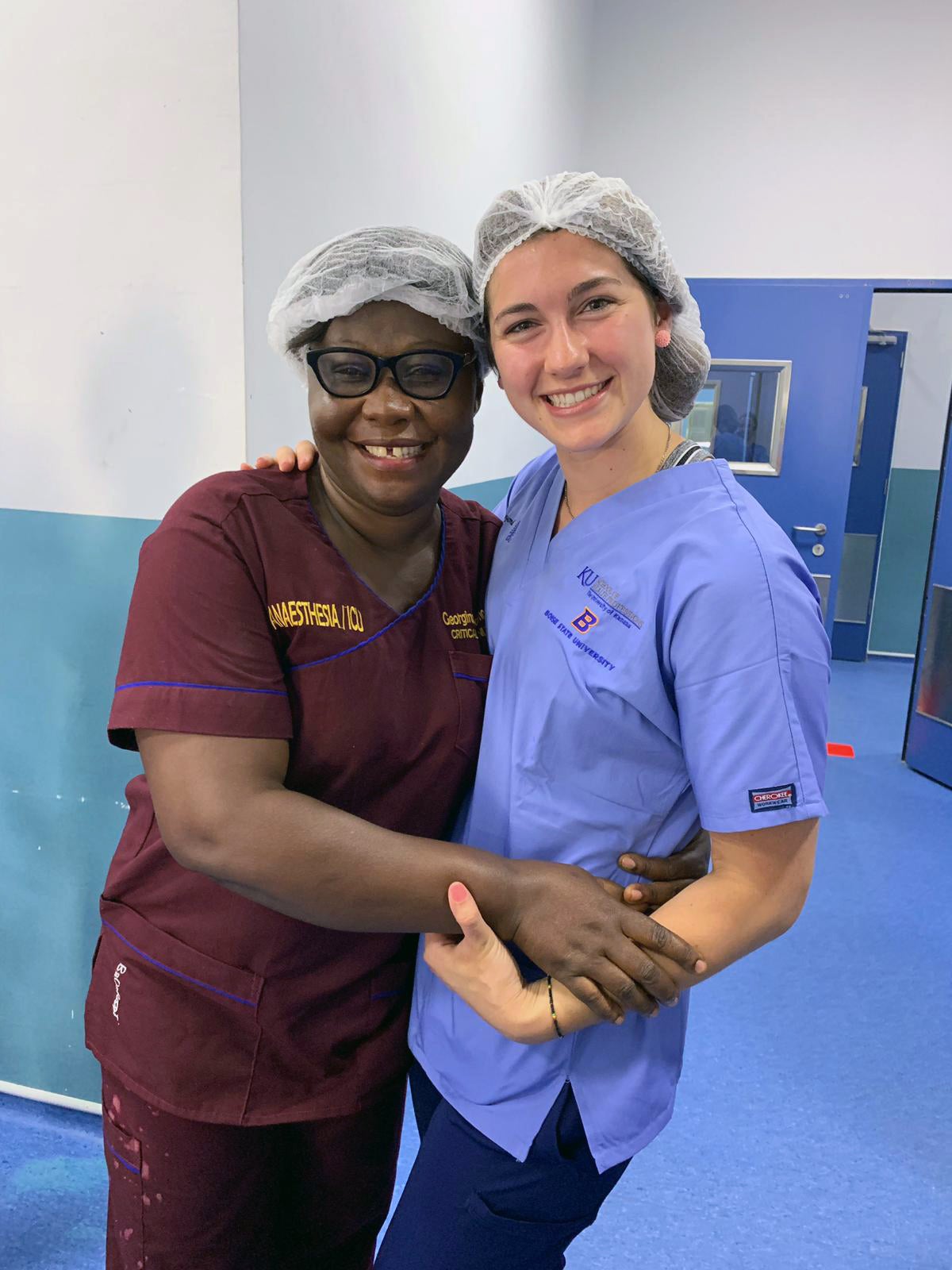 "I found it so valuable to be able to exchange healthcare knowledge with providers in Ghana and learn from the way they perform certain practices, often with few and overused resources," said Sorensen. "I was also blown away by the nurses and how efficient and smart they were with their time because they were often understaffed and overflowing with patients needing care. And yet, they still managed to keep a calm composure and level head while providing care."
Davis, Sorensen and Fodrea also were able to visit many communities throughout the country to perform clinics. Clinics allowed them to provide communities with health assessments, first-aid and care for wounds. During these clinics, they also would provide education about personal healthcare and health precautions.
"As is customary in Ghana, when we arrived in a new community, we would greet the elders and provide healthcare assessments. The elders specified the type of education their communities needed most," said Davis. "We would typically provide education on wound care, oral care, hand hygiene and sexually transmitted infections – including proper use of personal protection, such as condoms. We also spent time at the local schools where we would bring games and do activities similar to a field day."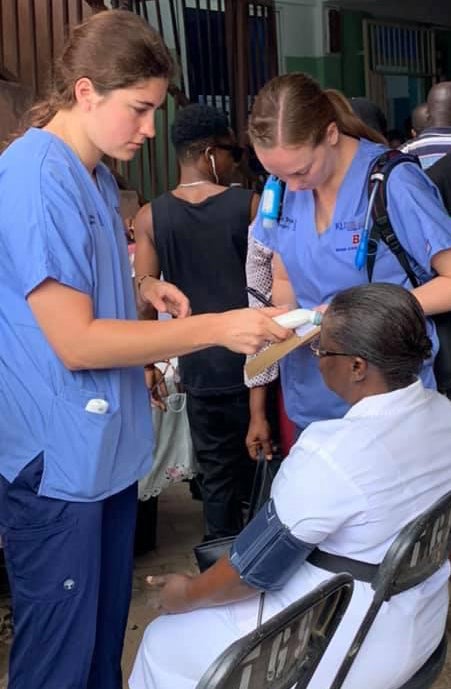 Davis traveled to Ghana the previous year as well. She has found that for students, getting an inside view of the healthcare system in Ghana is an extremely rich learning experience.
"We keep in touch with community leaders throughout the year, which leads to more impactful and sustainable work," said Davis. "Some of the students' greatest learning experiences came from the healthcare providers they met throughout their journey. In speaking with the students from the respiratory care program from Ghana who had visited the states in November 2018, we were able to learn from them how our own healthcare system is perceived. For students to have the opportunity to hear the different perspectives of our own healthcare system furthered their knowledge in a way that is typically unachievable."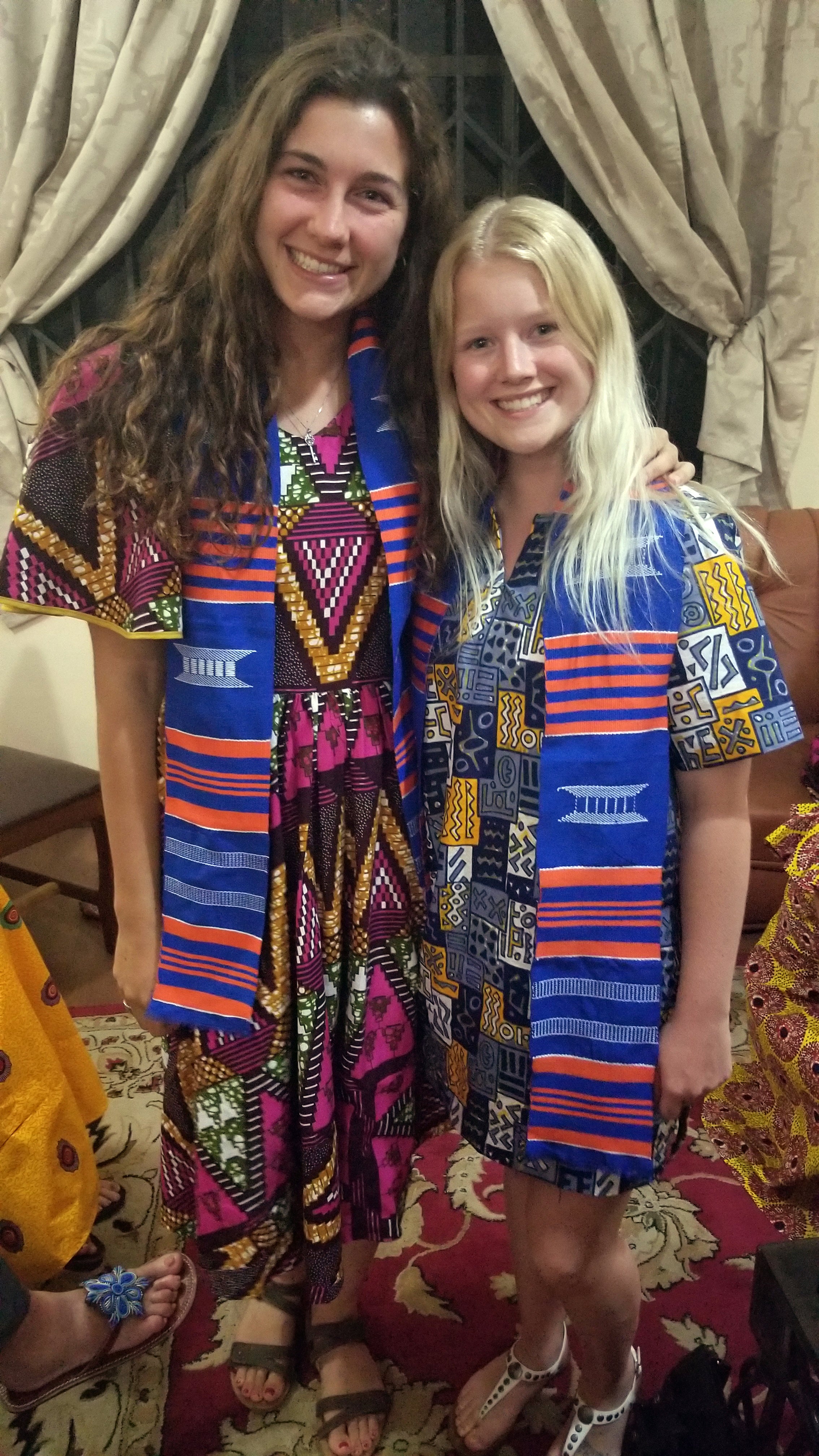 "Spending time in Ghana, I was able to understand the culture and world of healthcare from a perspective completely different from the one I've always known," said Sorensen. "Many of them don't have the time to leave work and visit a clinic or hospital to receive care, so having the chance to bring the healthcare directly to them and see the gratitude in their eyes and the smiles on their faces when we gave them simple self-care items like first aid kits and toothbrushes, touched my heart in ways I've never experienced before… I will never forget the time I spent in the beautiful country of Ghana and the astonishing people I was able to meet and care for."
Students who traveled to Ghana were able to receive a total of six credits for their trip. College of Health Sciences students who are interested in attending next year's trip during summer of 2020, can contact Davis at (208) 426-3318 or samanthadavis170@boisestate.edu.
– By Taylor Music