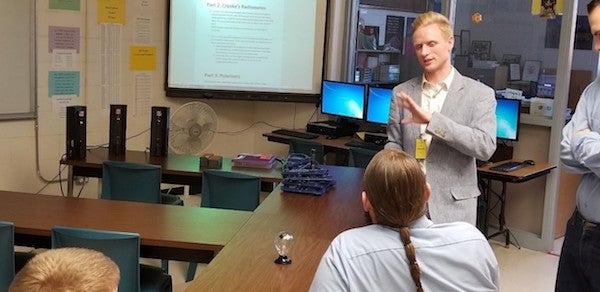 When it comes to educational opportunities for inmates at the Idaho State Correctional Institution south of Boise, "they're limited," said Randy Valley, deputy warden of operations. The prison offers a GED program because a large share of its population doesn't have a high school diploma. Beyond that, Valley relies on volunteer educators.
They're invaluable, he said. "A good teacher can get people in the door to an education. And some stay."
Kirk Long will graduate from Boise State Univeristy in 2020 with a degree in physics. He grew up in Boise, and received scholarships from the Honors College and the Idaho Opportunities Scholarship program. He has two day jobs – leading STEM summer camps at the YMCA and working at Bruneau Dunes State Park Observatory running "the biggest telescope in the state." Since February of 2019, he's volunteered to teach science and coding classes at the prison.
He told us more about his work there and his hopes for the future.
Q. How did you become interested in volunteering at the Idaho State Correctional Institution?
A. For an honors class (University Foundations 200: Foundations of Ethics and Diversity), I read "Just Mercy: A Story of Justice and Redemption," a book by Bryan Stevenson about the American prison system. Basically, the biggest takeaway was that everybody is better than the worst thing they've ever done. Stevenson recommended ways to combat this vicious cycle that the prison system becomes for lots of inmates. I'm a believer that education is power. I thought, maybe if I could pique an intellectual curiosity in someone in prison, it could have a positive ripple effect in the community. This seemed like a thing that I could do.
Q. Had you done any kind of work in a prison setting before?
A. No, I had no familiarity. I walked in green. My initial idea was to tutor math for the GED program, but they already had that covered. What they thought would be more valuable would be for me to teach a new skill, or something that might inspire people to go on and get their GEDs. (Note: the correctional institution graduated 32 GED students this year, a record number. Long attended the ceremony. Chuck Durrant, the institution's education program manager said, "I credit much of our success to the inspiration and excitement Kirk brought to the program through his volunteer efforts.")
Q. What was it like the first time you walked in the classroom? 
A. I was surprised at how much interest there was. I didn't know if people would show up, but I usually have between 10 and 20 students in class, and some who come every week. I'd been expecting two.
I thought people wouldn't take this seriously. I'm not the most stereotypical person you'd see in a prison. But the students just seem grateful that I'm there and no one has questioned the relevance of the classes.
Q. What are some of the lessons you've taught? 
A. In my science class I've brought in solar telescopes. We've done experiments with electricity and magnetism. We've built spectrascopes. They're kind of like a prism, but better. They break white light into colors. Every element has its own distinct set of colors, like a fingerprint.
Q. What are your students like? 
A. They're men, most are in their 20s or 30s. But I have some students in their 60s and 70s. I have an older student who worked with Basic (an early programming language) in the 1970s, so he has a foundation in coding. Learning coding is kind of like learning romance languages. If you know Spanish, it will be easier to learn Portuguese. Coding with Basic is like that.
Q. What's your favorite subject to teach?
A. I'm partial to astronomy. My emphasis is astrophysics. It's cool to watch inmates – well, anyone – get interested in a subject. You see it in their eyes. They take something I've shown them and make connections that relate to their own lives.
Q. What's been the most rewarding moment so far?
A. In coding class, I had a student who took what I taught him in Python (a coding language) and started developing a game with Blender (a popular open-source 3D computer graphics software that uses Python). That's a marketable skill. One of the easiest places for someone to get a job is in software development. And those companies will be less judgmental about someone having a prison record, because they just need people.
It's also been cool when students ask for extra information, have questions they've obviously been thinking about all week, or are curious about my research. I'm working with Prof. (Daryl) Macomb, trying to characterize X-ray binary pulsars – dense stars that spin around each other.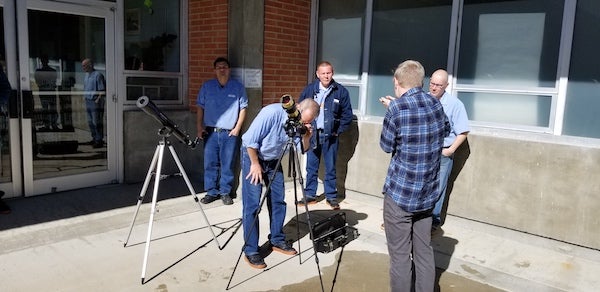 Q. What's surprised you about your work at the correctional institution?
A. I was surprised at how chill it is. When I tell people I work out there they joke, ask me if I've ever been shanked and that kind of thing. But I've never felt a security risk.
I was also surprised to learn that I'm one of the few who has done this in a while at ISCI. I plan to leave for a graduate program, but I hope more students will continue to volunteer there and teach different subjects. I'd love to see art students get involved. I know that at Boise State, lots of classes require a service component, so I've been trying to talk to professors about the possibilities.
It's cool to show the inmates that even if they don't want to pursue a university degree, there are possibilities for when they get out, whether it's community college, a vocational program or a degree in physics.
Q. Anything you'd like to add?
A. Many of the demonstrations and things I take to ISCI come from our stock room and the head of our labs, Andie Farrar, is incredibly supportive and helpful. There are several other people in our department who have been super supportive as well. I had a couple students who wanted to learn more about Python and data science. Prof. Olga Goulko teaches a class on that. She loaned her lecture notes and homework assignments to leave with those students so they can continue. None of my outreach work at the prison would be possible without our wonderful physics department.
Also, if anyone wants to know more about volunteering at ISCI, they're free to get in touch with me at kirklong@u.boisestate.edu.
– Story by Anna Webb