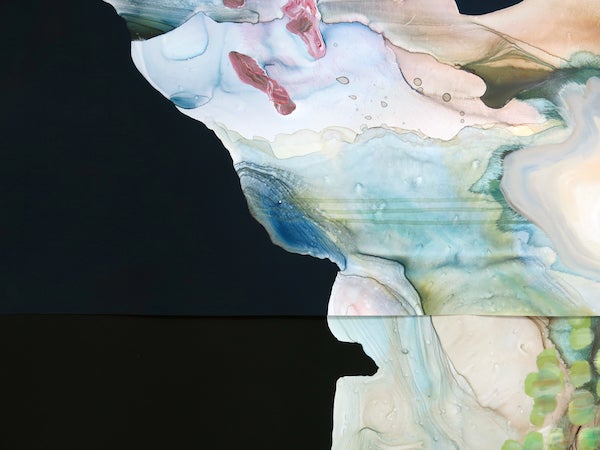 The Blue Galleries in the new Center for the Visual Arts will open with three inaugural exhibitions and a reception 4-6 p.m. on Thursday, Aug. 29.
The Blue Galleries bring diverse voices and visions to three spaces on the building's first floor. The Kay Hardy and Gregory Kaslo Gallery will host contemporary visual artists and exhibitions in all media. The Dykman Family Project Space was created for video, sound and experimental installation works. The Cheryl Shurtleff-Young Student Gallery is a space for showcasing work by graduate and undergraduate students.
The first trio of exhibitions represents a dynamic range of artistic collaborations, media and interdisciplinary approaches to art making.
In the Kay Hardy and Gregory Kaslo Gallery
Edge and Mirror: Landscape in the Anthropocene
The exhibition features artists and an artist collective creating images and objects that document and interpret the human impact on the earth and its ecological systems. The exhibition is curated and organized by gallery director Kirsten Furlong. The participating artists are Cynthia Camlin, Crystal McBrayer, Daniela Molnar, Susan Murrell, Levi Robb, Andrea Sparrow, Arctic Arts Project (Kerry Koepping, Andrea Sparrow, Carsten Egevang, and Florian LeDoux). Through Sept. 23.
In the Dykman Family Project Space
Concomitant Variations
Sound artist Ted Apel uses glass tubes as chambers to impart strong resonances on sounds produced by feedback circuits in each tube. Each circuit delays sounds that derive from a combination of sounds present in the environment. These sounds include the people and ambient sounds of the space, the sounds produced by the other tubes and the resonated sounds of the tube itself. The resultant sounds are forever evolving in variations derived from interlacing interactions of prior sounds. The exhibition runs through Oct. 30.
Apel, a clinical assistant professor in the Games, Interactive Media, and Mobile Technology (GIMM) program, received his master's in electroacoustic music at Dartmouth College and his doctorate in computer music at the University of California, San Diego.
In the Cheryl Shurtleff-Young Student Gallery
Living Room
Artist Devin Kelly is a third-year graduate student in Boise State's visual art program. This installation includes artist-made plywood furniture, neon glass and transformers, acrylic paintings on canvas, projected video, glass jars and natural elements.
"'Living room' questions our orientation to natural landscapes and the infrastructures that have been built around them. This body of work explores a longing for connection to our environment and the structures that are in the way," said Kelly.
This year, Kelly, an avid distance runner, is a graduate assistant for the Blue Galleries and for associate professor Lily Lee's beginning sculpture course. The exhibition runs through Oct. 30.
The exhibitions are sponsored by Boise State's Department of Art, Design and Visual Studies and the School of the Arts. Admission is free to all students, staff and community members. Parking is available for an hourly fee in metered spaces and in the Lincoln and Brady Garages. Regular gallery hours: 10 a.m. to 5 p.m. Monday-Thursday, and 10 a.m. to 2 p.m. on Friday.  For more information, contact Furlong at kfurlong@boisestate.edu.