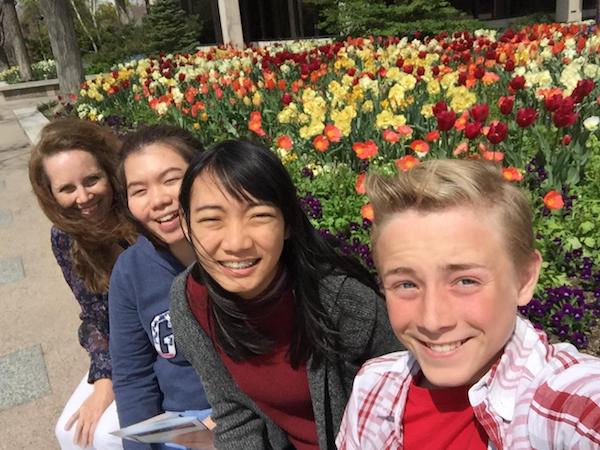 The Intensive English Program is looking for Boise State families to host Taiwanese business students coming to Boise in spring 2020 through the International Trade Institute of TAITRA Internship Program.
The students are young adults from Taiwan. They are in the final stage of their graduate-level program in international business administration. Their internship in Boise is the culminating project in a long and rigorous academic process. They are very capable, pleasant and appreciative. The interns speak both Mandarin and English.
The interns will be in Boise March 28-May 23. They will have an orientation and then settle into their host homes. Following program orientation, the interns will commute to their respective internship positions in local businesses. They will spend the majority of each week participating in these internships and visiting other area companies. Several group trips are planned, including two weekend trips. These trips will be coordinated and staffed through the Intensive English Program.
The goal of homestay placement is to provide students the opportunity to experience and participate in everyday family, social and community life in the U.S.
Host families will be asked to provide:
• A private bedroom.
• Three meals per day: at least one hot meal should be provided. Lunches generally can be a sack lunch, as the intern will be going to work daily.
• Wireless internet access from the homestay family's home.
• Assistance with transportation to and from work and activities. Interns will need a ride to and from work or assistance identifying bus routes (if available) and understanding the bus system. Additionally, given that Boise's public transportation options are limited, host families are requested to assist interns with transportation as much as possible. This may include bike, car or pedestrian transportation options. (Contact us if you have questions or concerns.)
• Pick up from the airport upon arrival as well as departure (Boise State will help organize and coordinate the airport pick up).
• Introduce interns to American culture and family life by showing them around the city, inviting them to participate in family activities, and in general spending time sharing our community and culture with them.
Host families should also plan to attend the pre-arrival Host Family Orientation in March.
The program provides a stipend of $1,600.
For more information contact: Intensive English Program Contract Program Coordinator Seana Sperling at seanasperling@boisestate.edu.