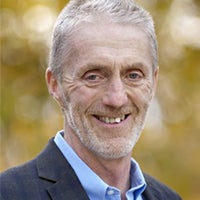 Max Davis-Johnson, the chief information officer and associate vice president for the Office of Information Technology, gave the keynote presentation at the INTERFACE Boise 2019 Conference on Aug. 29.
The INTERFACE Boise 2019 Conference consisted of presentations, panel discussions and exhibitors covering IT infrastructure, business continuity, disaster recovery, IT security and enterprise communications.
Davis-Johnson's presentation was titled (with apologies to Rod Stewart and the Faces), "Ohh La La: I Wish That I Knew What I Know Now When I Was Younger."
Davis-Johnson reflected and speculated on the future of technology and how companies survive, adapt and even thrive in a constantly-changing IT environment.