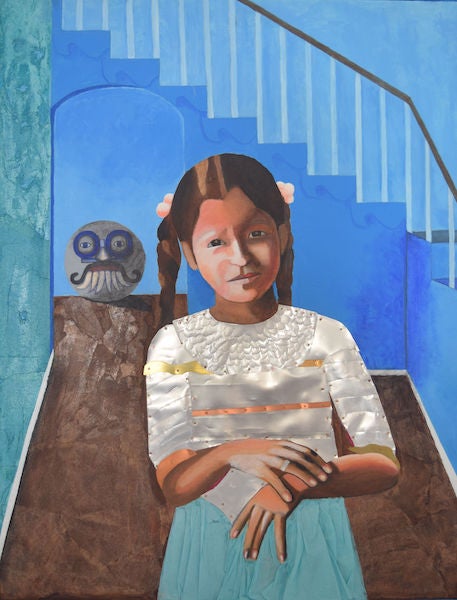 We Carry Inside Ourselves, the current exhibition in the Student Union Fine Arts Gallery, features 46 works by 19 local and regional Latinx artists. The exhibition marks Latinx Heritage Month and runs through Oct. 6. Its title comes from a quote by Graciela Iturbide, a Mexican photographer known for her photographs of Mexican indigenous women: "…wherever we go, we want to find the theme that we carry inside ourselves."
The exhibition grew out of a brainstorming session among Fonda Portales, university art curator and collections manager, Ileana Cordova, a recruiter in the Center for Multicultural and Educational Opportunities, and Alicia Garza, a professor in the Department of World Languages and the founder of Casita Nepantla, the center housed in the Student Union Building that supports Latinx art and culture.
"Apart from Casita Nepantla, a featured exhibition of Latinx artists has not been shown on campus for the past 15 years," said Portales. "Given that a large percentage of our transfers and new freshman are of Latinx descent, I wanted the first show of the academic year to support them in seeing themselves as belonging to campus, as belonging to the world of art-making."
She put out a call to artists. Cordova and Garza helped spread the word and faculty, craft and folk artists, tattoo artists, high school students, and auto body painters responded in force with their creative work. Portales said she curated the exhibition around themes of the Latinx experience and experimental uses of materials and subjects. And the offerings are diverse, from a floral paper-quilled piece by Federico Nava, a 15-year-old from Boise, to elegant monarch butterfly-inspired linocuts by Allison Corona, a Boise State staff photographer, and many more photographs, paintings, and sculptural pieces.
"This was a community effort," said Portales.
Meet three artists from the exhibition
Lupe Galván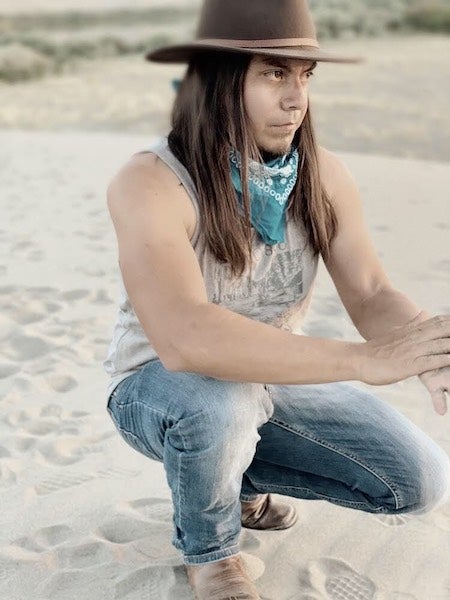 Galván received a bachelor's degree in illustration from Boise State and a master's degree from The New York Academy of Art. The exhibition, said Galván, "was a good opportunity to show the diversity of art and a reflection of our backgrounds."
Q. Tell us more about your pieces in the exhibition.
A. "Father with a floating heart" was an ongoing attempt to draw my father. It was several years of failing and being intimidated by the confrontation of drawing someone I was close to. Actually the original idea was to draw both my parents but the commitment was too daunting so I tried only my father. What ended up happening was a lot of experimentation and allowing the piece to sit around until I could properly see what it needed next.
"Takutsi Nakawe" is an homage to my grandmother and her connection to our past.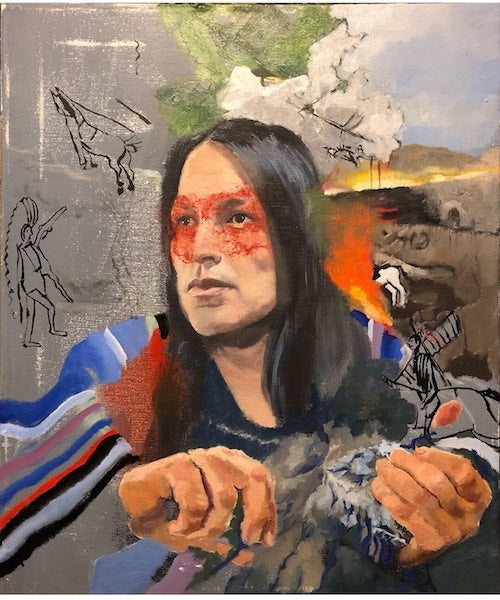 How to Hold a Gun (Desde Monte Quemado) is painted collage, a visual representation of my cultural upbringing and the complexity and difficulty rural Idaho life had on me personally.
The story of Monte Quemado is a reference to the aurora, which the early morning or evening creates. It's also the light effect created when the sun rises or sets behind a mountain, giving the impression that the mountain is on fire. Marakame (the shaman) finds the sacred land where his people will go to consult Mescalito (peyote, a.k.a. grandmother) to commune with our ancestors. I'm interested in a personal cosmogony, our origins and how we relate to the universe, and how that manifests in our actions.
Q. What is something that inspires you that we might like to explore?
A. Greek Myths and creation stories. Tragedies, which allow room for transformation or redemption, those are my favorites. European culture has creation stories such as the Bible, Druids (pre-Christian), Ovid, etc. As a person of two backgrounds – Hispanic and indigenous, growing up in a white geography, learning English as a second language – I also am interested in my indigenous creation stories and mythologies. However, at the root, they all share a similar story.
Ann M. Bell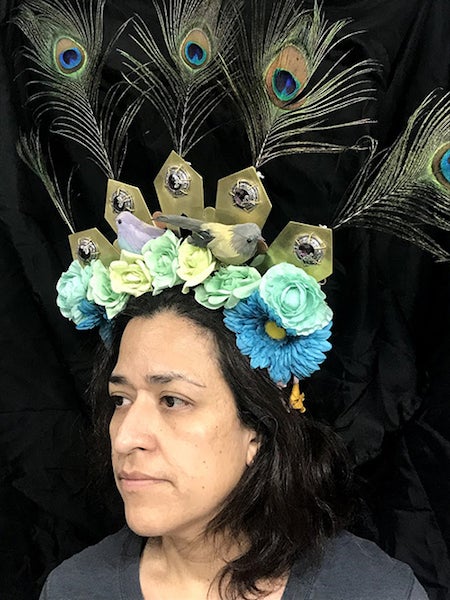 Bell has lived in Idaho since 2006. She holds bachelor's degrees from Boise State in illustration and art metals, and this year won a 2019 grant from the Alexa Rose Foundation to buy tools and materials for wearable art.
"I am inspired by the story of all humans, of how we all got to be where we are. We are all interconnected in some way," said Bell.
Q. Tell us more about your pieces in the exhibition.
A. The first painting is the Tlalocan Warrior, the girl in armor. When I painted it, I was in the process of losing a large amount of weight really fast. I had to deal with how childhood issues had affected my body image. In a sense, I was losing the armor that had protected me for so long. I used imagery of the empty house, and the color blue, often used in the religious iconography of the Virgin Mary.
The second and third pieces in the exhibition are of my great-grandmother Juanita and of my daughter with her pet rat. I want to share what it is like to be a Mexican American with illustration and art. I want to build connections with others through universal themes.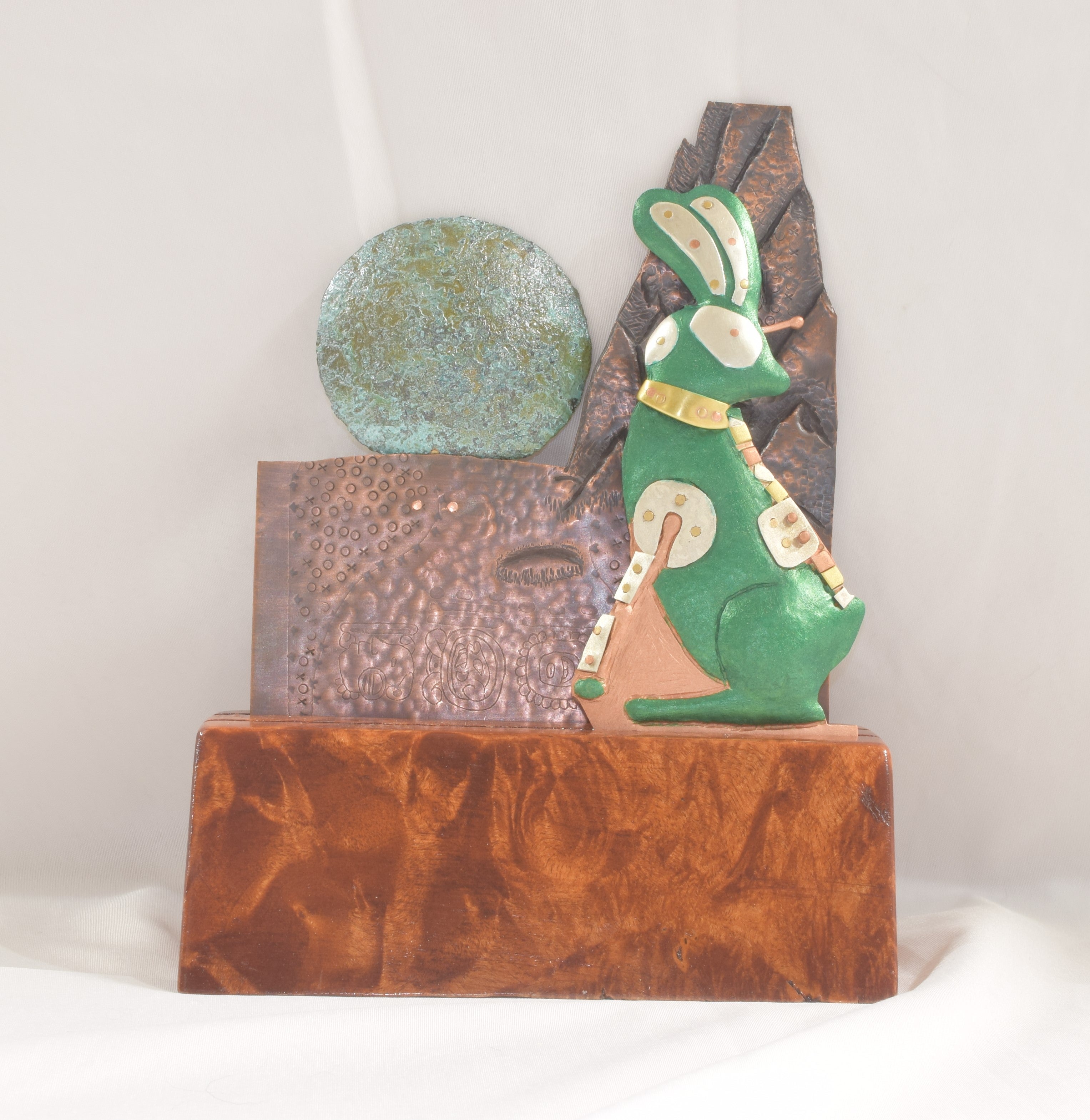 My Moon Bunny pin is also in the exhibition. In Mayan culture, the rabbit is connected to the Ixchel, the Moon goddess. The moonscape is made from a scrap of copper I etched with Mayan glyphs for another project. The 'cyborg' portion of the bunny was inspired by the art of my friend Patrick Sullivan.
Q. Why did you want to be part of this exhibition?
A. Growing up a Mexican American can be complicated. In my family, there is almost a total disconnect from Mexican culture. This disconnect has driven me to learn everything I can about the history of our ancestors and has given me a desire to share it so it isn't lost again. It is a great honor for me to be included in this exhibition with so many like-minded artists, who want to share their expression of our culture.
Marisol Cervantes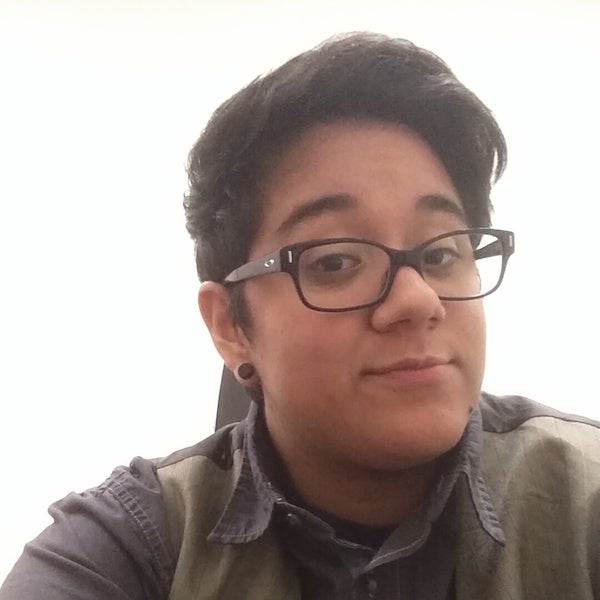 Cervantes is an Idaho native living in Nampa. She received a Bachelor of Science from the College of Idaho in 2016 double majoring in health science and art. She is currently a student in Boise State's Organizational Performance and Workplace Learning graduate program.
Q. Why did you want to be part of this exhibition?
A. Being able to see Latinx artists in university settings is important. Most university settings generally display historical artists like Salvador Dali, Frida Kahlo, Pablo Picasso, and Diego Rivera when talking about art made by Latinx people. As grateful as I am for having had the education to expose myself to these great artists, I also think it gave a particular image of what Latinx art should look like. A lot of people think it should be nature-focused, or about our families' ties with immigrating to this country. Ultimately, this exhibition allowed everyday people to showcase work and I really appreciated that. Some Latinx art is grungy, sharp and hard to look at. I know great artists who love focusing on components of our culture and that is beautiful, but I also know Latinx artists who have a passion for anime illustrations and that is just as beautiful.
Q. Tell us about your piece, El Crecimiento.
A. My piece was inspired by the roots of Latinx people in the U.S. I have always found it very profound that individuals from other countries would immigrate and uproot their entire family/cultural bloodline to another country they didn't know. I wanted to represent this without it being just specific to Latinx people. In my piece, you have a floating root meant to represent those who immigrate to the U.S for better opportunities for their family. The longer they stay the more complex the plant becomes. The plant expands into the complex pattern of lines and images that ultimately become a sunflower. This image for me shows growth in a cultural bloodline but also recognizing that it started from roots that were uprooted.
Q. Where do you find inspiration?
A. I am inspired by my experience as a person moving through this life. I am not isolated to working in one medium or one subject matter. At the moment, I let art move me to make it instead of forcing myself to create. It can be tricky because it can leave you in a dry spell for a while but it feels good when you get back to it.
Note: For faculty members interested in visiting the exhibition with their classes, Portales is available to give tours and discuss aspects of the Latinx experience exhibited in the show. Work in the exhibition is available for purchase. All commissions from sales are used to purchase art for the Student Union Building.
Contact Portales for more: fondaportales@boisestate.edu
– Story by Anna Webb