Pop quiz: what do computational neuroscience and the hammer throw have in common?
Answer: They have Kendra Noneman.
Noneman, a Boise State senior majoring in materials science and engineering, has been named a Tau Beta Pi Laureate by The Engineering Honor Society for excelling in areas outside of her area of study, namely athletics.
As a track and field athlete at Boise State competing in hammer throw, Noneman was frustrated that when coaches left, new coaches would be tasked with learning each player's strengths and weaknesses, a process that often slowed or stalled athlete's progress towards their goals. To ensure a smoother transition, Noneman took it upon herself to film all of the athletes' practices and compile a digital file in order to offer new coaches an efficient way to get up to speed on the athletes' needs.
An Eagle native, Noneman is one of four laureates honored in 2019 and will receive a $2,500 cash award in October at the Association's Convention in Columbus, Ohio. Over the past four years at Boise State, Noneman says that she is most proud of how many new things she has tried and how much she had learned in the process.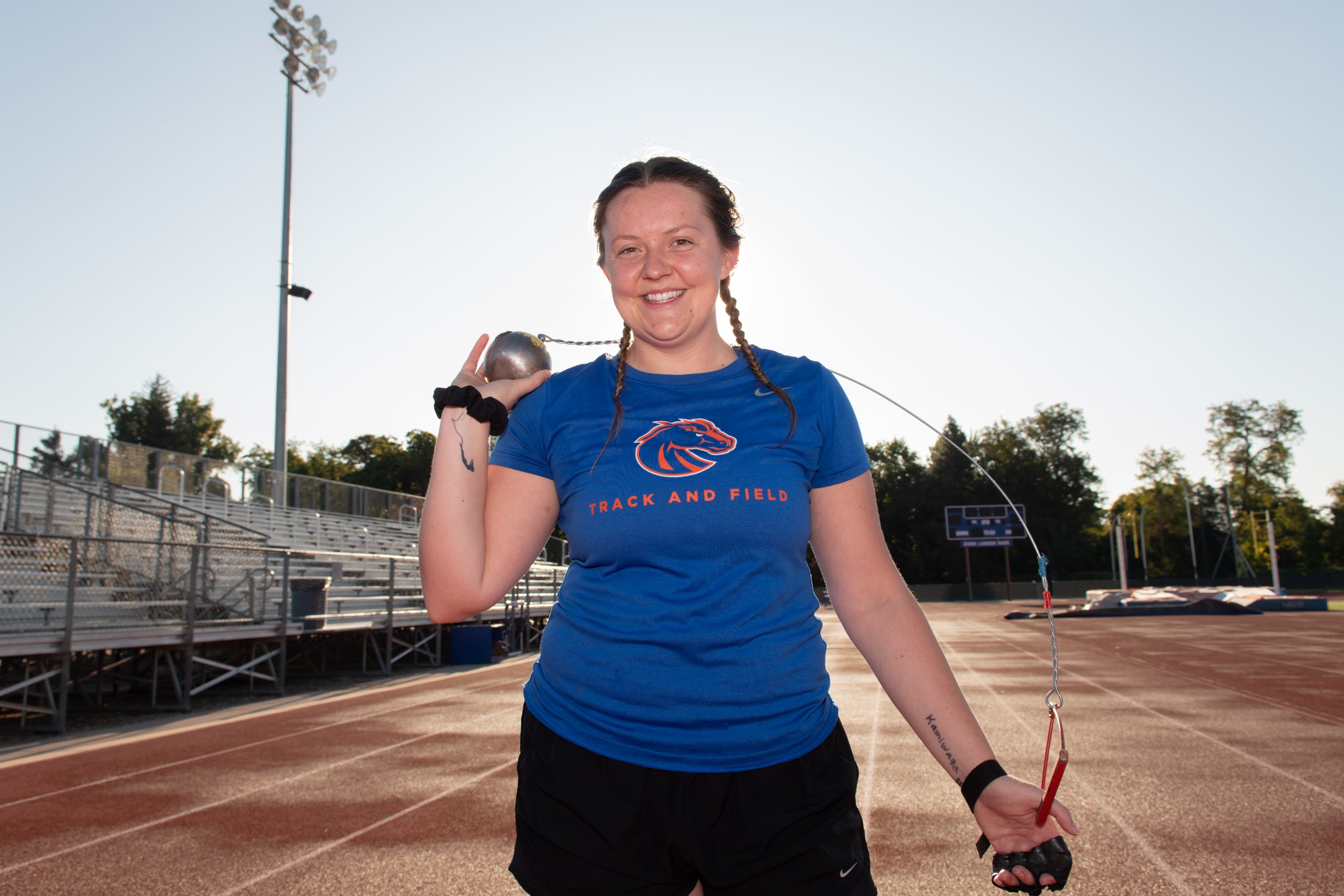 "When I started out, I didn't really know what I wanted to do. Each summer, I've had some sort of internship or some sort of research experience that was totally different than the rest. I worked at NASA, and then I worked in semiconductors, then I worked in neuroscience," she said. "I kind of just branched out and tried everything."
This past summer, Noneman held a research internship at Carnegie Mellon that has fueled her desire to pursue a doctoral degree in computational neuroscience upon graduation in May 2020. Prior to starting at Boise State, Noneman was a student at the Treasure Valley Math and Science Center, where she had the opportunity to learn from Eric Jankowski, an assistant professor in the Department of Materials Science and Engineering, with whom she has worked for the past four years.
"Kendra's successes across her engineering classes, varsity sports, computational research and leadership roles are an incredible juggling act. When she first stepped into my office, Kendra said 'I want to be a professional materials scientist and I want to run the company I work for,'" recalled Jankowski. "Now on the brink of graduation, I can say that Kendra's tenacity has positioned her to reach that, or any, future goal."