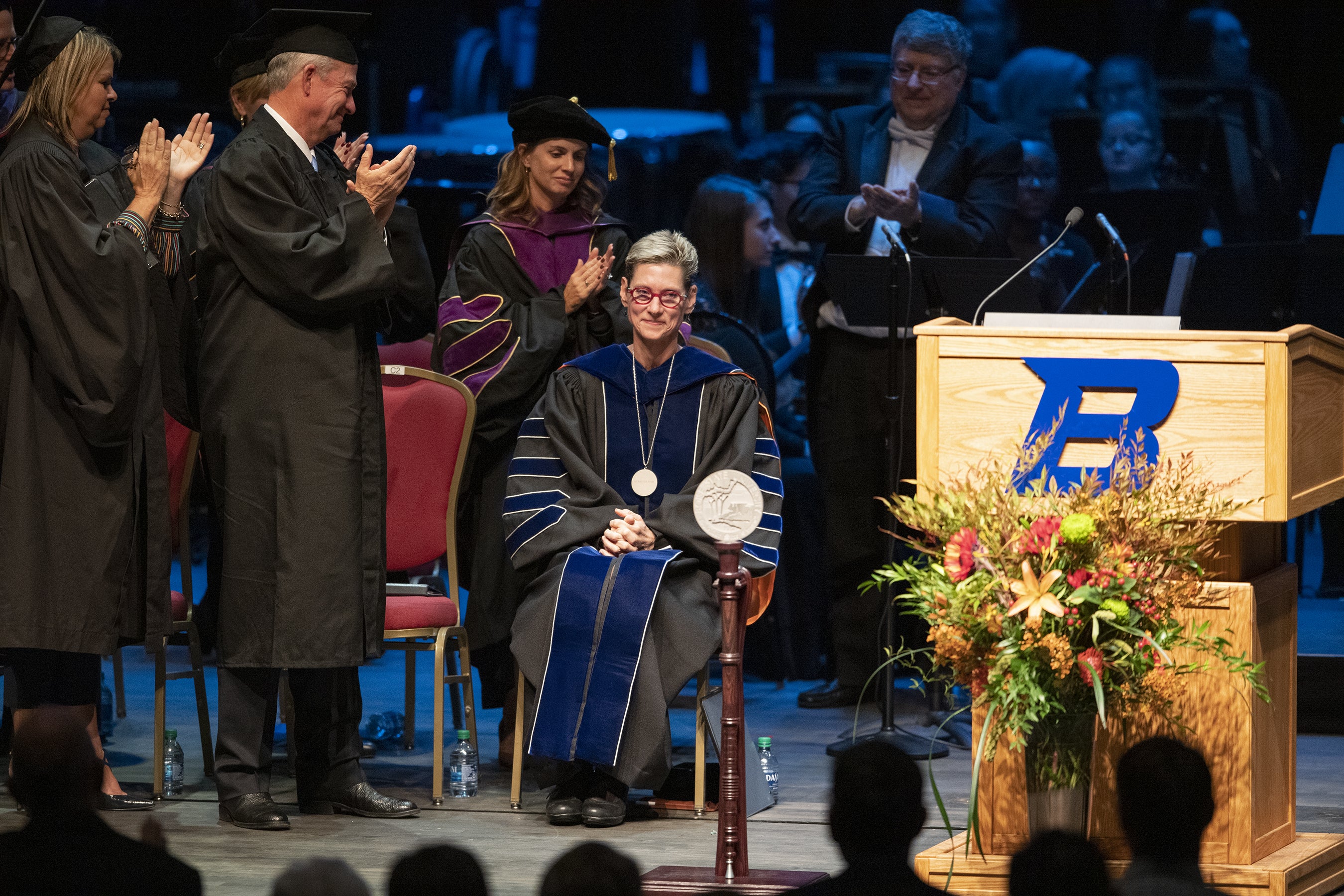 Cloaked in the regalia of Boise State University, on a stage surrounded by colleagues, peers, Idaho leaders, friends and family, Dr. Marlene Tromp formally accepted her role as the seventh president of Boise State University on Oct. 3 in the Velma V. Morrison Center for the Performing Arts.
Dr. Tromp "challenges others to push the limits of what they can become and what they can contribute," Idaho Gov. Brad Little said, adding that "Boise State offers the next generation of Idahoans opportunities to stay right here in Idaho to work, raise families and enjoy the blessing of life.
"Marlene, I am confident in you. We are all proud of you. And we are excited for what you will accomplish for Idaho during your tenure as president."
In a moving speech, Dr. Tromp paid tribute to the history of Boise State and paralleled the university's remarkable trajectory with her own "unlikely story" of growing up in rural Wyoming to become a leader in academia. Prior to joining Boise State, Dr. Tromp was campus provost and executive vice chancellor for two years at the University of California at Santa Cruz, one of the top-ranked public universities in the country, and the dean of Arizona State University's New College of Interdisciplinary Arts and Sciences, as well as the vice provost of the university's West Campus.
"Only about 13 percent of the population of Sweetwater County attains a bachelor's degree. That's less than half the national average," said Dr. Tromp, a first-generation college student turned university president.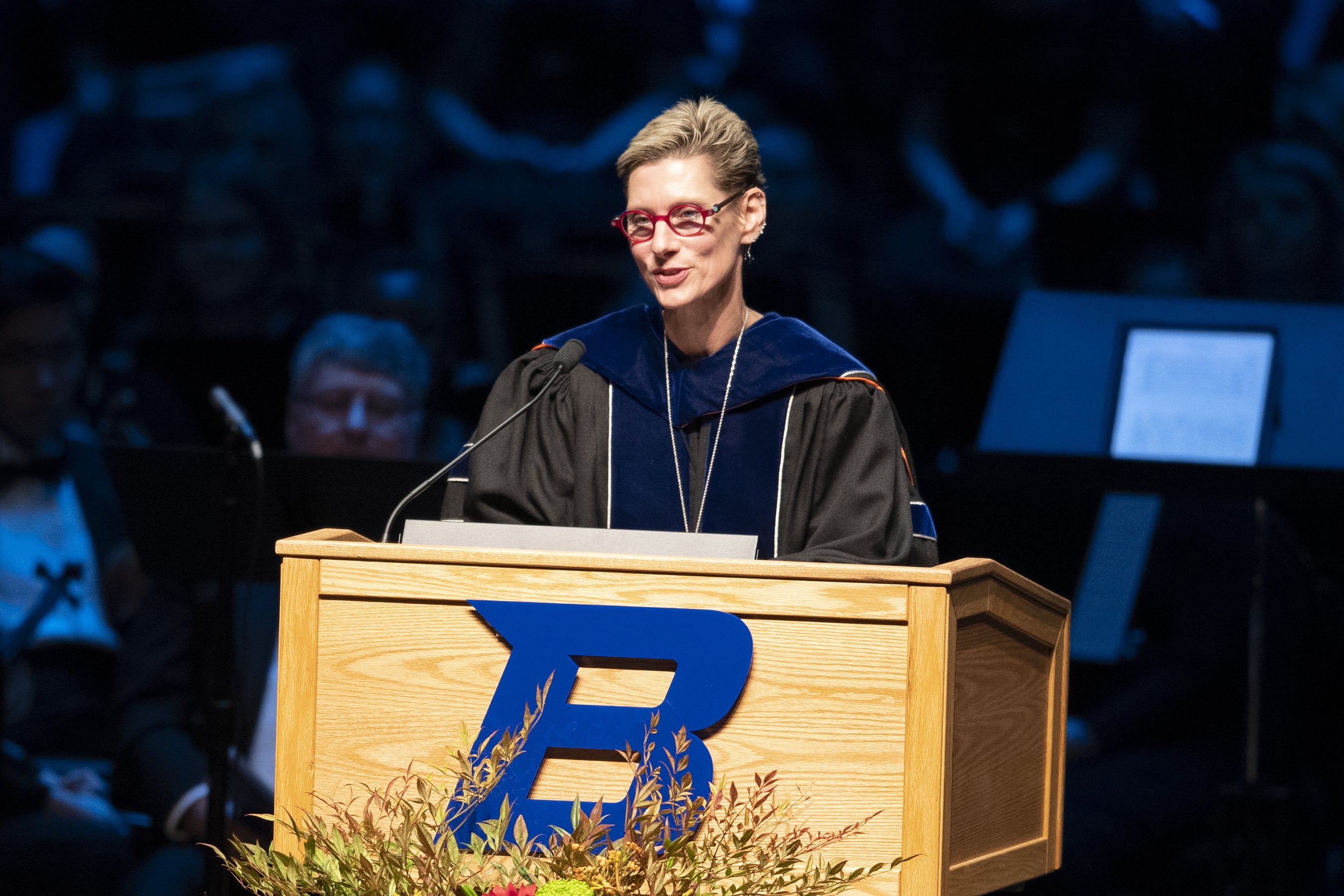 Similarly, when the Episcopal Church formed Boise Junior College in 1932, Dr. Tromp noted that no one could have predicted its meteoric rise from a junior college with only 70 students to the largest university in the state of Idaho — a Carnegie-designated research institution with nearly 28,000 students, more than 100 graduate degree programs, an iconic Blue Turf and a national reputation as a hub of innovative thinking and doing.
Dr. Tromp was convinced that no other academic institution in the nation could boast the same successes in such a short period of time. Still, she made some calls to be sure. She contacted both the Community College Research Center at Columbia University and the American Association of Community Colleges.
"I asked them, 'Is there a junior college that has had this kind of trajectory? They've been researching that question for weeks because they can't find another one,'" she said.
"Through this remarkable place, I want to make stories like mine less rare," she continued. "I want to find people in our cities and small towns, rural areas, I want us to locate those people and help them achieve their dreams because I know what talent is out there, and I want to find it and change their lives so they can change the world."
Boise State Celebrates Grand Opening of the Center for the Visual Arts
Less than two hours after the investiture ceremony, Dr. Tromp was once again making history – this time by presiding over the opening ceremony of Boise State's new Center for the Visual Arts. The ribbon-cutting ceremony, that included former Boise State President Bob Kustra, was marked with public tours of the building and moving words by the arts faculty who now mentor and inspire students within its walls.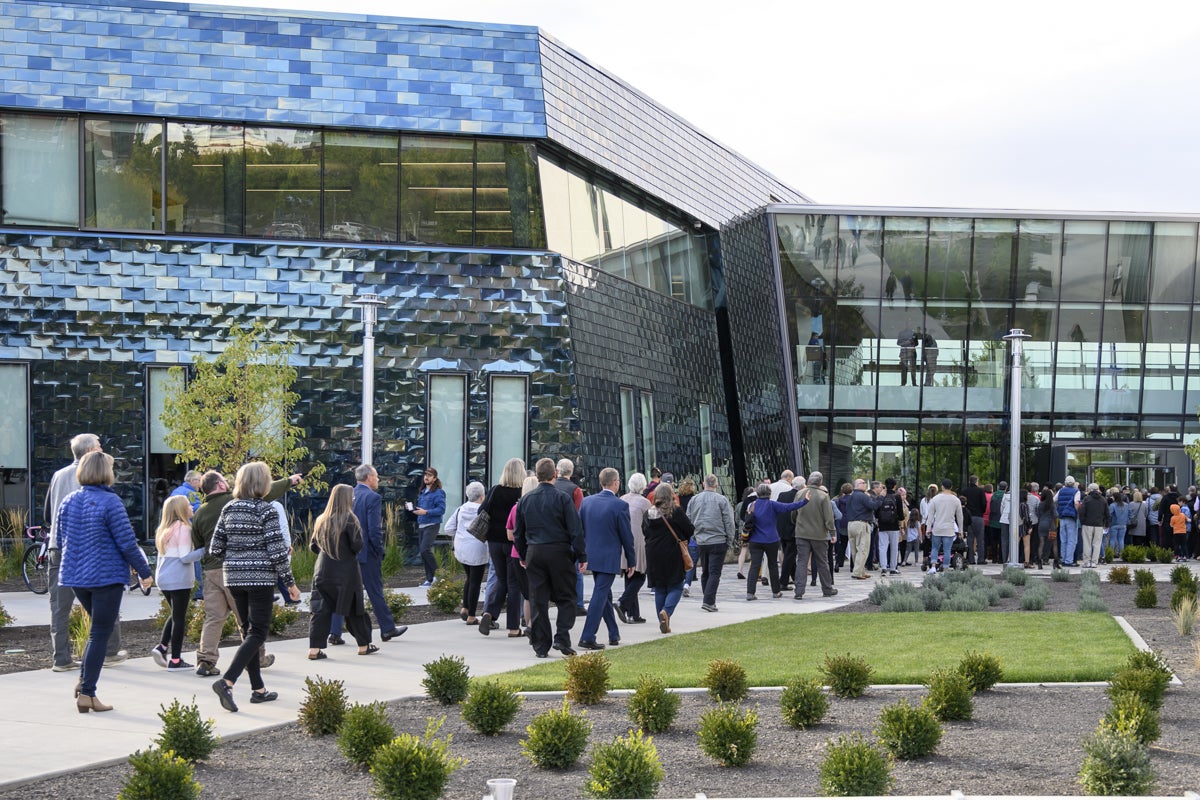 "Great universities make the arts central to the university's mission and identity, and great universities invest in the arts," said Leslie Durham, interim dean of the College of Arts and Sciences. "We see that in beautiful, powerful form through this building. As someone who studies the role of the arts in American universities, I can tell you that the commitment, the vision and the investment that we find from our leadership is rare and remarkable."
"It is difficult for a department to sustain a cohesive idea of itself when it is spread over five buildings across campus that were adapted to its use. That is what we have been for as long as I have been associated with Boise State," said Dan Scott, interim chair of the Department of Art, Design and Visual Studies. "Today, we are truly a department; in a building that unifies all of our undergraduate programs."
Located on the west end of campus along Capitol Boulevard, the Center for the Visual Arts is a work of art in itself. The $48 million building brings all of the university's visual art programs – history of art and visual culture, art metals, art education, ceramics, graphic design, illustration, photography, printmaking, sculpture, drawing and painting – together under one roof. It also features public art galleries and, soon, the World Museum, a high-tech, high-touch immersive space designed to bring virtual and experimental arts experiences to Boise State and the community.
"On great architecture, Winston Churchill said 'We shape our buildings; thereafter, they shape us.' And that is certainly true in the case of the future for the new Center for the Visual Arts," said Kathleen Keys, interim director of Boise State's School of the Arts. "As the primary home of the Department of Art, Design and Visual Studies, this spectacular building will drive visual arts research and teaching by faculty, and learning by students for many generations to come."