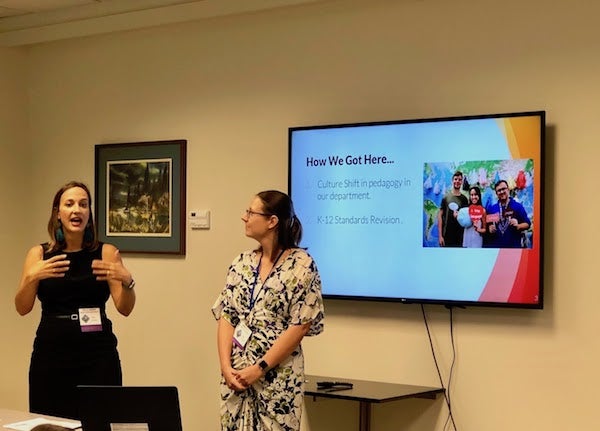 Eight instructors from the Department of World Languages presented at The Idaho Association of Teachers of Language and Culture conference held in Caldwell, Idaho Oct. 3-4.
Kelly Arispe and Carolina Viera, "Proficiency Workshop"
The presenters were invited by the IATLC board to provide a workshop on oral proficiency, specifically how to determine what constitutes novice, intermediate and advanced levels in order to improve assessment implementation and evaluation. Teachers of French, German, Spanish and American Sign Language K-16 attended.
Becca Sibrian, "A Rose by Any Other Name: Student Poetry in the Classroom"
This presentation shared ideas for reading and writing poetry in the language classroom at all levels of language learning, including writing workshop ideas. The attendees were able to write poems of their own to share in the presentation and to gain insights on how this would look in the classroom.
Fátima Cornwall, "Medical and Court Interpretation: Introducing Consecutive Interpretation to Intermediate Language-Learners"
Cornwall shared consecutive interpreting activities for world language classrooms to encourage and prepare students to enter a profession that the U.S. Bureau of Labor Statistics predicts will grow 19 percent between 2018 and 2028.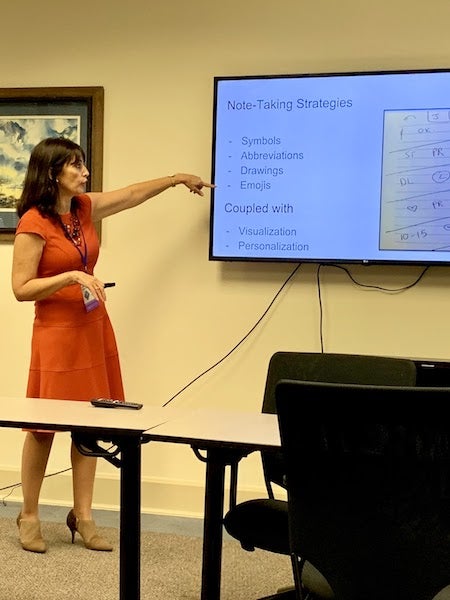 Amber Hoye and Arispe, "Join the Pathways Community: Classroom-Ready Activities Freely Accessible for Your Use Today"
This presentation provided language instructors with access to a free, open educational resource repository of proficiency-based, classroom-ready activities.
Tiffany Hippe "Yoga en español: Zen Total Physical Response"
This presentation exposed language teachers to a unique way to incorporate total body response into the language acquisition process. The presenter shared ways that yoga can be brought into the classroom, how yoga affects the brain and the benefits it offers the language learner.
Sharon Wei, "Innovative Teaching Approach to Enhance Chinese Language and Culture Competency"
Wei presented a strategy for introducing Chinese culture into Chinese language classes. She offered practical suggestions for including Chinese culture when teaching vocabulary and textbook lessons, and promoting student interaction in the classroom in a culturally appropriate manner based on knowledge of the language and an understanding of Chinese culture, customs and philosophy. Wei also outlined a method for creating an innovative teaching plan that integrates Chinese culture with language instruction in the classroom on a daily basis.
Manuel Gómez Navarro, "Presentación de proyecto. Arboleda: el español en la comunidad a través de la creación/Project Showcase. Arboleda: Spanish in the Community through Creation"
This presentation showcased the digital magazine Arboleda, an annual publication promoted by the Department of Languages that began in the fall of 2018. Its purpose is to promote and make visible Spanish as a creative language and Hispanic culture on campus and the community. Arboleda portraits original poems and short stories in Spanish, literary translations into Spanish, and artworks inspired by Latino culture created by Boise State students and alumni.