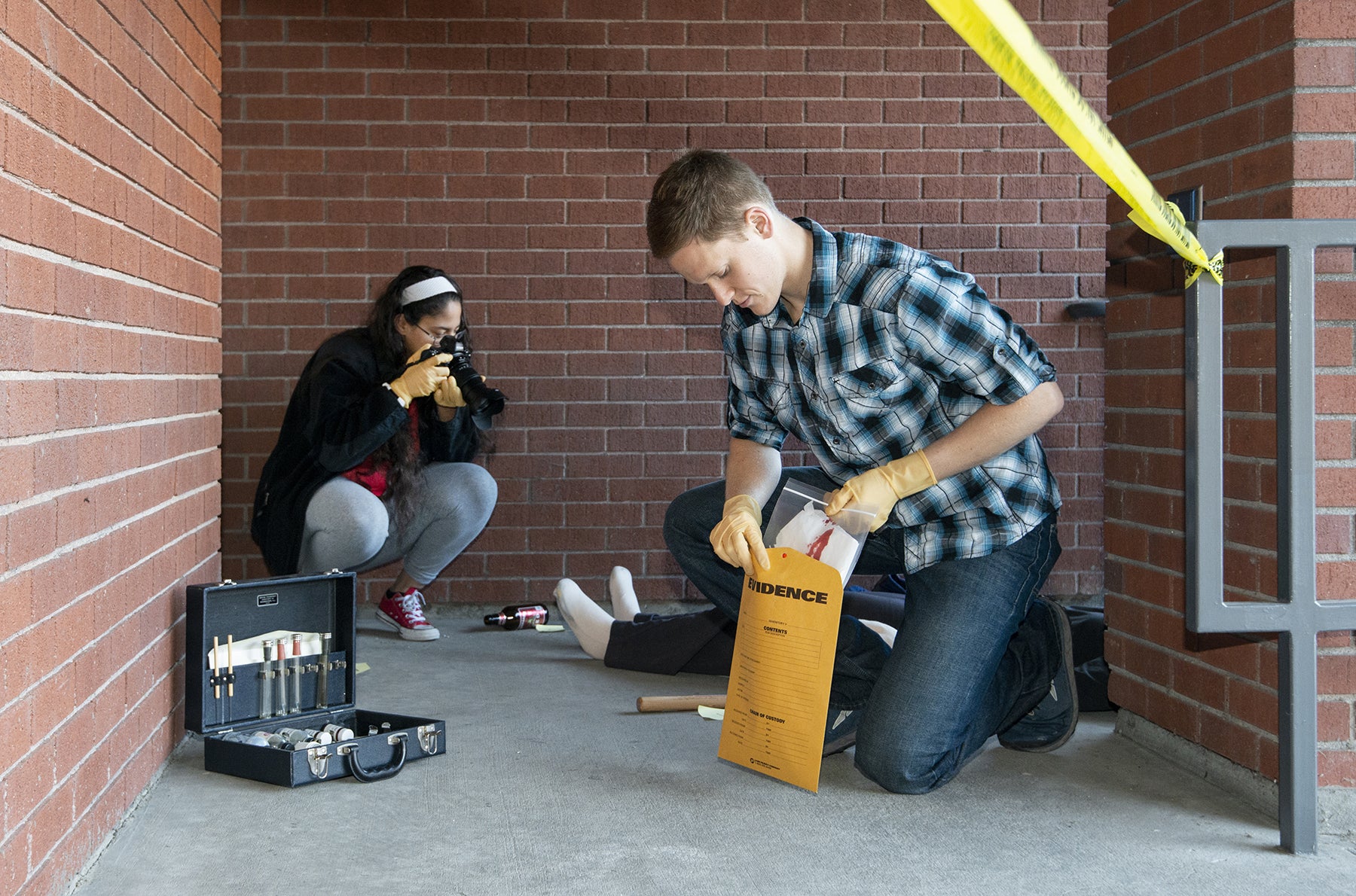 They had just 10 minutes to solve a murder. The odds weren't in their favor.
When three Boise State students walked into a Baltimore Marriott hotel room last March, they were confronted with two dead bodies: a housekeeper sprawled on the floor, the victim of an evident blunt-force trauma wound, and a man on the bed who'd been shot clean through the chest.
"The whole place was ransacked," said Kyle Reid, a senior from Turlock, California, majoring in criminal justice. "Drinks were spilled, lamps were knocked over, and there was a hairdryer on the floor."
Reid, along with fellow criminal justice seniors Joe Dawson from Boise and Nikisha Chapman from Kent, Washington, had to work fast. Unlike other teams attending the annual criminal justice conference run by Alpha Phi Sigma, the largest criminal justice honor society in the nation, the Boise State team was unusually small and light on resources.
Students representing 425 Alpha Phi Sigma chapters across the country attended the three-day conference, and many of them competed in the National Crime Scene Competition, now in its 77th year.
"Other schools have more members, better funding – they have advisors who work on crime scene investigations, preparing for this," said Reid, who hopes to become a forensic nurse. "They run test preps, hammering out details before going to this conference. We don't have funding. We had the fewest amount of members there."
Boise State's chapter offers just one course on crime scene investigation, said Interim School of Public Service Dean Andrew Giacomazzi, Boise State's Alpha Phi Sigma chapter adviser and a national council member of the organization. "We were competing against schools that have degree programs in this."
In the hotel room, Reid began interviewing witnesses while Dawson and Chapman worked the scene logging evidence, searching for clues and sketching the area. After their 10 minutes were up, the team retreated to their hotel rooms to pour over evidence and discuss theories. Student teams had 24 hours to submit a detailed report connecting key pieces of evidence to determine who committed the homicides and why.
"At the crime scene, we found an earring between the bars of a table," recalled Dawson, who is interested in careers as a prosecutor or homicide detective. "The victim still had her earrings, but the hotel manager was missing an earring that matched the one we found. It was obvious that it came off during a struggle, so she was present at the crime scene."
The trio theorized that the homicide had taken place during a drug deal gone wrong. They believed the hotel manager was using empty rooms to peddle drugs with the help of the maid and that a customer had pulled a gun, forcing the hotel manager to kill him. When the maid protested, the manager then strangled her with the hairdryer cord, losing an earring in the struggle.
They felt they were on to something.
"Joe and I even tried to re-enact it," said Chapman said, who plans to attend graduate school for social work. "If we had a larger group, we might have had so many different opinions, we wouldn't have gotten anywhere."
Perhaps more striking than the crime of passion itself, the Boise State team won, having come closest to predicting the staged scenario. (They were off on a few details, most importantly, the maid wasn't an accomplice, just an unlucky witness to the first crime.)
"It's the first time in more than 20 years that Boise State has placed in the investigation. It's a huge accomplishment," Dawson said.
The team was awarded $500 and now must create the crime scene for next year's conference in San Antonio.
"The Crime Scene Investigation competition is a signature event at our national conference and we're looking forward to hosting it in San Antonio this March," Giacomazzi said. "I have to admit that last spring in Baltimore, just prior to the students viewing the crime scene, I told them to simply get some experience, that we had never even placed in the competition in the 20 years I've been advisor. I ate crow on this one and took them out to dinner that night!"
Their scene will be tied to the 2020 conference theme: family violence. As part of their planning, the team is consulting with Vicki Gooch, an adjunct faculty member with more than 39 years of law enforcement experience, most recently as an Idaho State Police detective. Gooch is working with the team to make the scene as realistic as possible.
"It makes them think like a real detective answering the who/what/when/where/how questions," said Gooch. "The 'why' isn't critical in our world. We don't have to answer the 'why,' but every time you investigate something you have to be able to cover those other bases, otherwise a prosecutor won't file charges."
Gooch stages crime scenes for her Boise State and College of Western Idaho classes each year. She said the students who make the best sleuths are those who ignore the Hollywood version of crime scene detectives and leave their assumptions at the door.