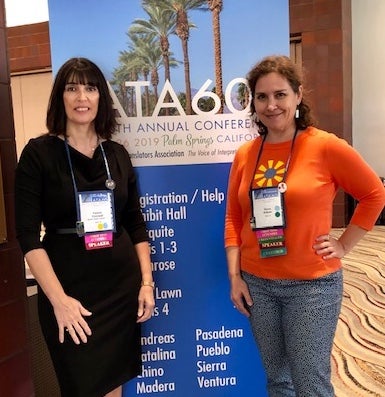 Fatima Cornwall, a Spanish language coordinator for the Department of World Languages, and Diana Arbiser, a Boise State alumna and freelance interpreter and translator, gave a presentation titled "Lock, Stock, and Barrel: Tools for Simultaneous Interpreting Development, Practice, and Performance" at the American Translators Association's 60th annual conference Oct. 25 in Palm Springs, California. Both Cornwall and Arbiser are federal and state-court certified interpreters.
The presentation covered glossary building, simultaneous interpreting practice and readiness for criminal trials. Additionally, the speakers discussed the importance of effective preparation to comply with the court interpreters' code of ethics and professional responsibility.
More than 50 attendants received professional development credit for this session to meet the continuing education requirements of several state courts, as well as the requirements of the Certification Commission for Healthcare Interpreters and the International Medical Interpreters Association. Both Arbiser and Cornwall also will speak at the Idaho Court Interpreters annual conference in November.