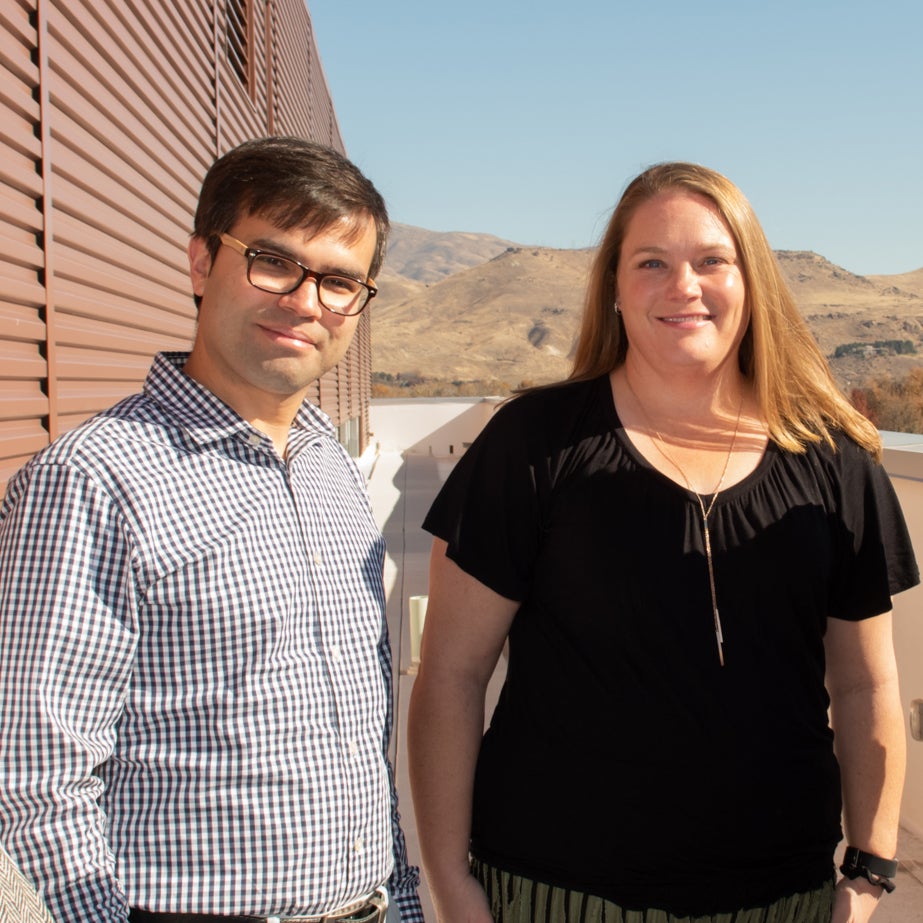 Ask civil engineering alumna Mariah Fowler and she'll tell you her success as a bachelor's and then master's student at Boise State hinged on one important element: the support of faculty and campus services.
Currently a project manager at Forsgren Associates, Inc., a multi-discipline civil and environmental engineering consulting firm, Fowler recalled her first, unsuccessful try at college as a typical student straight out of high school.
"I wasn't ready to be a really good student," Fowler said. After taking a few classes at Boise State, Fowler decided to put her education on hold. She married, traveled the country as a military spouse and had three daughters.
A decade later, as a single parent of three young children, the decision to return to school certainly was not an easy one. But as Fowler put it, "No matter what you have in your life, you have challenges, and it's how do you perceive them? How do you move through them or move around them?"
So she re-enrolled as a nontraditional undergrad. One of the classes that Fowler took upon returning to Boise State in 2005 made an enormous difference in her ability to navigate the terrain of higher education. From note taking, to studying techniques, to making a plan for success, a university foundation class (formerly UNIV 105) prepared Fowler to tackle college expectations with confidence.
Fowler also received tutoring and mentorship by dedicated staff at Boise State through the federal Student Support Services program housed in the Center for Multicultural Educational Opportunities (CMEO) in the College of Education, which helped her discover a career path that suited her needs.
"There are people on campus who have really seen the potential in me that I didn't see in myself, and they strived to help advise and guide me to utilize my skills," said Fowler.
These unassuming helpers ensured that Fowler performed well in difficult classes. They introduced Fowler to Cheryl Schrader, then the dean of the College of Engineering. That important meeting convinced Fowler to study civil engineering.
"I didn't even know what engineering was, I figured they just made bridges," joked Fowler. "The dean basically sold me on engineering."
Developing ways to protect people from natural hazards is an essential, though not well-known, branch of civil engineering. Fowler's mentor, Mojtaba Sadegh, an assistant professor in the civil engineering, showed Fowler how to take her passion for outdoor recreation and helping humanity, and turn it into a valuable research project. With this mentorship, Fowler chose to study how Idahoans perceive and behave in the face of hazardous wildfire smoke.
"The civil engineering code of ethics states that 'engineers shall hold paramount the safety, health and welfare of the public' and this is one of the core values that drives me," said Fowler. "I know and understand the potential dangers with air pollution. When I hike Table Rock and can see the air pollution in the valley, I wonder if people know or see the dangers."
With support from Sadegh and faculty from across campus, Fowler and a team surveyed more than 1,200 people on their perceptions of wildfire smoke inhalation. Their survey results recently were published in the prestigious scholarly journal Scientific Data. Fowler hopes that the data collected will provide valuable information to policy-makers and educators.
Sadegh says that although Fowler is his first research student, she has changed his perception of what a student can and should be.
"Mariah shaped my vision of what students I want to take on," said Sadegh. "We have the luxury of having a lot of nontraditional students at Boise State. And what they bring in is passion; they want to be here. They understand the opportunity and they take advantage of the opportunity."
For other nontraditional students who have returned to school and may be juggling new challenges such as a family and career, Fowler's example and experiences offer a valuable message.
"I took it at my pace and got what I needed out of every situation," said Fowler. "And I think it's great to think about how can you humble yourself and give yourself gratitude for where you are."
-By Brianne Phillips