In Alex Jangard's (BAA, marketing, '15) wood-working shop, the aroma of walnut, oak and maple waft up from partially-finished dining room tables and little snowdrifts of woodshavings. A stack of beautiful live-edge cross-sections with marbled hardwood patterns inspire Jangard's business, Heart of Timber.
However, Jangard did not set out to be a woodworker or the owner of his own business when he arrived in Boise as an undergraduate in 2011. Jangard came to Idaho from Friday Harbor, Washington; he says the small-town feel of Boise appealed to his roots, while the growing opportunities of the city and the university's innovative programs made Boise State University the right choice for him.
"The feeling I got when I just drove down Capitol [Boulevard], and every minute on campus and being in the city of Boise was just a refreshing feeling, and a feeling of welcoming," said Jangard, recalling his first trip to the university.
He planned to pursue a degree in mechanical engineering but a fascination with marketing guided him to a different path. While attending a career fair in the Student Union Building in 2014, Jangard spotted a booth for the Venture College and was drawn into a discussion on entrepreneurship. Launched in 2014, the Venture College is a resource hub within the College of Innovation and Design that provides students and faculty with a network of over 200 mentors and tools to be successful entrepreneurs.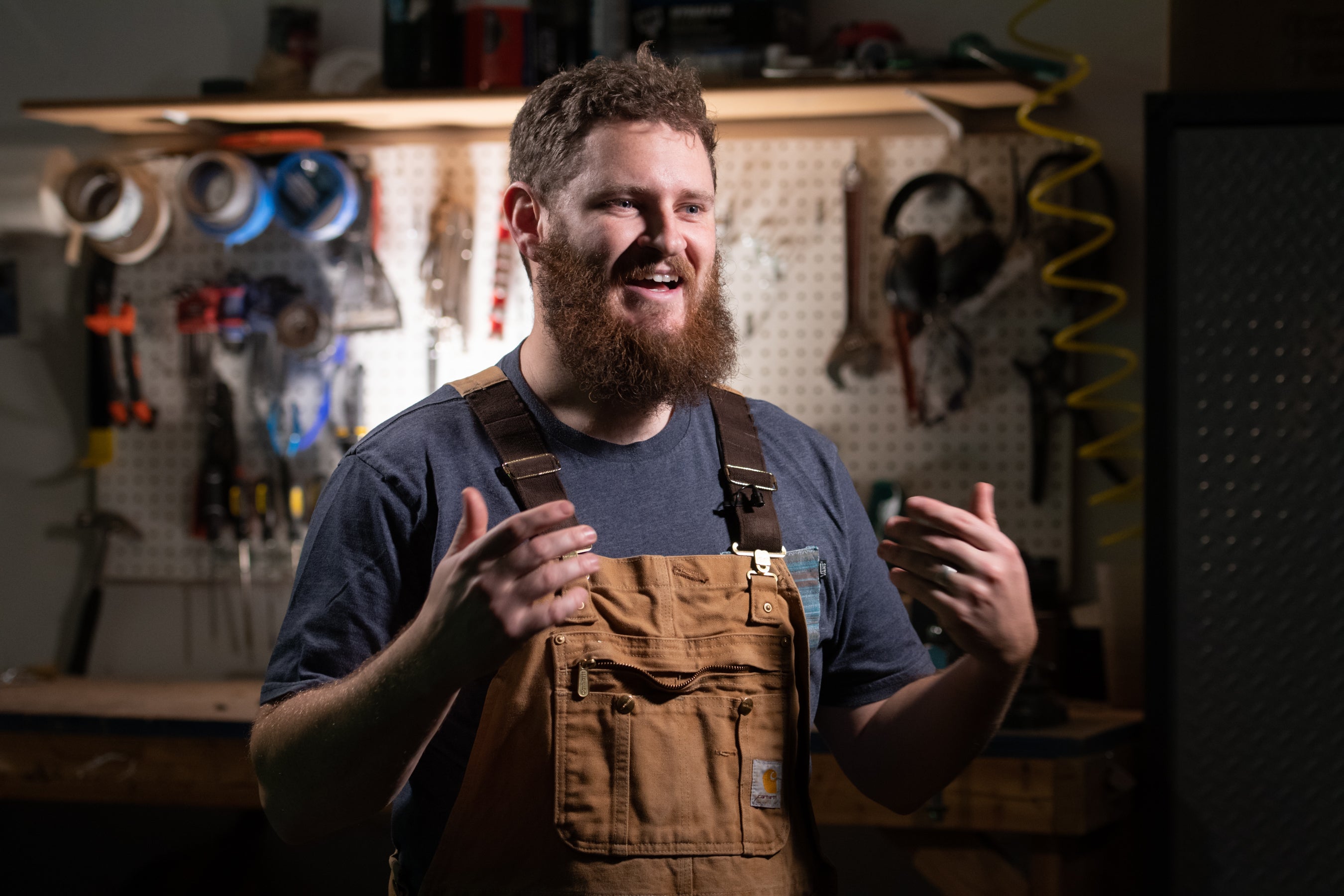 "I actually went to the booth twice and talked to people there and came back with more questions later," said Jangard. "They were super helpful and I ended up getting accepted to the program when it was still a pilot program."
In a twist of fate, later that same year Jangard asked for a few woodworking tools for Christmas to tinker with in his spare time. One of his first creations was a piece of wall art shaped like Idaho that he hung in his home. The piece was a hit.
"Someone came over and said 'Hey, I'll give you $20 to take that,'" said Jangard with a laugh. From that moment onward, his personal hobby transitioned into a full-time business.
With mentorship and support from the Venture College network on topics like tax-filing, brand management, and how to shape his business's message, Jangard was prepared to put his newly acquired knowledge of entrepreneurship and marketing into action.
"Venture college was a community of people who were so energizing," said Jangard. "They cared so much about seeing students and aspiring entrepreneurs succeed that they connected us with anyone they knew that could help us. They taught us methodologies to test and iterate ideas, concepts, elements in a business model. I learned how to think differently about building business models, piecing together parts of a business to test and how to connect the dots. I experienced failure, not just read or heard the phrase that failure was encouraged."
Jangard began by selling Idaho cutouts and small pieces on Etsy, and in a little more than a month made $1,000. He plied himself to the craft of woodworking, and through research and plenty of trial-and-error, he taught himself how to fashion furnishings for residential and business settings, such as conference tables and coffee tables.
Despite a rather steep learning curve, Jangard credits the blue-collar work ethic of his family and hometown for his determination to become a maker and small business owner. When asked what his favorite wood-working project has been to date, Jangard fondly recalled the largest project he has ever done.
"I had an opportunity to help build furniture for a brewery in my hometown," he said. "We did around 30 tables for this brewery that's become a great place in that local community. It was just a great 'hang your hat on' moment."
As a start-up owner and operator, as well as the father of three small children, Jangard seeks out opportunities to work with local businesses and vendors when possible, and to support the many small businesses that call Boise home.
"You're not just supporting that person, or that couple, or that small team; you're supporting their families, their suppliers and their vendors or their partners," explained Jangard. "So it's a much bigger impact than I think people realize. When I sell someone a table, I go to a local place as often as I can to find that wood and source locally, and then that in turn supports them and their network."
For example, all of the tables at The STIL ice cream shop in Boise were created by Heart of Timber, as well as the furniture at the Western Collective Brewery. Though Jangard graduated in 2015, he says the support of the Venture College network has never ceased.
"The Venture College is a great hub for connecting with the right people. All the way up from the directors of the Venture College to people that would sit down one-on-one with me and have a coffee and talk about a really specific thing; those kinds of people definitely made an impact for how my business is run now," said Jangard.
While the challenge of being both a small business owner and father keeps Jangard on his toes, he says that he would not trade it for anything.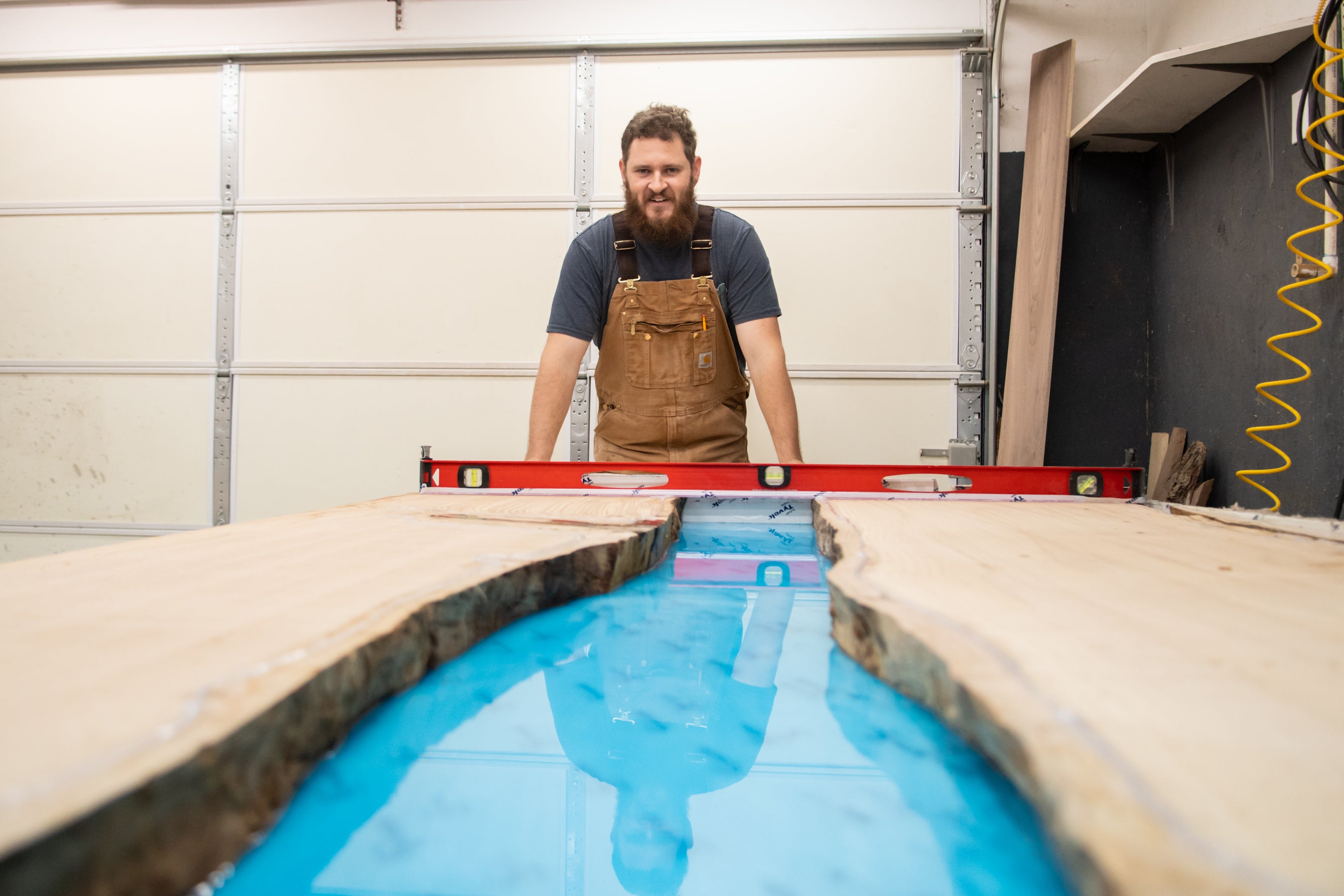 "I never thought that I would sleep as little as I have, but also feel so rewarded. My kids and my wife mean everything to me. The ability to do what it is that I love and support them, and be there for them, is the coolest thing. I would not trade it at all."
– By Brianne Phillips, video by Matt Crook