Distinguished educator in residence, Dr. Steve Swanson, certainly understands what drives undergraduate students to undertake supplemental research on top of their required coursework.
"NASA is a big motivator," he said.
As a former astronaut, he should know.
When Swanson retired from NASA in 2015, he joined Boise State to help motivate students in science and engineering to see the "excitement and creativity" involved in those fields. Swanson now oversees two student-led, NASA-affiliated research projects, each providing valuable real-world problem-solving experience and networking opportunities.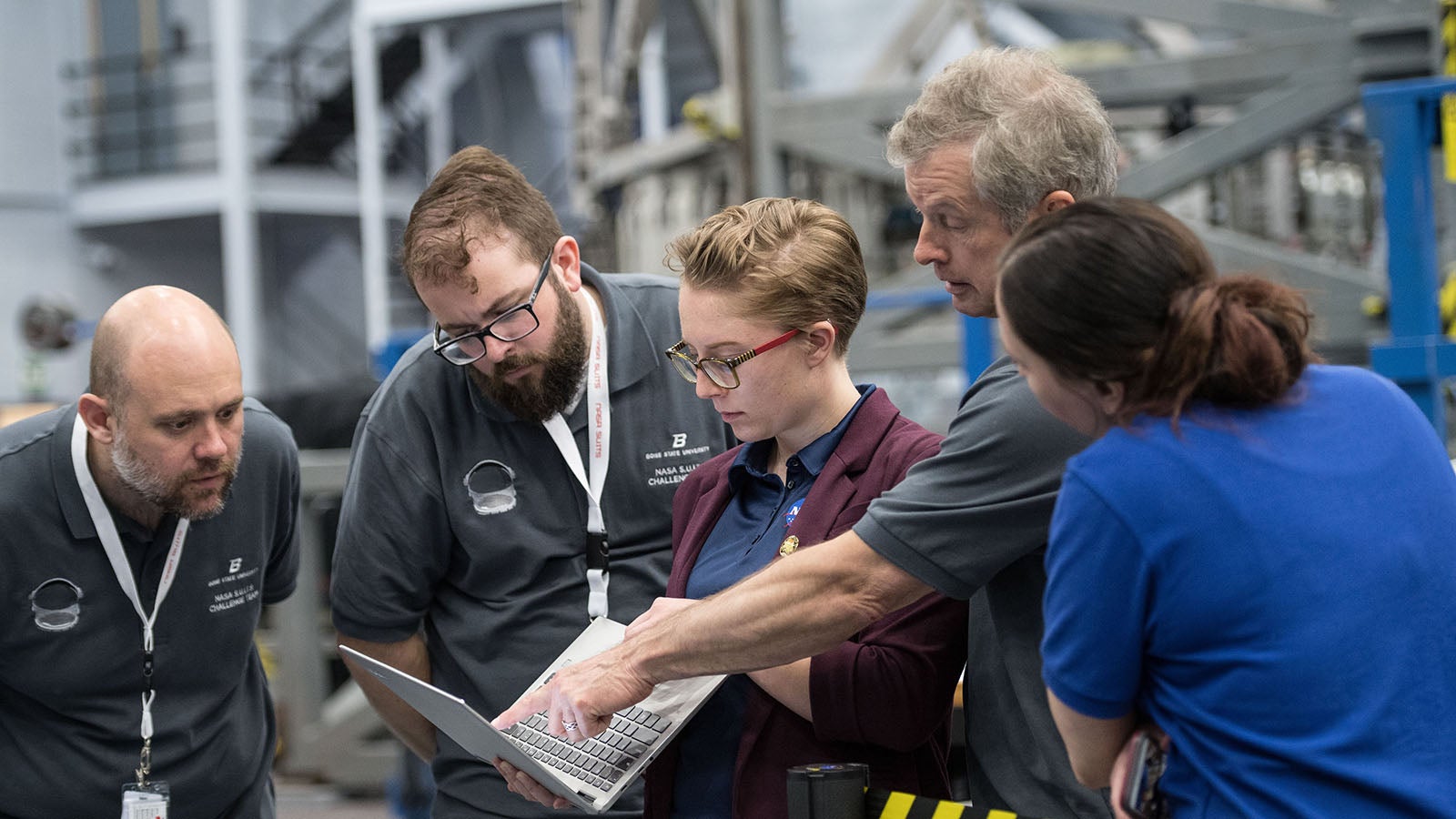 The Micro-gravity Neutral Buoyancy Experiment Design Teams (Micro-g NExT) are tasked to design and build a tool that addresses a current space exploration challenge. The Spacesuit User Interface Technologies for Students (SUITS) project develops software for an augmented reality, helmet-based display for astronauts.
"I have always had the desire to contribute to something bigger than myself," said Braden Robinson, a senior majoring in mechanical engineering, and outreach coordinator for the Micro-g NExT team. "What better way to do that then make tools that very well could appear in space?"
These challenges are both year-long commitments to work on solutions for specific problems presented by NASA. The process begins when students submit a project proposal in the fall. If they are accepted into the program, they will work over the year refining and testing their submission. NASA then will review their entry and determine if they are invited to the Johnson Space Center in Houston to test their creation. It is not a guarantee that student teams will be invited to Houston (only about 50 percent of teams are), but Boise State's teams have a strong record of producing quality products and have earned an invitation every year since 2015.
The challenges set this year are lunar-based as NASA looks to their Artemis mission, which aims to place American astronauts on the moon by 2024.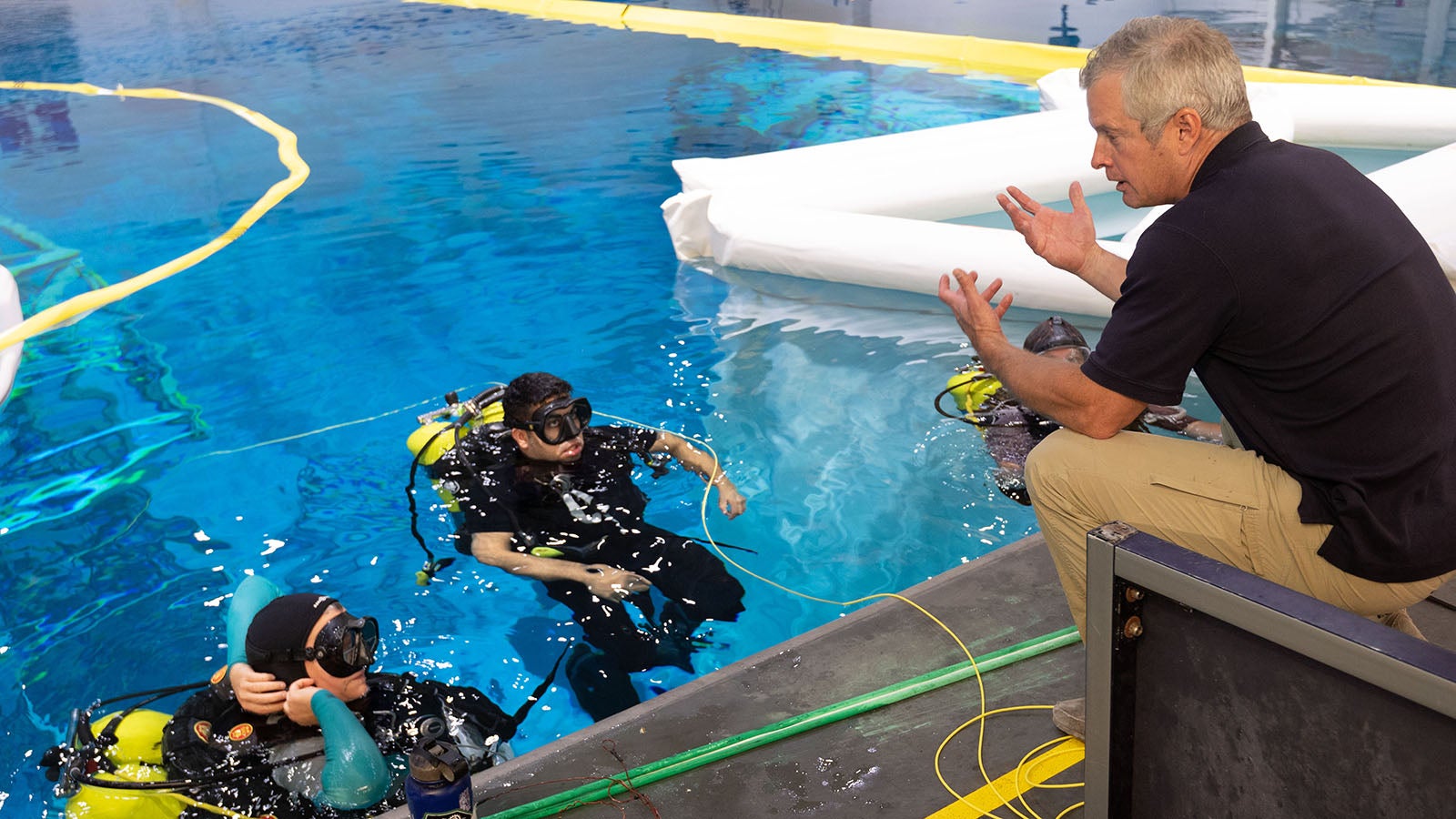 The SUITS team is working on refining the augmented-reality application they have developed over the last two years which allows astronauts to communicate and perform various operations hands-free through a helmet-based, heads-up display. This year the team will be adding new features as well as migrating the project to HoloLens 2, Microsoft's newest augmented reality headset.
The Micro-g NExT project has not been determined yet, but the team is leaning toward working on a Surface Autonomous Vehicle for Emergency Rescue (SAVER) which could be deployed should the spacecraft used on the Artemis mission be forced to land in a body of water. The vehicle would enhance search and rescue efforts by attending to survivors and continuing to locate other crew members.
At the end of the year, there is a chance that NASA could adopt a team's solution for use on space missions.
Depending on the roles students have on the team, they may be spending an additional 10 hours per week on the projects. This significant investment is worth it, Swanson thinks, because of the experience and exposure it provides.
"If a team makes it to Houston, they get to interact with NASA engineers, meet hiring managers and learn about internships, take tours of all the different facilities and just learn all about NASA for a whole week," Swanson explained. "It gives them a good, real-world experience to put on their resume. It teaches them all sorts of stuff they wouldn't get just being in a classroom."
Olivia Thomas, the SUITS team lead and a senior double major in computer science and games, interactive media and mobile technology (GIMM) agrees that the projects complement traditional academic instruction.
"I've learned a lot about coding through the project," she said. "But, I've probably learned even more about all of the other parts of the software development process that are equally important and that we don't get to practice very often in school."
Robinson, who is working with the Micro-g NExT team for the third year, especially values the connections he has made through the projects.
"The opportunity to network with fantastic people, ranging from my advisors for the club to actual NASA employees, has offered some of the most valuable insight I have ever been given. I wouldn't trade it for the world," he said.
It is an experience Swanson did not have himself when he was in college.
"I wish I'd had something like this. All I did was take more traditional classes, where you go to the lecture, read the book, do the problems and then take a test. These opportunities really complement the standard academic programs and help the students understand how science and engineering are used in the real world."
Having students like Thomas from the GIMM major has helped greatly in the SUITS challenge. This is one of NASA's newer programs but one in which the Boise State students have a distinct edge.
"I think we get the advantage of having the GIMM program, which uses a lot of the same software, and we have a lot of students that are experienced in that area, which a lot of other schools don't have," Swanson said.
Swanson also attributes the success to having strong support from the university.
"Boise State is really behind this stuff," he said. "It makes a huge difference in what the students can accomplish with that backing."
Students on the Micro-g NExT team or with the Autonomous Robotic Systems, another project Swanson manages, are eligible to receive credit for their work through the university's Vertically Integrated Projects (VIP) initiative. VIPs are multi-semester projects during which students work alongside faculty on an interdisciplinary team.
"I think other universities will come around to this model at some point, but Boise State is definitely the one leading in this area," Swanson said.
-By George Thoma
*Correction to print edition, photo provided by Josh Valcarcel, not Liz Altmiller