An 80,000-word doctoral thesis would take nine hours to present. Boise State graduate students had just three minutes to complete the task.
Last week, 17 graduate student finalists participated in the Boise State Three Minute Thesis competition. Of the finalists, five graduate students placed in top spots and earned award money totaling $2,000.
Rachel Phinney, a master's student in health promotion, received the first-place award of $750 for her presentation on agricultural workplace compliance and pesticide exposure on farmworkers.
Visual arts master's student Lisa Roggenbuck received the second-place award of $500. Allison Borzoni, master's student in English, rhetoric and composition, and Christina Barber Alvarez-Buylla, a doctoral student in the ecology, evolution, and behavior program, tied for the third-place, each earning a $250 award. Counseling master's student Sherise Porchia took home the audience choice award of $250 for her presentation on parent-based alcohol intervention.
"The 3MT challenged me to communicate my research concisely to a lay audience, which is such an important skill to have," said Phinney. "It was a lot of fun and I highly recommend the competition to any grad student who is excited and passionate about their work."
As a globally-recognized research communication competition, the Three Minute Thesis provides graduate students a high-visibility professional development opportunity. Boise State participants were coached and supported with an exclusive workshop series on preparing for stage presentations, communicating their scholarship and creating effective slides.
"Graduate students at Boise State are consistently on the forefront of advanced research practices, and this competition provides a snapshot into the exciting scholarship being done by our graduate students here," said Tammi Vacha-Haase, dean of the Graduate College. "These students showcased the breadth of graduate education, presenting their scholarship in a meaningful way for a diverse audience."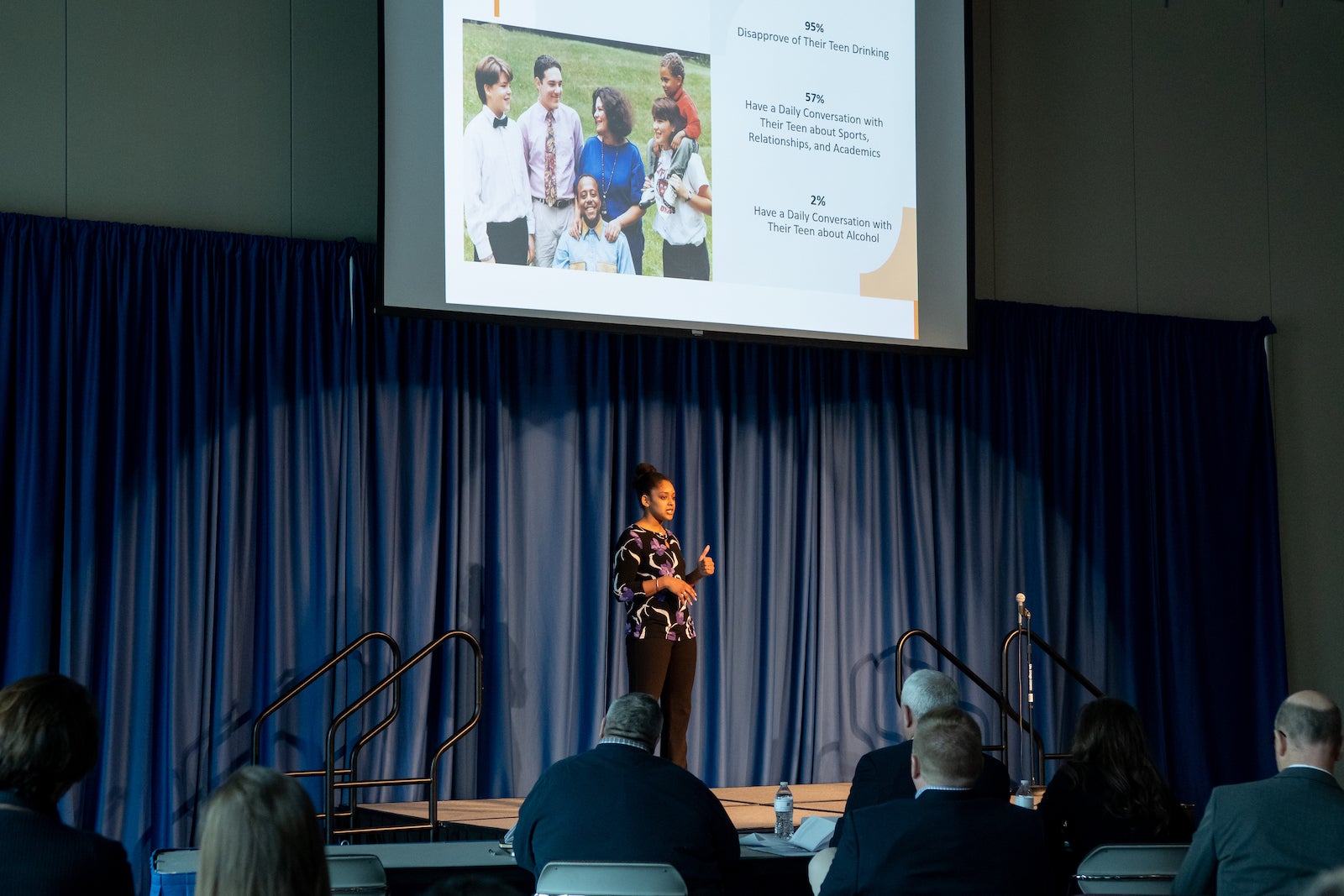 Winning participants have the opportunity to move on to the statewide Three Minute Thesis competition on Feb. 19. Graduate students from Boise State University, University of Idaho and Idaho State University will compete in the statewide competition. Four competitors from each institution will contend for first, second and third place, as determined by judges at the final round. Finalists also are eligible to win an audience choice award based on audience votes.
"Our students worked hard to get to this point and they are excited to share their research with a statewide audience," said Wayne Cochrane, graduate student success coordinator. "They played a pivotal role in making the Boise State Three Minute Thesis a huge success, and they can't wait to compete for state bragging rights."
Phinney, Roggenbuck, and Barber Alvarez-Buylla will be representing Boise State in the statewide competition. Due to scheduling conflicts for Borzoni and Porchia, the runner-up for the Boise State audience choice award, Dylan Gomes, will be filling the final spot at the statewide competition.
Support Boise State graduate students by attending the Statewide Three Minute Thesis competition at 11 a.m. Wednesday, Feb. 19 at JUMP! in downtown Boise. Learn more about the statewide competition here.
– By Kinzi Poteet