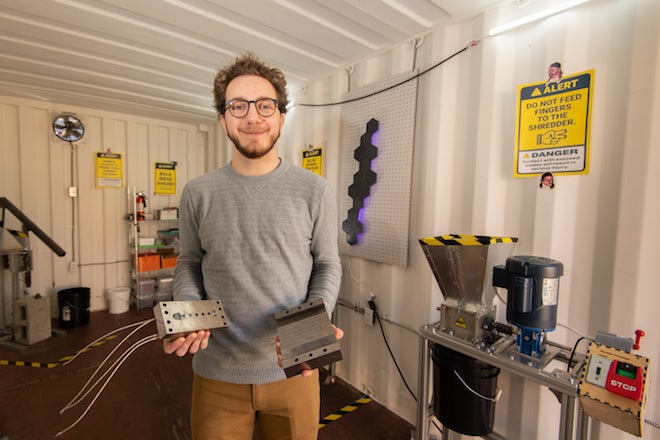 Boise State's MakerLab has a tradition of creativity, even when it comes to finding inventive ways to reduce waste. The lab has worked with the university's sustainability department to save old vinyl banners from the landfill to use for projects. It hosted Earth Day events in 2019 that included turning used bottle caps, cups and old t-shirts into art pieces.
"We source items from the trash, cardboard, swatches, fabric," said Amy Vecchione, an associate professor and head of Emerging Technologies and Experiential Learning who oversees Boise State's MakerLab.
But one of the most significant moves towards sustainability involves the MakerLab's 3D printers. The lab has found a way to reduce cost and waste – and send what waste there is – on to a local company for reuse.
Students and faculty have recently used the lab's 12 3D printers to create a range of items – from an intricate honey bee sculpture to parts for microphones and sensors that detect when a volcano is about to erupt. All of that prototyping and production uses around 96 kilograms, or 210 pounds of filament a year. It also creates waste in the form of failed prints. In addition, the lab had been ordering its filament by mail. The process was expensive and meant more waste from packing materials.
"I thought there had to be a better way," said Vecchione.
In December of 2019, the lab began sourcing plastic filament from a company in Garden City. Sourcing locally has saved around $600 a year. The filament is more affordable thanks to an educational discount, said MakerLab Manager Amanda Baschnagel. Buying locally has also eliminated packaging.
Once the filament is used up, the plastic spools it comes on and failed 3D prints get a new life: "upcycling" at PlasticWorks. The MakerLab sent approximately 70 pounds of plastic waste to PlasticWorks just last semester.
PlasticWorks is a project at the local branding firm, Oliver Russell. Its home is a retro-fitted 8-by-20-foot shipping container parked outside the company in downtown Boise. The container holds machinery built from open-source plans that can shred, extrude and mold unwanted plastic into new products like cell phone cases, climbing wall grips and bathroom tile. Jay Saenz, digital strategist at Oliver Russell and a former Boise State student, led the creation of PlasticWorks in 2018.
"It's been a wild ride since then," said Ashley Ridgway who now directs the project.
Early in 2019, the project hired Boise State student Chris Dagher. He splits his time between PlasticWorks and finishing his engineering degree on campus. Dagher is a MakerLab veteran who built his own large-scale 3D printer at the university. At PlasticWorks, he has upgraded and modified the original prototypes of plastic recycling machines built by Citizen Scientific Workshop (a Boise scientific and education development firm), and has begun transforming plastic filament spools into lighting fixtures. PlasticWorks is still looking for the best reuse for the failed 3D prints.
"This new role is challenging at times to say the least, mostly because we're such a small company and everyone is doing a lot of things," said Dagher. On any given day he might be working on product development, fine-tuning the recycling machinery, talking to potential customers or partners, and doing public outreach, something he's used to from his time at the MakerLab.
Public education is part of the PlasticWorks mission, said Ridgway, helping people see the value of a "circular economy" that embraces the reuse of resources like plastics.
"I think we are in a unique position to launch ourselves forward," said Dagher.  "We're getting organized, getting things figured out. There's a lot of opportunity to become a big name in the recycling space."
He looks to a time when PlasticWorks will offer recycling consultation for businesses and universities. Connections to Boise State continue to grow. A capstone project for students in the mechanical engineering program involved finding the best cooling methods for recycled plastic and the recycling machines. PlasticWorks enlisted material science students to help test the strength of plastics after they are melted and recycled, an area without a lot of previous research, said Dagher.
– Story by Anna Webb