A motor vehicle can be a complicated system. Knowing recommended maintenance intervals, understanding the latest technology, managing costs and performance priorities is the realm of experts. At Boise State, such experts reside in a low brick building off Bronco Circle where the Fleet Services team navigates the process of purchasing, maintaining and disposing of all university-owned vehicles.
The current fleet consists of 140 vehicles, 26 standby generators and over 110 pieces of mobile and stationary equipment owned by Boise State.
"Our team is committed to customer service, being good stewards of resources and presenting a respectable image of the university," said fleet manager Larry Stolworthy. "The objective is to help university departments make informed decisions about their vehicle needs."
A new approach
Fleet Management Services, formerly known as Fleet Maintenance, primarily functioned in a preventative maintenance and reactive repair capacity for the 26 university departments it serves until the team was moved under the Department of Public Safety's transportation division in 2015. This change provided the opportunity to transition the university to an industry-proven model of operation for all fleet vehicle and equipment functions.
"We have partnerships that are meaningful," Stolworthy said. "Rather than going to the department and saying, 'okay, now we're now responsible for the vehicle fleet. We're going to take your money and spend it.' That's not how we work."
"It's a process of building that relationship and that respect," Cory Butler, fleet shop foreman added. "We help [people] make wise decisions that are not only beneficial to their department and fit their needs, but that are smart choices for the university."
The division has been actively pursuing new approaches to vehicle funding and acquisition, maintenance protocols, retention and replacement metrics. All of this is based on industry standards and cooperative discussions with departments and their users.
The unit's long term goal is to move vehicle ownership and management under one umbrella of accountability and resources, and to make financially prudent decisions while continuing to focus on customer needs.
"We work hard to create a shared understanding with our partner departments to ensure Fleet Services does not end up isolated from the customers we're intended to serve," Stolworthy said.
Sustainability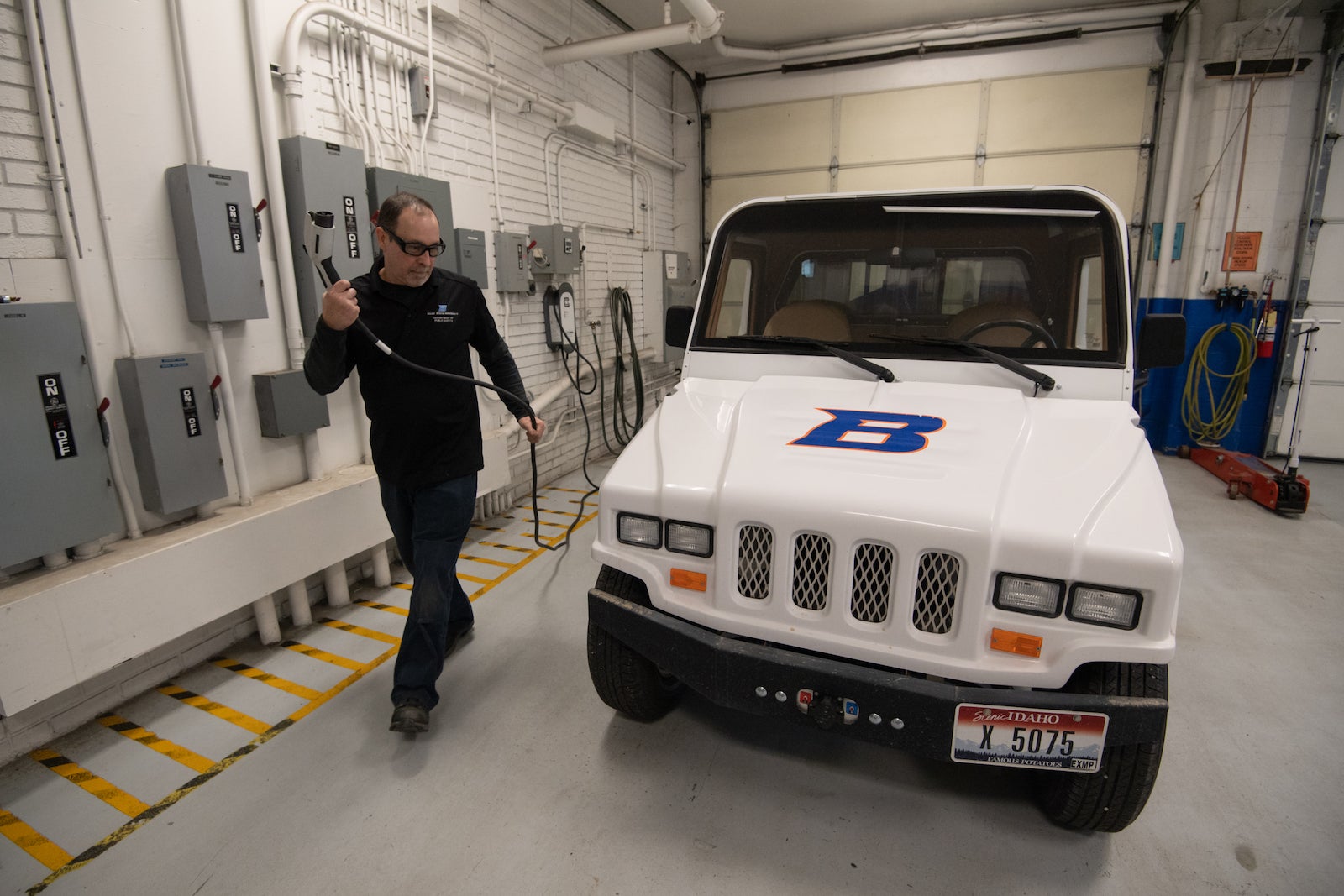 Since 2000, Fleet Services has succeeded in reducing the university's vehicle inventory from approximately 220 vehicles to 140 vehicles. During the past two years, 33 of the oldest vehicles have been replaced with smaller, more fuel efficient models. The team also added six more all-electric units as alternatives to those conventionally powered.
A recent partnership with the Facilities, Operations and Maintenance teams resulted in nearly 80 of the 140 vehicle university fleet being replaced with newer, more reliable and efficient vehicles.
"We're always looking at electric options first and replacing gas vehicles with plug-ins wherever we can," Stolworthy said.
The department's goal is to attain a 30 percent green fleet between 2025 and 2030, which would equate to 42 vehicles. The team is continually collecting data to support this endeavor by providing metrics that demonstrate the viability of electrics on campus.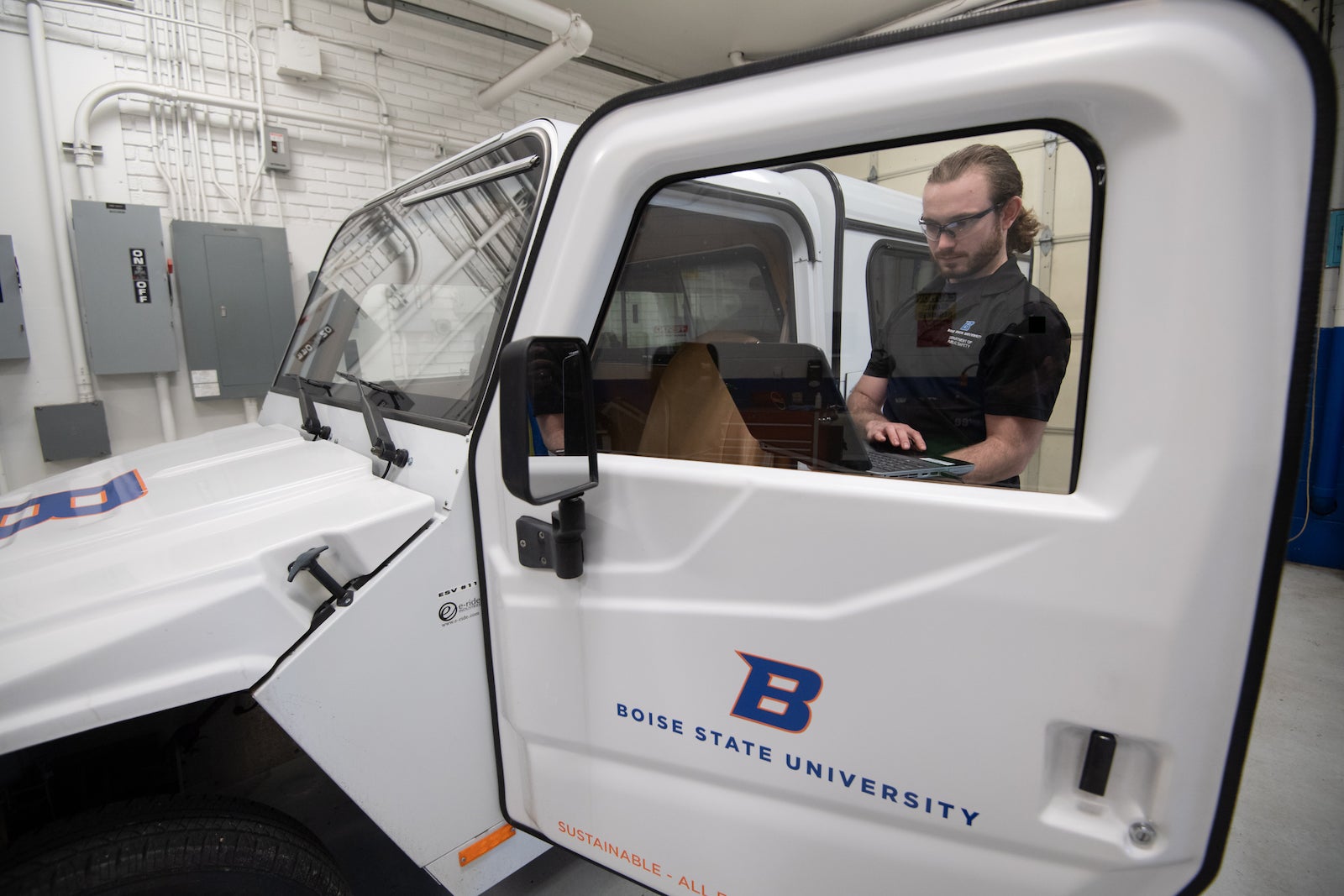 Every new purchase decision is weighed against these sustainability goals. As new technology comes to the marketplace at an accelerated pace, the team sees achieving these goals as reasonable and realistic.
"In partnership with our customers and the university, I am confident we can meet our goals," Stolworthy said.