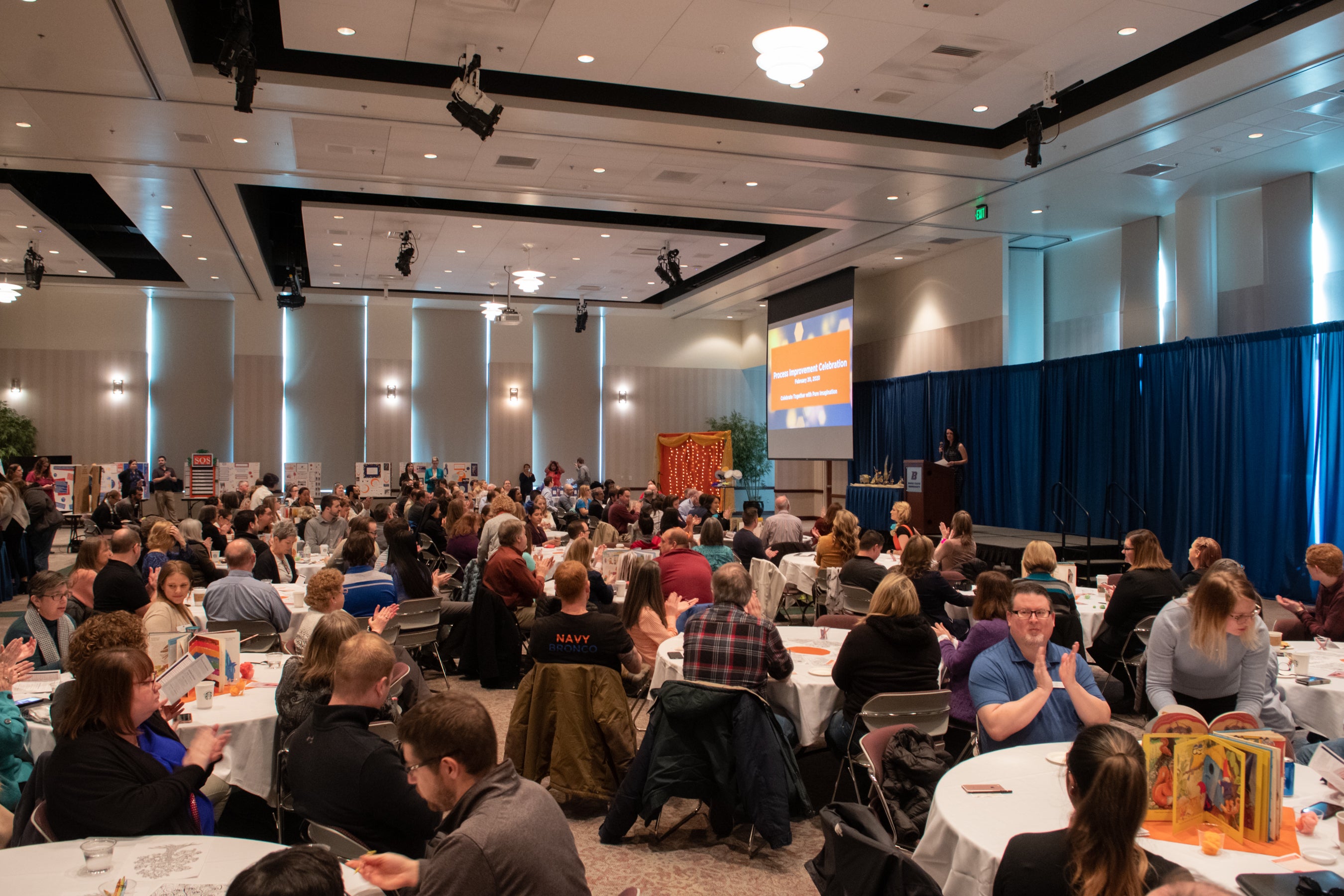 In February, 200 Boise State University staff and faculty attended the Process Improvement Celebration to network, gather ideas for process improvements, and support Process Improvement Award nominees in their efforts to save time and money for the university. This annual event hosted by University Financial Services celebrates and supports all levels of process improvement across Boise State.
Boise State President Marlene Tromp provided welcoming statements commending all nominees on their willingness to take action to make things better and their refusal to submit to the "bystander effect." Dr. Tromp also emphasized how all improvements positively impact the mission for Boise State students.
Eight awards were presented to individuals and groups for their contributions in business process innovation. Award winners were selected by a campus-wide voting survey. The winners for each category are as follows:
Building the Bench Award
Jan Gabelman with the College of Business and Economics won this award for improving the student experience. Gabelman created a reporting tool to help determine student academic progress and identify at-risk students for additional advising support. Her work increased transparency for advisors, directors and administrative staff, and ultimately aided students.
Change Maker Award
Candice Johnson and Heather Beaman from the School of Nursing were recognized as change agents who proactively innovate and demonstrate a positive attitude.
These winners led two process improvement projects: improving the School of Nursing application process through increased tracking of communication and limiting applicants to those who had first been officially accepted to Boise State; and centralizing the communication process for incoming School of Nursing applicants. This streamlined process for applicants saved students an estimated 188 hours, increased tuition revenue from student retention and saved labor costs for School of Nursing administrative staff.
Cool Collaborators Award
Admissions staff Scott Brueck, Jeanne Bustamante, Matt Wirtanen, and Mary Hoglund won this award for banding together to reach a common goal to benefit the whole.
The team utilized smart workflows and automated processes in the Boise State Admissions system to adapt to a large increase in applications. Their work resulted in faster turnaround times for applications when compared to the previous year, improved communication regarding acceptance status, and reduced concern on campus over the increased amount of applicants.
Incremental Innovation Award
Kelly Royster from Facilities, Operations and Maintenance was awarded for his small change that started a ripple and inspired efficiency in his work area.
Royster developed a process to quantifiably track the time taken for custodial tasks and compare them to industry standards. His team was able to request more resources based on data he provided.
Leaps and Bounds Award
Sam Patterson, Aaron Culver, Mike Kennedy, Mudhafar Poules, Rowdy Stinnett and James Kitzhaber from the Department of Public Safety won in this category for innovating across the campus community and potentially beyond.
The team secured funding for, and coordinated with, departments across campus to select and install an integrated security camera system for the university. They increased efficiency and accuracy in crime solving on campus, improved processes for traffic control and security team deployment, and proactively identified dangerous situations and accidents on campus.
Shadow Hunter Award
Paul Bridle, formerly with Veteran Services, was honored for seeking to reduce redundancy in process or data, and leverage system functionality to reduce manual tracking.
By researching requirements, Bridle reduced the number of times veteran students needed to submit their certificate of eligibility from each semester to once in their school career. His work reduced processing time for declarations and eliminated unnecessary steps and effort for both students and staff.
Splendid Self-Sufficiency Award
Isabell Rowsell, Elaine Lacaillade, Kili Murphy, Kirk Smith, Diane Schooley-Pettis and Mark Buchanan from the College of Business and Economics were honored for an improvement that has increased autonomy within their group, decentralized processes and made work easier to complete. This team created a common drive and templates for all of the department's hiring and on-boarding procedures to handle an increase in hiring faculty and adjunct staff. Their success has influenced other departments to adopt similar procedure and templates.
Tree Hugger Award
Vera Beltran and Charlie Teater from Housing and Residence Life were honored for seeking to reduce the carbon footprint in their offices and to digitize documentation.
The duo used existing resources to create an electronic process for submitting room condition reports, replacing outdated carbon copy processes. Their new process allows for reports and conditions to be recorded using cell phones, which improved accuracy of reporting and documentation, created a streamlined process for student check-ins and outs, and eliminated carbon copy creation and storage.
All nominees, runners up and award winners made lasting contributions to process improvement at Boise State University and should be celebrated.