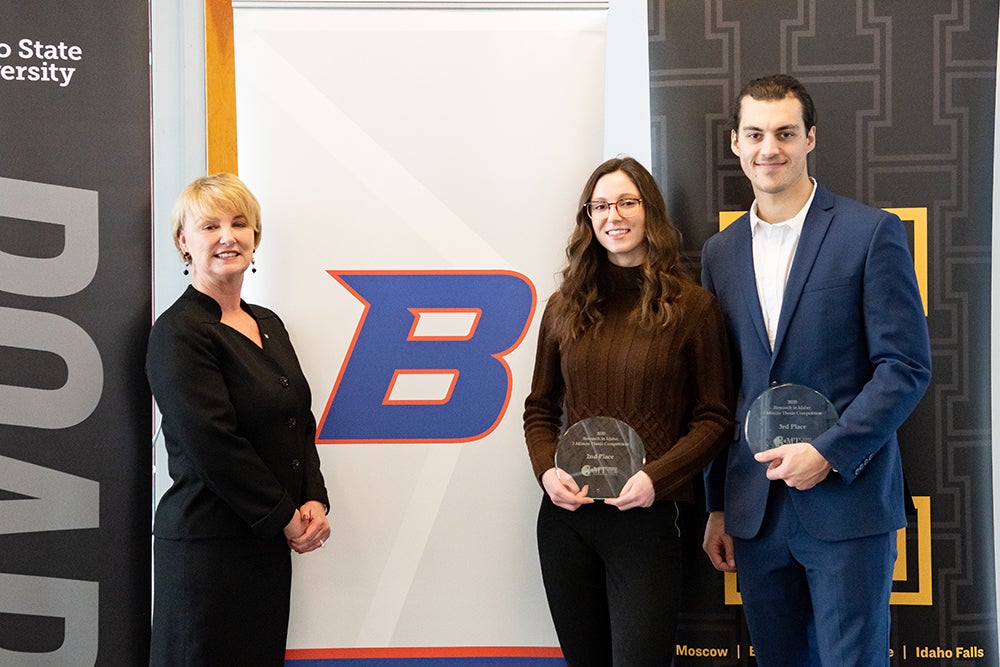 One state, three research institutions and 12 graduate student competitors set the scene for the statewide Three Minute Thesis competition, which took place Feb. 19. The second-annual statewide competition challenged graduate students from Boise State University, Idaho State University and University of Idaho to present their scholarship in three minutes or less.
Although the premise sounds simple enough, describing graduate research in plain language is no easy task. Originally developed by the University of Queensland in 2008, this globally-recognized research competition has grown in popularity within the state of Idaho in recent years. Four graduate student finalists from each institution gathered to present their best pitches and showcase their research.
These scholars contended for first, second and third place as determined by a panel of diverse judges from the Boise community. Finalists also were eligible to win an audience choice award based on audience votes.
Maribel Alfaro, master's student at University of Idaho, won first-place in the research communication competition. The second-place recipient was Rachel Phinney, master's student Boise State University. Dylan Gomes, doctoral student at Boise State University, earned third place; and the audience choice award recipient was Averi McFarland, master's student at Idaho State University.
Phinney, a master's student in health promotion, presented on agricultural workplace compliance and pesticide exposure on farm workers. Last summer, she had the opportunity to observe farm workers during a potato harvest. Drawing on her experiences, Phinney's talk concentrated on farm workers as a vulnerable population – specifically considering that their work places them at a high risk for pesticide exposure. Phinney's research questions whether farm owners are complying with workplace safety regulations.
"I believe [my research] will increase awareness and improve compliance with the Worker Protection Standard, which is the primary federal regulation aimed at reducing pesticide exposure among farm workers," said Phinney.
For Phinney, this competition provided an additional platform for her research to heard.
"Farm workers are an understudied and vulnerable population, so bringing my research topic into as many conversations as possible – raising awareness around the issue – is important and meaningful."
In order to present impactful research to a broader audience, Phinney and other graduate student competitors undertook the ever-challenging task of public speaking.
"The 3MT has given me practice in shaping my research story into a much more concise, accessible, and digestible piece of work," said Gomes, a doctoral student in Boise State's ecology, evolution and behavior program.
Gomes' three-minute talk focused on his research on wildlife response to landscape-scale noise playback. Collectively, all the sounds of a given area make up what is called a soundscape. Gomes and his research team hiked roughly four tons of gear to the Pioneer Mountains of Idaho to set up playback river noise machines, allowing them to draw observations and determine how soundscapes affect wildlife abundance and relationships.
"This research sheds light on how soundscapes shape animal communities. It is a component of deciding where an animal lives, yet we have mostly ignored it because we are such visual creatures," said Gomes.
After his graduate work is complete, Gomes plans to stay in academia, where communicating research is not only valuable but vital to creating actionable change.
"In the end I want to be a researcher and educator," he said. "The two go hand in hand. You have to be able to communicate research to folks if you expect anyone to learn about it or care about it."
Through this competition, graduate students had the opportunity to articulate their research while also creating a skill that will serve them in the future. A seemingly daunting task at first, participating in the Three Minute Thesis competition is something Phinney and Gomes recommend.
"I would advise any graduate student who is passionate and excited about their work to participant in the 3MT. If nothing else, it is great practice in communicating your work to a diverse audience, which is such an important skill to have," said Phinney.
Gomes added, "It is well worth the stress of getting on stage in front of people."
A wholly successful day for graduate education in Idaho, the competition also served to highlight outstanding Boise State graduate students and their abilities.
"Our graduate students showed superb preparation and poise," said Tammi Vacha-Haase, dean of the Graduate College. "They truly placed a spotlight on the remarkable graduate research being conducted here and displayed clear passion for their scholarship."
In addition to Phinney and Gomes, Boise State was represented in the competition by Lisa Roggenbuck and Christina Barber. Visual arts master's student Roggenbuck presented on the objectification of female bodies in visual culture. Barber, a doctoral student in the ecology, evolution and behavior program, presented on restoration of tropical forests.
To view full information on participants and winners of the Boise State Three Minute Thesis and the statewide competition, visit https://www.boisestate.edu/graduatecollege-success/three-minute-thesis/
– By Kinzi Poteet