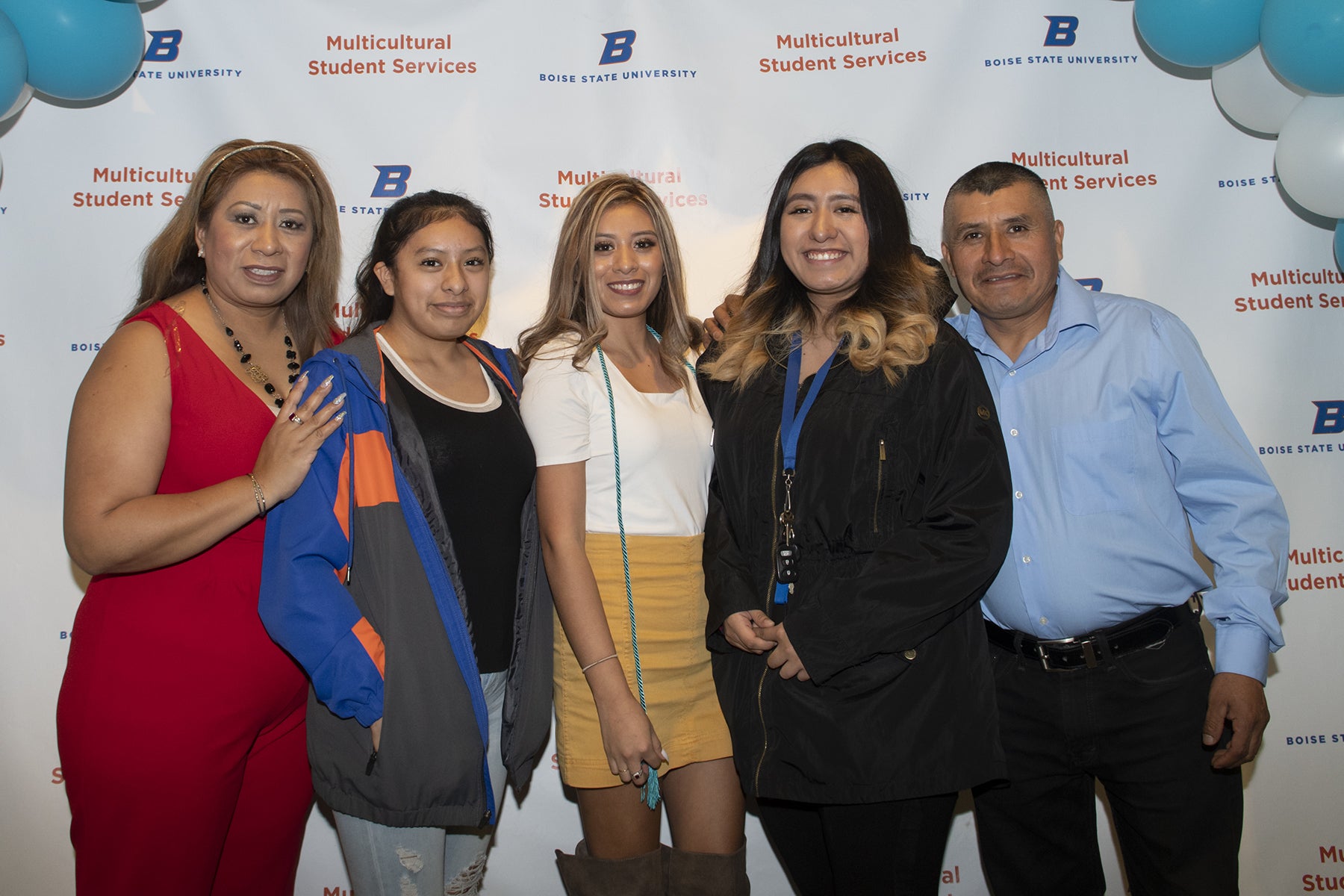 Introductory note from Leslie Webb, Vice President for Student Affairs and Enrollment Management: This announcement originally was published without crediting the individuals who are at the forefront of this work and were the drivers for this national recognition. We are republishing it to include and honor Sarah Keeton and Josh Baros' voices and work with and for our first-generation Boise State students.
Boise State University has been named a First-gen Forward Institution, based on its commitment to improving experiences and advancing outcomes of first-generation college students.
The Center for First-generation Student Success, an initiative of Student Affairs Administrators in Higher Education and The Suder Foundation, recently announced its 2020-21 cohort of First-gen Forward Institutions. The Center for First-generation Student Success is the premier source of evidence-based practices, professional development and knowledge creation for the higher education community to advance the success of first-generation students.
"The center is so pleased to welcome Boise State University into the 2020-21 cohort of First-gen Forward institutions. Through the application process, it was evident that Boise State is not only taking steps to serve first-generation students but is prepared to make a long-term commitment and employ strategies for significant scaling and important advances in the future," said Sarah E. Whitley, senior director of the Center for First-generation Student Success.
Selected institutions receive professional development, community-building experiences, and a first look at the center's research and resources. Sarah Keeton, Student Success Coordinator in Student Diversity and Inclusion, and Josh Baros, Assistant Director for TRIO Student Support Services, led Boise State's First-Gen Forward application process. They, along with selected faculty, will be afforded multiple opportunities to engage with peer and aspirational institutions who are also creating environments that improve the experiences and outcomes of first-generation students.
The Center for Multicultural Educational Opportunities (CMEO) has a long history at Boise State of serving first-generation and underrepresented college students at both the pre-college and college levels. There are 10 programs housed in CMEO, most of which are TRIO programs and HEP and CAMP programs. Each of these programs provide their own unique services, such as coursework, academic coaching, career and graduate school preparation, and socioemotional support. The ultimate goals for the college programs are to support students in navigating their path toward earning a college degree through academic and experiential learning, and to facilitate post-graduate planning.
"We are grateful to Sarah for reaching out to us in TRIO to partner together in completing Boise State's First-Gen Forward application," Baros said. "With these additional resources and avenues for dialogue, I think there is much that we can do collaboratively to strategize on how to broaden and deepen our institutional support for the many first-generation college students at Boise State."
Student Diversity and Inclusion (SDI) is a team that works to help make sure every Bronco feels welcome, supported and celebrated. This team includes the office of Multicultural Student Services, the MLK Living Legacy Committee and the First-Forward Student Success Program, in which Keeton's efforts are expressed. This collection of resources is designed to help students from diverse backgrounds grow and succeed at Boise State University. They provide one-on-one service to students; programs and events designed to amplify and celebrate cultural diversity; training to student groups, faculty and staff across a variety of issues; and consultation with campus resources seeking to increase their own effectiveness with inclusion and diversity related efforts. As a part of this team, Keeton's work focuses on a strategy rooted in providing guidance to a discrete cohort of first-generation, commuter students from under-represented minority populations. Her direct focus on this cohort complements the array of efforts to focus on the growth and success of the broader population of under-represented minority students that her SDI colleagues also support.
"Boise State is committed to better understanding and addressing the unique needs of students who are first in their family to attend college, and we are excited to receive this designation. It will give us insights into ways we can improve our programs, processes and services to better support our students in their educational pursuits," said Leslie Webb, vice president for Student Affairs and Enrollment Management
Keeton and Baros will represent Boise State at the First-gen Forward Workshop in Baltimore in June and will participate in monthly phone calls, virtual professional development, goal setting, blog development, annual reporting and more. First-gen Forward is an exciting opportunity for Boise State University to join a community of professionals prepared to share evidence-based practices and resources, troubleshoot challenges, generate knowledge, and continue to advance the success of first-generation students across the country, said Kevin Kruger, president and CEO of NASPA.
"We are excited to see a groundswell of activity from the First-gen Forward cohort and know Boise State will be a significant contributor," Kruger said.
To learn more about the Center for First-generation Student Success, visit firstgen.naspa.org.