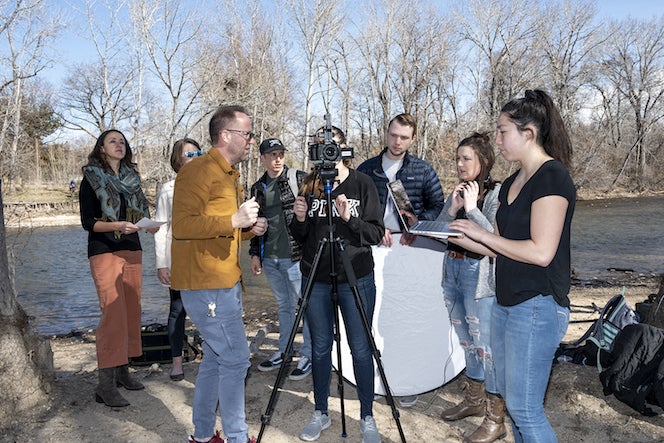 The first edition of professor emeritus Bruce Ballenger's textbook, "The Curious Writer," came out in 2001. The bestseller has been guiding students through research papers, the art of revision and writing convincing arguments ever since. When the sixth edition comes out in spring 2021, it will offer something new – instructional videos for its online version.
Professor Rulon Wood and students in the class Film 360: Post Production are shooting eight videos at sites on and off campus.
In previous editions of the book, Ballenger was the sole writer. This time, Michelle Payne, assistant provost, and Kelly Myers, interim associate dean of the College of Arts and Sciences, are co-writers. All three will appear in the videos. The videos include short lessons/lectures and prompts for writing exercises.
At a recent shoot for the chapter on ethnography, students filmed Ballenger on the wooded banks of the Boise River. The location was intentional with the interwoven mesh of trees representing "webs of identity," or a metaphor for studying culture, said Ballenger.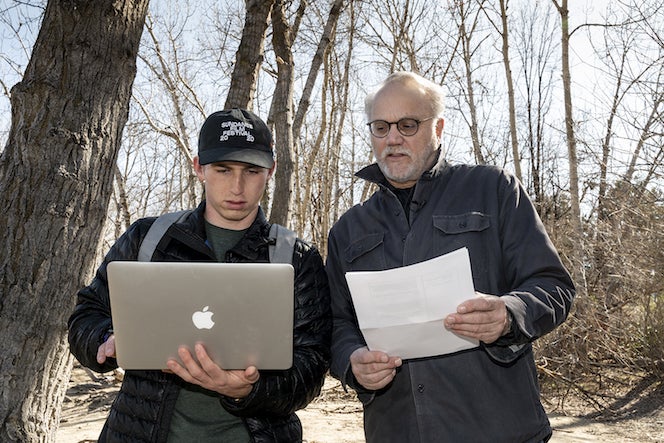 "Working with these students has been a joy," he said.
Part of the artistic challenge for the filmmakers has been finding visually striking ways to make abstract concepts concrete for students.
This project answers two career goals, said Ryan Uria, a junior from Boise majoring in film and television who directed the ethnography chapter shoot, "having narrative freedom but still satisfying your client."
Being able to channel artistic know-how into paying jobs is a must for independent filmmakers and anyone in the film and television industry, said Wood. And in the case of "The Curious Writer," there's another reward for the student filmmakers: thousands of people in the Treasure Valley and beyond will see their work.
– Story by Anna Webb