It's an ugly fact: bullying is an all too common occurrence. Twenty-six percent of students report being the target of bullying, which spikes during middle school, revealed a U.S. Department of Education survey. Being the target of bullying is associated with a variety of mental health problems including paranoid thinking, anxiety and depression, thoughts of suicide and attempts. And these negative health issues affect not only the targets, but also bystanders who feel helpless to stop the bullying.
Despite the overwhelming statistics that underline the threat bullying poses, many schools simply lack the resources to be able to implement successful bullying intervention programs.
That's why Aida Midgett, a Boise State professor and chair of the Department of Counselor Education, has developed a newly trademarked program that is low-cost and requires much less time away from the classroom. Most importantly, the program puts the power to stop bullying directly into the hands of students.
The program is known as STAC, short for the four strategies that make it effective: "stealing the show," "turning it over," "accompanying others," and "coaching compassion." Through a 90-minute session with monthly follow-ups, students are taught how to intervene on behalf of their peers by using strategies such as humor to distract and defuse bullying situations and take power away from the bully.
A series of randomized controlled trials revealed that STAC-trained students had a greater knowledge of bullying and confidence to intervene, an increased sense of school belonging and self-esteem when compared to non-trained students. Furthermore, the STAC program was linked to decreased anxiety and depression, as well as fewer cases of bullying and victimization.
"We teach students simple strategies that are intuitive, safe and developmentally appropriate that they can implement when they witness bullying," said Midgett. "Our studies have shown that students trained in the program have increased self esteem, decreased anxiety, decreased depression and increased sense of school belonging compared to students in a control group."
North Junior High school counselor and Boise State alumna Julie Hambleton (MS, counseling, '15) has been involved in the program since she was a graduate student. As a STAC trainer, being able to see how it positively impacts students at her school has been very gratifying.
"STAC has been so useful in helping our students identify types of bullying, understanding how this impacts our school culture, and helping students be able to advocate for themselves and others."
"Students are so responsive to the training and it gives them a space to process and role play how to handle bullying-type behaviors. It has been insightful to get to see the process from the school perspective and watch not only the training, but the impact post-training with our students," said Hambleton.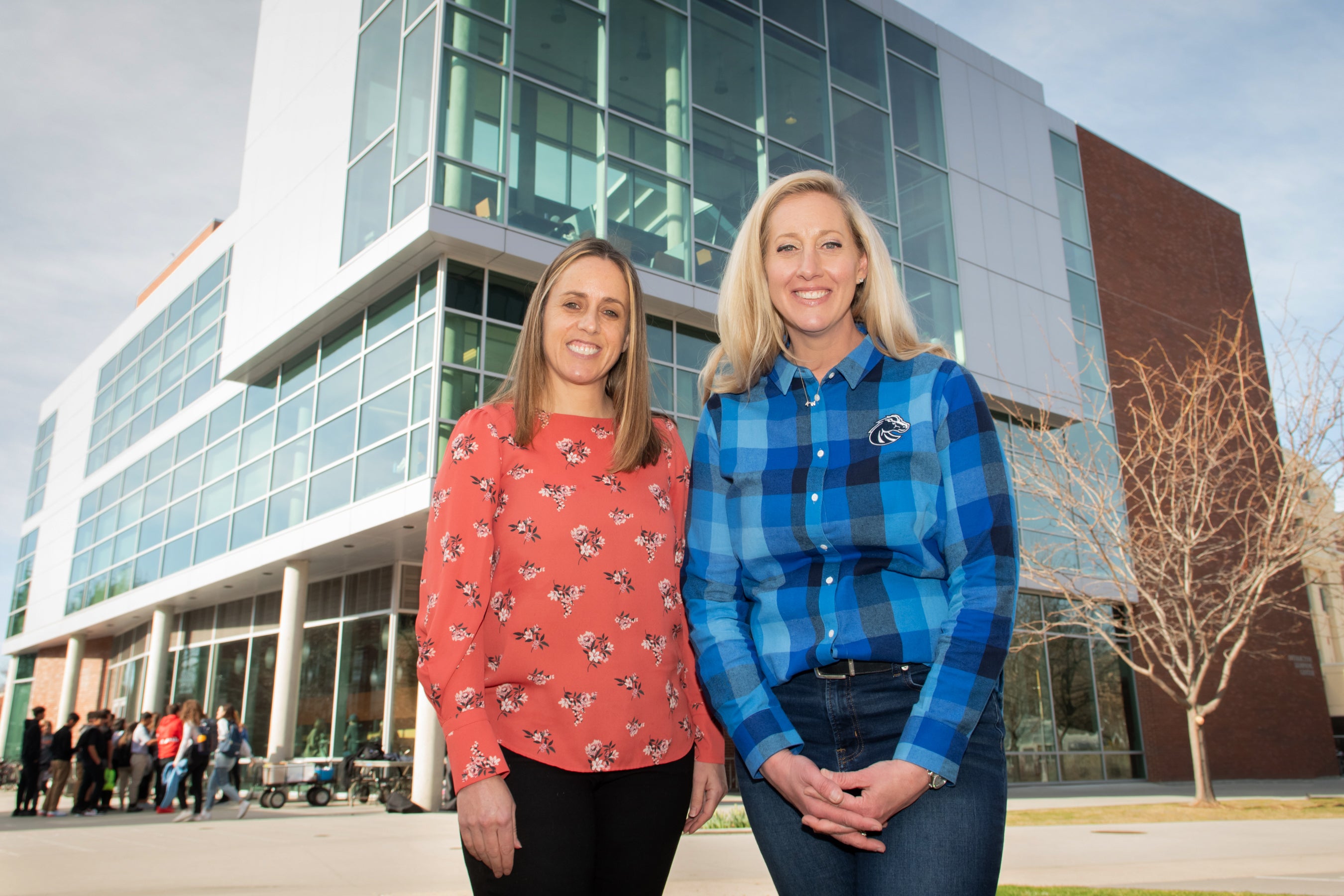 Taking it to the next level with Tech Transfer
To make STAC a viable option for more schools to use, Midgett sought out Boise State's Office of Technology Transfer. The office supports research activities and manages industry relations and intellectual property commercialization for the university. Directed by Katy Weiser, the office is responsible for the assessment, protection, development and marketing of new inventions for commercial use, and facilitates the internal and external relationships that contribute to the process.
"Katy has been extremely supportive and responsive to helping me in learning about funding options. She attended meetings with me with State Board of Education members, participated in phone calls and advocated for the program," said Midgett. "She has helped me and Diana Doumas, my co-developer in translating the STAC program to an online format (STAC-T), work through IP and legal issues, which are certainly outside our area of expertise."
With help from tech transfer, Midgett and Doumas were able to negotiate the unfamiliar waters of intellectual property and funding opportunities, and received Phase I funding of $275,000 from the National Institutes of Health to develop STAC-T, an online version of the STAC program.
Their future goal is to apply for Phase II funding and turn the program into a completely online resource that anyone can use, which will further reduce the need for staff training, time away from class and external technical support for low-income schools.
Weiser says the ability to directly impact students and give them the tools to make positive change in their schools makes STAC-T an exciting program to be a part of.
"Most people have been bullied at some point in their life and it seems to be a growing epidemic in K-12. By Aida's new approach of providing bystander students the tools, the power now rests with the peers. They can intervene and take a pivotal role in bully remediation," said Weiser.
By working with the Office of Technology Transfer, Trademark and Licensing within the Office of Communications and Marketing, and the Office of Sponsored Programs, STAC is now a copyright-protected, trademarked program with a bright future.
Currently, it is being implemented at about 20 schools in Idaho and the U.S., and nine international schools in India, Indonesia and Guatemala.
As Weiser puts it, "Bullying is not just a local problem!"