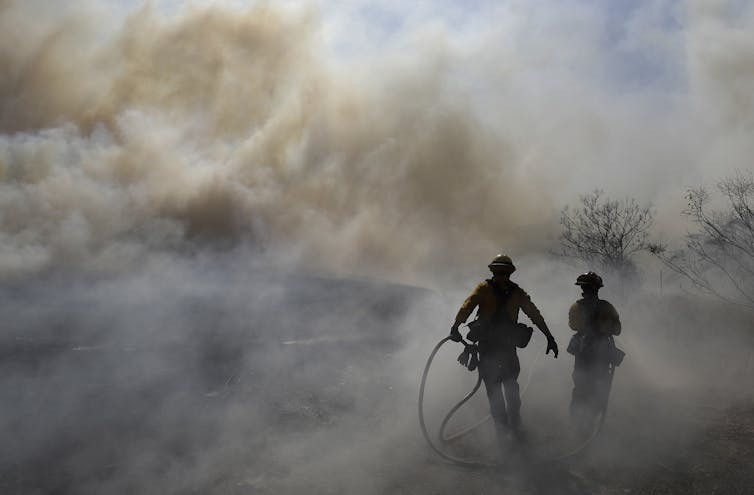 Luke Montrose, Boise State University
*This article is reprinted from The Conversation, a nonprofit news site that features research and opinion pieces authored by expert faculty from around the world – including experts at Boise State, like the piece below. Please note: opinion pieces authored by Boise State faculty do not necessarily reflect the views of the institution. 
As summer approaches, two forces of nature are on a collision course, and wildland firefighters will be caught in the middle.
New research suggests that the smoke firefighters breathe on the front lines of wildfires is putting them at greater risk from the new coronavirus, with potentially lethal effects.
At the same time, firefighting conditions make precautions such as social distancing and hand-washing difficult, increasing the chance that, once the virus enters a fire camp, it could quickly spread.
As an environmental toxicologist, I have spent the last decade expanding our understanding of how wood smoke exposure impacts human health. Much of my current research is focused on protecting the long-term health of wildland firefighters and the communities they serve.
'Camp crud' and the dangers of air pollution
People have long understood that the air they breathe can impact their health, dating back more than 2,000 years to Hippocrates in his treatise on Air, Water, and Places. Today, there is a growing consensus among researchers that air pollution, specifically the very fine particles called PM2.5, influences risk of respiratory illness. These particles are a tiny fraction of the width of a hair and can travel deep into the lungs.
Italian scientists reported in 2014 that air pollutants can increase the viral load in the lungs and reduce the ability of specialized cells called macrophages to clear out viral invaders.
Researchers in Montana later connected that effect to wood smoke. They found that animals exposed to wood smoke 24 hours before being exposed to a pathogen ended up with more pathogen in their lungs. The researchers showed that wood smoke exposure decreased the macrophages' ability to combat respiratory infection.
Now, new evidence suggests that long-term exposure to PM2.5 air pollution, which is produced by sources such as wildfires, power plants and vehicles, may make coronavirus particularly deadly.
Researchers from the Harvard T.H. Chan School of Public Health conducted a nationwide study of county-level data and found that even a small increase in the amount of PM2.5 from one U.S. county to the next was associated with a large increase in the death rate from COVID-19. While small increases in PM2.5 also raise the risk of death from other causes for older adults, the magnitude of the increase for COVID-19 was about 20 times greater. The results were released last week, before the usual peer review process was conducted, to help warn people of the risks.