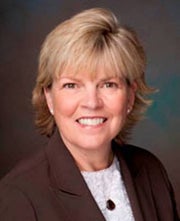 Within six months, Cindy Clark, RN, PhD, ANEF, professor in the School of Nursing, will be recognized twice at a national level for her civility research and outreach. Clark was awarded the National League for Nurses (NLN) Award for Excellence in Nursing Education Research in September. In October, Clark will be inducted as a fellow of the American Academy of Nursing (FAAN), one of the most prestigious honors in the field of nursing. Clark's ground-breaking research on creating civility in nursing education and practice led to both honors.
In her nomination of Clark for the NLN research award, Pam Springer, associate dean of the College of Health Sciences and director of the School of Nursing, says, "Dr. Clark has explored the causes of incivility, tested methods to prevent it, developed strategies to minimize its impact, and disseminated best practices to manage it when it does surface. Her scholarship has brought international attention to the issues of incivility and bullying in nursing and has prompted conversations and development of policies for dealing with disruptive student behaviors in schools of nursing. Because of Dr. Clark's research and leadership in the area of incivility, we now have the evidence for best practices and the tools to create learning environments that are welcoming and productive. Boise State University benefits greatly from Dr. Clark's national notoriety combined with her expertise as a teacher and her genuineness and willingness to mentor her peers and students."
Clark is one of 142 nurse leaders selected to be inducted as fellows in 2011. "Academy Fellows are truly experts. The Academy Fellowship represents the nation's top nurse researchers, policymakers, scholars, executives, educators and practitioners," said Catherine L. Gilliss, president of the American Academy of Nursing. Leadership positions held by Academy fellows include university presidents, chancellors and deans; state and federal political appointees; hospital chief executives and vice presidents for nursing; researchers and entrepreneurs; and practicing nurses. Clark's nomination to the academy was sponsored by Terry Valiga, professor and director of the Institute for Educational Excellence at Duke University School of Nursing, and Anne E. Belcher, associate professor and director for the Office for Teaching Excellence at the Johns Hopkins University School of Nursing.