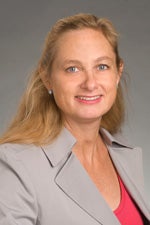 While continuing her research on pain management, Cecile Evans, PhD, RN, FNP-BC, School of Nursing, increased her involvement with the American Society for Pain Management Nursing (ASPMN). Evans delivered a podium and a poster presentation at the annual meeting of ASPMN and the International Society for Addiction Nurses this last September in Tucson, Ariz.
Evans' podium presentation, titled "Self-Care Practices Reported to Alleviate Phantom Limb Pain," focused on self-care practices to alleviate chronic pain, including phantom limb pain. Presenting the specific practices that patients report effective gives nurses the tools for effective patient education related to phantom limb pain.
Evans' poster presentation, "A Simulation Scenario for Undergraduate Nurses to Gain Knowledge and Experience in Pain Management Nursing," was developed with R.M. Humphreys. By utilizing simulation to create a safe place to learn about and process issues surrounding pain management, opportunities were created for faculty and students to explore the issues surrounding the intersection of addiction and pain.
Through her presentations and participation in the conference, Evans connected with a nurse on the pain team at Lundstahl Air Force Base in Germany. This has opened ongoing discussions concerning the intersection of pain and function in patients. Additionally, Evans networked with more local contacts to discuss forming a Mountain West chapter of ASPMN.
While promoting pain management locally, Evans continues on the ASPMN research committee and on the editorial board for the "Journal of Pain Management Nursing." Most recently, her work with the board led her to write a book review of "Chronic Pain: An Integrated Biobehavioral Approach" by Herta Flor and Dennis Turk.