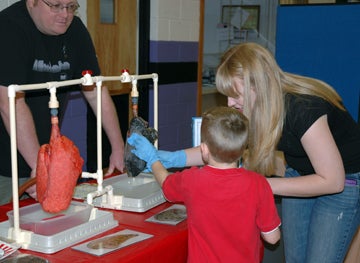 Students from clinical nursing course Community and Public Health Nursing Lab and a student intern from the Health Education and Promotion program in the Department of Kinesiology partnered with two Boise elementary schools to sponsor two health fairs this spring to promote health and safety to local families.  According to the National Safety Council, the months of March, April and May have more than thirty designated health and safety awareness months, weeks and days.
The students invited community organizations, including Drug Free Idaho, Treasure Valley Cycling Alliance, and the Boise Police, to assist the Boise State students in educating fair attendees about important health and safety topics, such as nutrition, eye care, poison prevention, safety while playing, and dental health.
Taft Elementary held a health fair in their gymnasium on Saturday, March 17 from 11 a.m. to 1 p.m. Pierce Park held a similar health fair in their gym on Saturday, April 14, from 11 a.m. to 1 p.m. Staff from St. Luke's Regional Medical Center were present at Pierce Park to give away bike helmets and offer free helmet fittings.
Both fairs were highly successful. Boise State students raised enough money to rent bounce houses and purchase food and door prizes, including bike helmets and several bicycles, for both fairs. Taft saw more than 200 attendees, while Pierce Park, a smaller school, had approximately 100 attendees. The students' hard work was highly appreciated. The Taft Elementary staff praised the University students for their organization and execution of the fair.