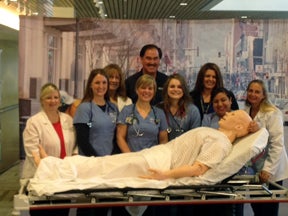 The School of Nursing participated in a number of events to celebrate National Nurses Week.  The theme for the 2012 National Nurses Week was Advocating, Leading, Caring.
School of Nursing kicked off the celebration of nurses on May 4 by inviting TRiO students to learn more about a career in nursing and the roles of nurses in the community. The Federal TRiO Programs are educational opportunity programs designed to motivate and support students who have a limited-income, and are first-generation college students, to progress through the academic pipeline from elementary school through college level programs. Approximately 50 attendees with students from Wilder, Vallivue, Caldwell, South (Boise), Frank Church, Borah, Melba and Nampa attended the celebration.
On May 6, School of Nursing welcomed Boise School District Occupational Health students.  We provided three workshops and Simulation Center tours for 38 juniors and seniors from Borah, Capital, Boise and Timberline high schools. Janet Tweedle, health occupations director for the Boise School District, stated that the students were very enthusiastic about the possibility of attending Boise State. The students loved the building, the SIM tour and the presentations about nursing opportunities.
KTVB filmed the morning weather with Larry Gebert a number of student volunteers and faculty in the lobby of the Norco building on May 9. Gebert talked about the roles of nurses in the community, National Nurses Week and Boise State's technology.
The School of Nursing appreciates all of the nurses in the community and at Boise State University year round.