The School of Nursing celebrated the class of 2012 with a pinning ceremony and convocation in the Jordan Ballroom on Friday, May 11th. Fifty-eight graduates in the baccalaureate pre-licensure nursing program, 37 graduates in the RN-BS Online/Distance Degree Completion Option, and two graduates in the masters in nursing program were recognized. Maryann Reese was honored as the distinguished alumna and speaker for the convocation. Reese is a 1991 graduate of Boise State's nursing program who now serves as the President and Chief Executive Officer of St. Elizabeth Hospital in Belleville, Ill.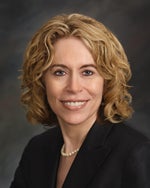 Reese started her position at St. Elizabeth's Hospital, which is owned and operated by the Hospital Sisters Health System, in January 2011 after working at St. Vincent's Regional Medical Center in Billings, Montana. Previous to that she served at Mercy Medical Center in Nampa, Idaho. Reese has a history of leading organizations to achieve top quality awards including the prestigious "Top-100 Hospital Award", the "Blue Cross/Blue Shield Top Hospital Award", and numerous "Best Healthcare Awards" from Total Benchmark Solutions. Reese is a Registered Nurse and Fellow in the American College of Healthcare Executives. She holds an associate degree in nursing from Boise State University, a bachelors degree in Healthcare Administration from Graceland University, and a masters degree in Healthcare Administration from the University of Minnesota. She is currently working towards her Doctorate Degree in Healthcare Administration from Central Michigan University.
A class tradition was continued with contributions by the Spring 2012 graduating class to the School of Nursing Academic Scholarship Fund for future Boise State nursing students. This fund was established in 2008 by faculty, staff, and students in order to promote the school's mission of fostering intellectual development and excellence in nursing education through teaching, learning, scholarship, and service. Each semester the current graduating class solicits donations and holds a silent auction. The Spring 2012 class built baskets for the silent auction and raised more than $700. Personal and faculty contributions raised an additional $550 for a total contribution of $1,250. The fund balance is now at more than $25,500.