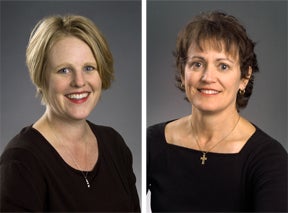 Two Boise State School of Nursing faculty and one Boise State School of Nursing emeritus faculty were honored at the March of Dimes Nurse of the Year Dinner on Oct. 27.
Dr. Marty Downey and Ms. Kelley Connor were honored by their colleagues for their exceptional work educating students. Both of these faculty are exceptional teachers and scholars. Also honored was Ms. Pat Taylor who is an emeritus faculty with the School of Nursing. Many alumni remember Pat for teaching pathophysiology to thousands of students and the community over cable TV.
The March of Dimes Idaho Chapter hosts the Idaho Nurse of the Year Awards annually to honor nurses from 16 categories of nursing specialties. The Nurse of the Year Awards is a state-wide event supporting the mission, while recognizing exceptional nurses, creating awareness and promoting the future of the profession.