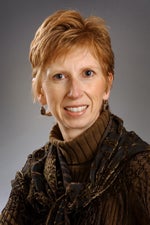 Pamela Gehrke, EdD, RN, presented a paper at the International Collaboration for Community Health Nursing Research (ICCHNR) conference, held at the University of Edinburgh in Scotland on March 13 and 14. The theme of the conference was "Transforming Community Health: the Nursing Impact."
Gehrke's paper, "A Theory of Political Learning for Nursing Education," explored how hybrid courses for undergraduate nursing students can help students develop an understanding of how political processes and policy making skills may play a role in nursing practice as a way to create healthier communities and societies.
Gehrke presented "Engaging in Political Learning Together," a grounded theory which emerged in studying how undergraduate nursing students learned about political and policymaking processes in one nursing course. Gehrke then identified strategies used in a hybrid Policy, Power and Voice nursing course to foster students' engagement in political and policy processes as part of their nursing roles in communities. Finally, Gehrke proposed use of "Engaging in Political Learning Together" as one potential means to incorporate political and policy learning directly into community health practice and basic nursing education.
The conference had approximately 300 attendees from more than 19 different countries. Among the attendees was University of Edinburgh doctoral candidate, Yuexian Tao, with whom Gehrke and Boise State University nursing faculty have a connection. Tao was one of the first two students from Hangzhou University, China who visited the Boise State School of Nursing in 2009. She is completing her dissertation and will graduate with a PhD in nursing in May.
By coincidence, Gehrke and Tao's research presentations were scheduled in the same session. The benefits of international connection and collegiality in nursing were apparent when Tao introduced herself but also took time to recognize me as her colleague from Boise State where she had begun her own international educational journey. Tao said it was because of her "wonderful experience learning about nursing at Boise State University" that helped her realize she could "learn nursing in a foreign country and in English" and gave her the confidence to realize she could continue her studies at doctoral level at University of Edinburgh.
"This was an example of the subtle and often unacknowledged benefits of university partnerships, global colleagueship, and conference attendance," said Gehrke. "The work of Professor Barbara Allerton must be acknowledged here as the instigator of our Chinese partnership and the champion of global nursing experiences in the school. Professor Allerton's retirement in May means she will no longer be working in the School of Nursing but I am grateful for her expertise, encouragement, and guidance in global nursing."