by Leah Sherwood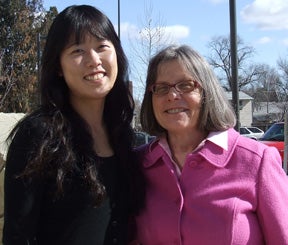 Ryoko Pentecost, School of Nursing graduate student, and Jane Grassley, associate professor in the School of Nursing, published an article in the Journal of Human Lactation Online. Pentecost was an undergraduate research assistant under Grassley for two years, and the publication is in relation to that research.
The article "Adolescents' Needs for Nurses' Support When Initiating Breastfeeding," looks at the different types of social support that nurses, other health care providers and family members can offer to newly adolescent mothers as they initiate breastfeeding. Four classes of social support — instrumental, informational, emotional and appraisal — were used as determiners for measuring the impact each type had on adolescent mothers nursing their babies. The researchers used this framework to define what experiences influence whether adolescent mothers will breastfeed or not.
According to the Centers for Disease Control and Prevention, adolescent mothers and their children have increased health risks, and that breastfeeding can help reduce certain health risks. Breastfeeding has been shown to have high health and economic benefit for mothers and their children. Studies have shown that there are many more adult mothers who breastfeed than adolescent mothers, but this recent study conducted by Pentecost and Grassley shows that adolescent mothers want more information about breastfeeding from their health care providers.
The study showed how pivotal it is for nurses to provide support in establishing breastfeeding habits in young women, with many young mothers feeling encouraged when nurses took the time to explain "tricks and tips" to them about breastfeeding. The young mothers also felt more empowered in their new knowledge when nurses allowed them to try new techniques on their own.
One adolescent mother said, "Instead of doing things for me, the nurses instructed me and gave me confidence to do things myself."