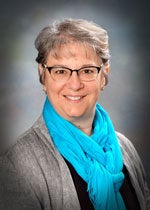 Jennifer Jonely, a spring 2014 graduate of the Master of Science in Nursing program at Boise State, will be awarded the 2015 Certified in Perinatal Loss Care of the Year Award. This annual award recognizes the exceptional work of perinatal loss care professionals from across the country who have made contributions in one or more of the following areas of hospice and palliative care: clinical practice, education, leadership, and research.
"Jennifer passionately serves our community through her work caring for families who experienced the loss of a baby during pregnancy or at birth," said Jane Grassley, School of Nursing faculty and Jonely's advisor. "She was an outstanding student in our Nursing of Populations Masters program and we are very proud of Jennifer's achievement."
Jonely will receive the award during the National Board of Certification of Hospice and Palliative Nurses Annual Certification Recognition Event on February 26 in Philadelphia, Pennsylvania during the 2015 American Academy of Hospice and Palliative Medicine and Hospice and Palliative Nurses Association Annual Assembly.