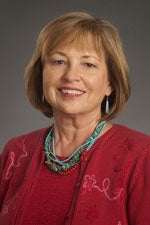 Ann Hubbert, director of Boise State's School of Nursing, has been named a Transcultural Nursing Scholar by the Transcultural Nursing Society. Hubbert was recognized during the society's annual conference, held Oct. 22-25 in Charleston, S.C.
Hubbert's career focus in nursing administration and education has been working with populations and cultural health issues. She has been a Certified Transcultural Nurse since 1999, and her expertise has been aimed at education, services, and research for underserved cultural populations to reduce health disparities and improve health status and access to care. Her work in these areas has received the annual recognitions of two national and international nursing societies: The American Holistic Nurses' Association, as Nurse of the Year, and the Transcultural Nursing Society's Leininger Leadership Award. In addition, the Catholic Health Association's top honor was received by the international program she created in partnership with the Indian Health Service which is focused on spirituality and healing. She has also been sponsored as a member of the Comanche nation for her work with partnerships among tribal nations, Indian Health Services, and Western health care services. She is a national consultant for inter-professional programs, health care systems, and colleges on transcultural health.
Transcultural Nursing is a theory based humanistic discipline, designed to serve individuals, organizations, communities, and societies. The Transcultural Nursing Society seeks to provide nurses and other health care professionals with the knowledge base necessary to ensure cultural competence in practice, education, research, and administration. Culturally competent care can only occur when culture care values are known and serve as the foundation for meaningful care.  The society's mission is to enhance the quality of culturally congruent, competent, and equitable care that results in improved health and wellbeing for people worldwide.
Transcultural Nursing Scholars was established to promote the advancement of a body of knowledge, to initiate and disseminate research, to teach and learn, and to advance the clinical applications of transcultural nursing and healthcare globally. The Scholars program recognizes persons who have demonstrated exemplary creative leadership by advancing transcultural nursing and health care research, education, practice and/or administration within local national or global contexts. Although there may be a rare exception, these persons, referred to as scholars, have studied with a teacher, formally or informally, and then continue to study and promote scholarship among others. Transcultural nursing scholars are creative leaders who demonstrate characteristics such as experience, insight, imagination and leadership through engagement with ideas, persons, and organizations to facilitate research, education and practice of transcultural nursing and health care.