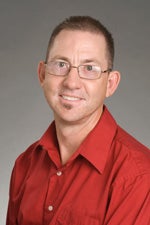 Luther Raechal, professional staff  in the School of Nursing, has become one of only 21 people in the world to receive a Certified Healthcare Simulation Operations Specialist (CHSOS) certification.
In order to be eligible to receive a CHSOS certification, individuals must: participate in healthcare simulation in an operations role; have focused simulation expertise about  learners in undergraduate, graduate, allied health, or healthcare practitioners; have a bachelors degree or equivalent experience; and have two years of experience in a healthcare simulation operations role. Successful certification involves completion of an online application, submission of three references, and successfully passing a standardized national exam.
"The Operations Specialists are as varied and unique as the centers who employ them. Some have titles that include Simulation Technicians, Simulation Technology Specialists, and Simulation IT Specialists. Regardless of the title, the growing field of simulation operations is the result of the increasing demands for skills, knowledge and abilities to meet the operational needs of busy simulation centers and labs. The CHSOS communicates to current and future employers that they have the best that this field is offering to them," said H. Michael Young, chair of the CHSOS subcommittee. These first individuals who have received this distinction have demonstrated the knowledge and skills required to support and deliver quality healthcare simulations.
The new CHSOSs come from Israel, Qatar, and the United States. With this CHSOS certification, Raechal will receive formal professional as well as international recognition of his specialized knowledge, skills, abilities, and accomplishments in simulation operations. It also confirms his commitment to continued professional development and lifelong learning.
Raechal holds a Bachelor of Science degree from the University of Wisconsin, Stevens Point in biology with minors in Chemistry and Resource Management. He has worked at The Missouri Botanical Garden and the Nature Conservancy of Hawaii as well as St. Louis University, Washington University, Monsanto, and a regional hospital. He is currently a simulation technician for the School of Nursing.