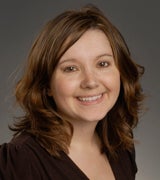 Jaime Sand, associate professor in the School of Allied Health Sciences Department of Community and Environmental Health, published an article in June along with Mary Aagard and Marilia Antunez, Albertsons Library faculty.
The article is titled "Learning from Degree-Seeking Older Adult Students in a University Library" (Vol. 43 Iss: 2, Reference Services Review), and examines the use of library resources and services by degree-seeking older adult students, aged 50 years and over, to inform libraries in serving this often overlooked population.
Sand has worked at Boise State University in the College of Health Sciences since 2004. She has taught a variety of different courses, both in the Health Informatics and Information Management and Health Science Studies programs at the undergraduate level, including subjects such as health information, medical coding and reimbursement, health data, medical terminology, and the interprofessional capstone course.