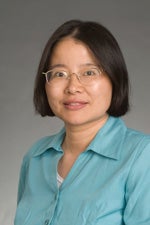 Lucy Zhao, clinical assistant professor in the School of Nursing, was awarded the 2015 Ruth O. McKibben Alumni Research Award on Nov. 20 by the University of Kansas School of Nursing for her dissertation project.
Zhao's dissertation, "Factors Associated with Inpatient Falls and Fall-Related Injuries in Acute Care Hospitals," examined the associations of fall-related injuries with multilevel factors in acute care hospitals. The results of the study showed what factors are associated with inpatient injurious falls. In addition, the results indicated the significance of each factor contributing to injurious falls.  The findings of Zhao's study could guide healthcare professionals and acute care hospitals in planning and implementing effective and cost-reducing preventions for inpatient falls and fall-related injuries in acute care settings.
The research committee of the University of Kansas School of Nursing wrote that Zhao's submission "demonstrated outstanding performance in the areas of scholarship and leadership consistent with the established criteria for the McKibben award." Zhao was awarded $1,000 for her accomplishment and was commended on her work as well as the leadership she has demonstrated through her doctoral studies.
The Ruth O. McKibben Alumni Research Award was established in 2010 by the University of Kansas (KU) Nurses Alumni Association and was made possible through a gift by Ruth O. McKibben. The award recognizes a doctoral nursing student with an outstanding dissertation or capstone project.