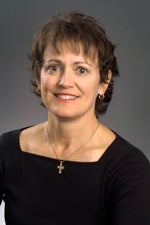 Marty Downey, associate professor in the School of Nursing, was featured in the January edition of the American Holistic Nurses Association's (AHNA) 'Research in Holistic Nursing' eNewsletter.
Downey shared her expertise in the area of holistic nursing, nursing care designed to heal a patient as a 'whole;' her current research; how she began studying holistic nursing; her biggest challenges and joys in research; and where she sees the future of holistic nursing headed.
Downey described her most recent study on the use of holistic therapies for test anxiety in nursing students, which is in its second data collection analysis. She has also done research on the effects of aromatherapy on anxiety and nausea for breast cancer patients undergoing PORT- a cancer treatment where patients do not need to have needles put into their arms every time they receive treatment- in an outpatient setting as well as research on simulation and deliberate practice in emergency response training.
In the article, Downey said the most exciting thing about her research is data collection, result sharing, and publication. Downey hopes to motivate more undergraduate and graduate nursing students to promote safe, quality, effective holistic health care throughout the global community.
Downey's specialties are critical care nursing, medical-surgical nursing, health assessment, holistic nursing and health practices, stress management, and humor in health. She has been Advanced Holistic Nurse certified for 16 years and completed her Certified Healing Touch Practitioner certificate in 2013.